Much has been made of the graying of America, the seismic demographic shift taking place in this country as tens of millions of Baby Boomers place unprecedented demands on our retirement and healthcare systems.
And yet there is another demographic explosion taking place that portends far more demanding consequences. Throughout the developing world, the so called "youth bulge" -- the coming of age of young adults, from their mid-teens to early 20s -- is presenting widespread cultural, social and economic challenges.
As millions of children move into adulthood, how will they be assimilated into their countries' cultures? Given their access to technology and social networks, how will they harness their collective power and to what ends? And having limited education and few job skills, how will they sustain themselves?
To the last question, some of the answers are beginning to take shape. There is a small village in Zambia that may serve as a useful paradigm for what is needed. The youth of Chongwe offer an instructive story -- not just one of self-sufficiency and innovation, but of sowing the seeds of opportunity and growing them into the fruits of hope. The kind that can change lives. For good.
Chongwe is an unlikely place for this undertaking to take root. About 70 miles from Zambia's urbanized capital city Lusaka, it is far from where the electricity stops, well beyond where the few paved roads end. And yet, deep into the grassy contours of southeastern Zambia, a banana plantation -- replete with a sophisticated mechanical irrigation system and powered by state-of-the-art solar panels -- is in full flower.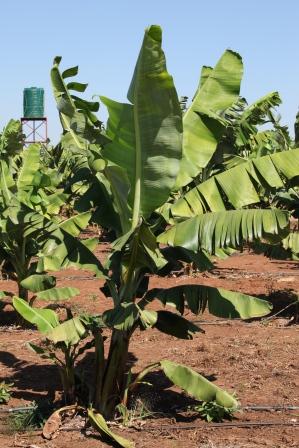 A banana tree in full flower, grown by a sophisticated mechanical irrigation system and powered by state-of-the-art solar panels.
Chongwe's new plantation will help feed the local population. That's important. But it is not the most notable byproduct of this initiative. As a commercial enterprise, it is teaching 50 of the town's once-neglected youth how to start and run a business. Watch them on their cheap cell phones checking daily commodity prices. They get it.
As with most solutions, this one started with a problem, and not an insignificant one. As is the case in many developing nations, opportunities for Zambia's youth are elusive. While the nation's economy has improved over the years, thanks in large part to its resurgent copper mining operations, Zambia's spiking population growth has outpaced economic productivity. High rates of unemployment are restricting the capacity for most people to rise out of poverty.
The high incidence of AIDS is compounding the situation. The premature death of many children's parents means that they are being raised by extended family members. Although many of these families are able to make do, even with their added obligations, they are not in a position to pay for the children's continued education. (The government now pays for public education up through seventh grade.) As a consequence, many of them are basically set adrift, left to figure out how to survive.
Living in poverty is a daily struggle that can be endured, but when a life of poverty comes with a sense of hopelessness, it can extract a person's soul. For young people, that lack of hope is poverty's most tragic effect, and for those youth within the "bulge," that sense of hope can be their most important resource.
And so to inject a sense of opportunity for Zambian youth, especially those whose formal education has ended, ChildFund International challenged local youth to conceive of a shared undertaking. Their research and analysis pointed them into uncharted territory: bananas.
With ChildFund providing a grant for startup costs - the irrigation system and seeds - and a local chief donating the land, the children worked with the ministry of agriculture to learn how to grow bananas and use and maintain their equipment. A fertilizer company also provided valuable training, and before long, the young entrepreneurs were irrigating and mulching as many as 1500 banana trees.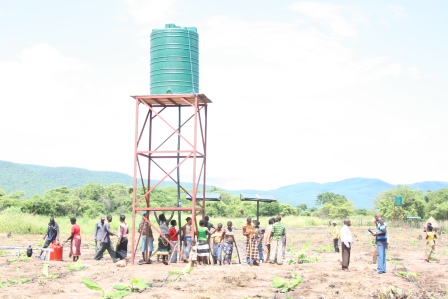 The youth of Chongwe, Zambia take inventory of their 1500 banana trees and learn the benefits of self-sufficiency.
But growing bananas is only half of what it takes. Educating the youth in the financial side of the venture is equally important, especially if the enterprise is to flourish beyond the first harvests. And so these young business people are schooled in accounting and economics and the basics of running a business. What they have learned has become infectious. There is now talk of expanding and diversifying their operation. Some are looking beyond bananas, to stocking lakes to create a commercial fishery.
Self-sufficiency is a critical component for dealing with the growing challenges associated with the youth bulge. But self-sufficiency can be a misnomer. It often starts not from within, but with help from others. Just as ChildFund provided the start-up funding for the venture in Chongwe and in the same way that many entrepreneurs from around the world receive seed money to turn ideas into opportunity, what will be needed many times over in the developing world are the resources to get started.
They may be the best hope for keeping that bulge from bursting.

Calling all HuffPost superfans!
Sign up for membership to become a founding member and help shape HuffPost's next chapter