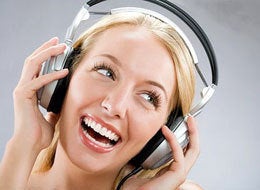 While Courtney Love continues to struggle with putting out a new album and her sanity, the world has been on the look out for over a decade for a new rock goddess. That title is still up for grabs, but if L.A.-based Nico Vega keeps it up, it won't for long. Like Brody Dalle, who nailed a killer female-fronted album with her new band Spinnerette, Vega stood out last year with their self-titled debut featuring solid vocals, killer hooks, and retro-sexual appeal. Focusing on the latter, if Vega frontwoman Aja Volkman wore shorts any shorter during her tour, you'd have to take a cold shower mid-set. Anyways, I spoke with two of the three "Vegas" (Aja Volkman, guitarist Rich Koehler and drummer Dan Epand) -- already in good with hitmaker Linda Perry -- about commercial success and what's up next.

How much of your band's success depends on commercial success?
Dan: Music is made to be listened to. We spend so much time on the road because we believe in what we're doing, we enjoy it, and we want as many people exposed to our music as possible. Commercial success is appealing, but it doesn't define our self-image. The growth and progress are what keeps us inspired... and new experiences that come along with our progress keep life interesting. Being in Nico Vega is an amazing adventure and we really look forward to living that adventure.
Aja: I feel as though we spend a lot of time as young adults trying to attain some level of success. We feel the need to be acknowledged for what we do in order to find it valid. Commercial success doesn't make art any better, or worse and it's certainly not the reason to make art. If it were, there would be far too many broken hearts, because there is actually an incredibly small window for artists to reach that level of recognition and exposure. I am very happy with what we have created, and the love between us. It's always been a bit of a struggle to play the game of business, but the music comes naturally. I am grateful for that.
MySpace is kind of going the way of the buffalo but it helped get you guys off the ground, right? What do you think of the site's future?
Dan: It's just symbolic of how rapidly things evolve these days. MySpace was massive just a few years ago. I remember thinking it would prove to be the web equivalent of CBS or NBC. It's still where I go if I want to check out a band, listen to music, watch video; but it's no longer the most vibrant way for bands to communicate with their fans. We definitely owe a lot to Tom and the people at the record label, but it's just a reminder that nothing is permanent. MySpace had its time and made its contribution. Unless they introduce some major new technology or user experience people are going to continue to gravitate towards what's new. Leonardo DiCaprio could save Rose, but he couldn't save "Growing Pains".
Who are your greatest influences?
Dan: John Lennon, Bob Dylan, any artist or person who creates or lives life with complete conviction. What's the point of art if it's not a complete release?
Aja: I agree with Dan. Anybody who challenges the conformity is an inspiration to me.
What's the song writing process for you guys?
Dan: It's different every time. My favorite though, is when Rich spends the night at our rehearsal space. By the time we show up the next day, in his over caffeinated, cracked-out delirium, he's usually found some crazy guitar riff. We'll jam on it for a bit, build out a chorus and bridge, Aja will go into the hallway for 15 minutes and write the majority of the lyrics. By the end of the rehearsal, the core of the song is written. With Aja's lyrics, it's amazing how she encapsulates whatever it is in her life she is thinking about, studying, or experiencing. She definitely has her own spin on the world.
It seems you spent a great deal of time on the road to promote your album -- is that something you grew tired of ?
Dan: Our job is to play music for a living. There is nothing we'd rather be doing. It's all still pretty new for us, and we've certainly seen a lot of changes in our personal lives over the last year. However, it's a pretty special and unique opportunity to be in a touring band. As Rich says, "it's our responsibility to be irresponsible," and being irresponsible is nothing that any of us will ever get tired of.
Aja: We have always played music. Delivering it to people is an honor.
Does it bother you when people compare you to other bands?
Dan: Not if we're being compared to bands we like. We have a lot of influences though and their usually not the artists we're compared to.
What was the last great album you bought, downloaded?
Dan: King Crimson -- In the Court of the Crimson King
Aja: "Killing Me Softly" -- Roberta Flack. As far as new music goes, probably Monsters of Folk.
Is Rick Moranis underrated?
Dan: Damned right! Ghostbusters, SC TV, Spaceballs. I feel the same way about early Michael Keaton: Night Shift, Johnny Dangerously, Beetle Juice... please.
Lastly, if bands came with taglines what would yours be?

(Collectively): "Stand Tall."
Popular in the Community