I love Bangkok. I even love arriving here, slipping into the languorous heat of this fabulous city. Food, traffic, sex, pollution: this town has it all. Far from the austere majesty of Beijing, the befuddling hubbub of Hanoi, the dilemma that is Delhi, Bangkok screams and teems. All pinks and neons, there is nothing half-baked about Bangkok. Pouting, flouting, leering, sneering, Bangkok is the Lady Gaga of Asia.
Thai food is like condensed milk: I cannot even imagine the amount of self loathing required to not absolutely love it.
And Bangkok is hands down the world's greatest city for street food. It simply doesn't get better than this. I've never had a bad meal here, and its street food is the foundation of Thai culinary culture. In fact, twice I have been here and only eaten street side, it's that good. Everywhere, everyday everyone chows down on cheap, great grub.
In a few short chilli addled days, I quaffed sweet sausage soup with salted egg and rice noodles, sugar stoked Thai iced coffee with espresso, evaporated milk, sugar, sugar and then sugar (when once I asked to "hold the sugar," I got a look that conveyed concern at my sanity), fresh squeezed fresh juice made from giddily sweet tiny green oranges, Chiang Mai sausage, som tum-Thailand's eponymous green papaya salad made to order in a big wooden mortar, green coconut juice, spicy fried chicken, jackfruit smoothie, searingly hot noodle dishes, sparkling salads of pork skin and morning glory, fried crab and green mango. It's a rollercoaster of counterpoints: hot, cold, smooth, crunchy, sweet, sour, up, down that at times has you gasping, but always happy. Countless satays, noodle salads, fresh cut mangoes, guavas, papayas juicily displayed in glass cases on wheels, and more and more and more that you grab and graze as you go. It's endless and fabulous and expertly made. People specialize -- one vendor makes only coconut pancakes, another banana fritters -- that's it. Hence, they are perfect, all finesse and focus.
But do you know what I see, as I jostle through barely passable streets and markets, crowded with food stalls and happy eaters? I see an extremely successful cuisine. Each of these vendors is a micro- economy -- often family based -- making food that is an expression of the heart. And because this food is Thai in origin, it reaches further into the farms and fisherman and food producers to create a dynamic of culinary prosperity.
With all of this outside, why would you go into a restaurant? Simple, really. In a city that is devoted to eating, the excellence on the street has urged even greater excellence indoors. So when my buddy Quentin Dante, a restaurant refugee from New York, now happily based in Bangkok from where he creates restaurants all over Asia, said to me one sultry Silom soir "Tonight I am going to take you to the best restaurant in the world," I nodded meekly like an obedient food slave.

Issaya Siamese Club is a gorgeous, colourful Thai style plantation mansion -- replete with its own organic gardens -- set within an intestinal maze of streets in Bangkok's Sathon district, an absolute oasis in the midst of the madness. Ian Kittichai, hands-down Thailand's hottest, hippest celebrity chef, owns it, although he would never call himself that. I knew of him from New York days when he wowed som tum savvy New Yorkers with his sparkling cuisine at Kittichai. At Issaya, we loved the banana flower and heart of palm salad, with crispy shallots and roasted peanuts in a dried chili-coconut dressing -- all crunch and contrast -- and woofed down the warmly spiced chilli glazed baby back ribs, cooked on a small banana leaf wrapped grill on the table. Equally more-ish was "Larb Gai," a tangy, bright chicken salad with home-grown mint and saw tooth coriander in a roasted sticky rice dressing. In fact, everything we ate was a revelation -- it was as if I had never had Thai food before. Everything was familiar, yet reinvented and refined. Ian was bought up on the streets of Bangkok, and as a lad cooked for his mothers food stall, Ian is the real deal. Chatting with him, the street is never far away. His playful nature coupled with seriously good food makes him far more than a celebrity chef -- he is strengthening Thai food culture. This food, in this place, with this very likeable chef: the sum of the experience, yep, I'm with Mr. Dante. Issaya Siamese Club really may be the best restaurant in the world.
When it rains in this town, it does so forcefully and outdoor dining loses it's thrill quickly. Rain forced me off the street and into Som Tum Der on Soi Saladaeng just off Silom, and I am glad it did. Once again, the menu here respects the roots of its wonderful dishes, this time from the Isan region in Northern Thailand. Chef and partner Kornthanut Kittiyanon excels at casual but terrifically satisfying plates like Sa Pok Kai Tod Der, the best fried chicken I've ever had, som tum green papaya salad with Isan's distinctive fermented crab, cooling Lemongrass Ice Tea, and his desserts are worth a long distance flight for. I loved his Bua bi Pheuk, smoothly soothing taro balls in a kind of warm coconut soup with shredded young coconut meat. Plus he is about the chicest chef you'll ever see, sporting a jauntily askew panama hat and a fabulous smile! The room is wi fi wonderful and a cool respite from the street. I noticed that there was terrific clarity of flavour here that I put down to using high quality oils and less sugar than the more typical Bangkok fare. Chatting to co-owner Eh Laoraowirodge, I was impressed by the dedication that both he and Chef Korn have for the preservation of Isan cuisine. " You ought to try my other restaurant then" he said. "That's Isan home style food."
One adrenalin pulsing tuk-tuk ride later, I was in Sukhumvit and at Supanniga Eating Room. The menu is based on the dishes that Eh's mother and grandmother cooked for him as child, Isan Soul Food. It's a whole education in the heritage of the region, with unique ingredients and dishes that evoke country cooking and warmth. Moo Cha Muang (Pork stew with pleasingly bitter cha muang leaves with supposedly medicinal properties) is out and out grandma food. I loved the hard boiled eggs with a tangy tamarind dressing, and the chilli spiked pork mince served on a cooling tangerine round. Yam Cha Plu- a delicate warm sardine salad with cha plu leaves was, well... sardines have never been so well dressed. Eh is passionate about this food, it is full of emotion and recollection for him, and he comes alive when talking about it. The room is like the home you wish you had, with lighting that makes everyone look sultry in an unfussed but stylish décor.
I love that all three restaurants offer authentic, rooted cuisine, but with the added know-how of great technical chefs, the cuisine is energized, made dynamic. Also -- I learnt so much about Thailand from each place. This is Thailand beyond tum yum. All three "told the story" and this is what I think makes a restaurant truly great.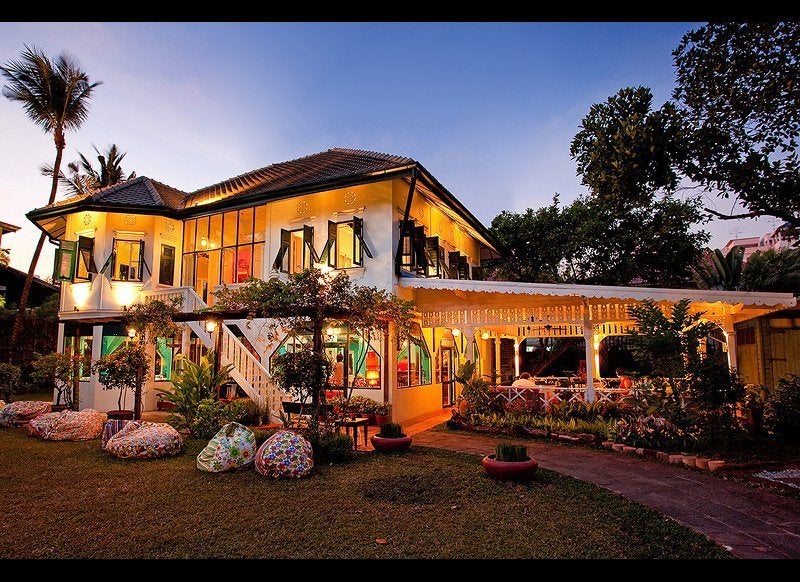 Bangkok- the Lady Gaga of Asia
Related