Despite what some might regard as an overabundance of traffic and concrete, Bangkok has so many good things to offer on an urban stopover. Geared to provide whatever comforts are desired, it's easy to get around with loads of shopping, great street food, Old City sights and when night falls, well then the concrete disappears and the Big Mango lights up and comes alive.
With around 20 million people in its greater area, the capital of Thailand has thousands of places to stay but Sukhumvit is my lively and convenient first choice. With a large number of expat residents, there is a wide array of services, all kinds of restaurants and the atmosphere is touristy but not relentlessly so.
Sukhumvit also has the advantage of being connected to much of the city by subway and the BTS SkyTrain, handy for trips to the colossal weekend Chatuchak market - get off at Mo Chit station and follow the crowds heading for more than 15,000 booths.
Every night is Saturday night in Sukhumvit, which is possibly even busier in the evening than it is in the day. While the potential is there for mishaps as in any large city, I have never felt unsafe walking around this area, whether it was three o'clock in the afternoon or three o'clock in the morning.
With business to attend to, I checked into the Park Plaza Sukhumvit, Bangkok, a boutique hotel that focuses on delivering stylish rooms, great service and excellent digital connectivity. Friendly staff and a popular rooftop pool with Blade Runnerish views of illuminated skyscrapers at night made the Park Plaza Sukhumvit a comfortable city base.
Minutes from Asok BTS SkyTrain station and Sukhumvit subway, the hotel was also an easy walk to the party street of Soi 11, and even the "red light area" (and tourist attraction) of Soi Cowboy.
An American friend escorted me to Soi Cowboy a few years ago for some people watching. It had the air of a street carnival, but with lots of neon and women in hotpants. As just another woman - but with more clothes - wandering about, I was completely ignored except by snack vendors who ensured we had plenty of peanuts.
For many Soi (street) 11 is the pulsing good-time heart of Sukhumvit with its bars and restaurants and its barrel-shaped nightspot on legs, the Bed Supperclub. Every time I am in Bangkok I walk this soi to inspect its ever-evolving streetscape.
At night restaurants and mobile bars appear on the pavement, but as far as more permanent structures go European-Thai fusion at Oskar Bistro pulls an upmarket crowd, and Above 11 serves an intriguing Peruvian/Japanese/Thai mix with impressive views33 floors up just around the corner. But Cheap Charlie's, less of a bar than a collection of furniture clinging to a laneway, is still a local institution with farangs.
Much of Bangkok is quite modern, but there are some older neighborhoods left, especially in the historic center where you'll find the Grand Palace and the budget travelers of Khao San Road. There's no SkyTrain over here, and the easiest way to get there is by road, but there are more interesting options. With someone new to the city, I suggested we take the khlong (canal) taxi. The NIDA/Golden Mount service runs parallel to and just north of Sukhumvit Road, over to Rattanakosin, where visitors will find what's left of old Bangkok. It's cheap and climbing on and off requires a little agility so it feels rather adventurous.
You wouldn't want to fall in the khlong -- centuries of murk lie beneath the surface -- but you see another side of Bangkok from the canal. It's used mainly by locals, but there is a stop right outside the Jim Thompson House, Thai architectural showpiece of the silk entrepreneur and one-time spy who disappeared in Malaysia in 1967.
Another way of making that cross-town journey is to take the SkyTrain to Saphan Taksin, then catch the public riverboat up the Chao Phraya to Tha Chang Pier near the Grand Palace. (It's best to visit the Palace in the morning as it closes mid-afternoon; dress modestly with covered shoulders and long trousers or skirts, and take a pair of socks.) If anyone loitering near the palace says it is closed but they will take you to a handicraft shop instead, just ignore them.
While on that side of town the backpacker village of Khao San Road is worth inspection, if only to spot the hippies that time forgot. Surrounding streets have a great array of snacking too. But be cautious of travel agents in this area - even those recommended by official -looking types inside the police station.
I required a train ticket to Malaysia and as agents frequently overcharge, I arranged it myself. It's a bit complicated to buy this ticket outside Thailand because a border crossing is involved, but once in the country I simply went by subway to Hua Lumphong, the main rail terminal for long distance trains in Bangkok.
From Hua Lumphong you can go overnight to Chiang Mai or Surat Thani (for Koh Samui) or Butterworth, terminus for the Malaysian island of Penang. Within five minutes the berth was booked, and I was on my way to Siam - city center, and where the malls are.
Bangkok is known for electronics shopping and my penultimate destination was MBK, which is like a giant gadget market with hundreds of small retailers who will indulge some gentle bargaining. Purchase concluded with a mutually satisfactory discount, I was soon back in Sukhumvit where I could get on with my final task, my pressing need for a masseur.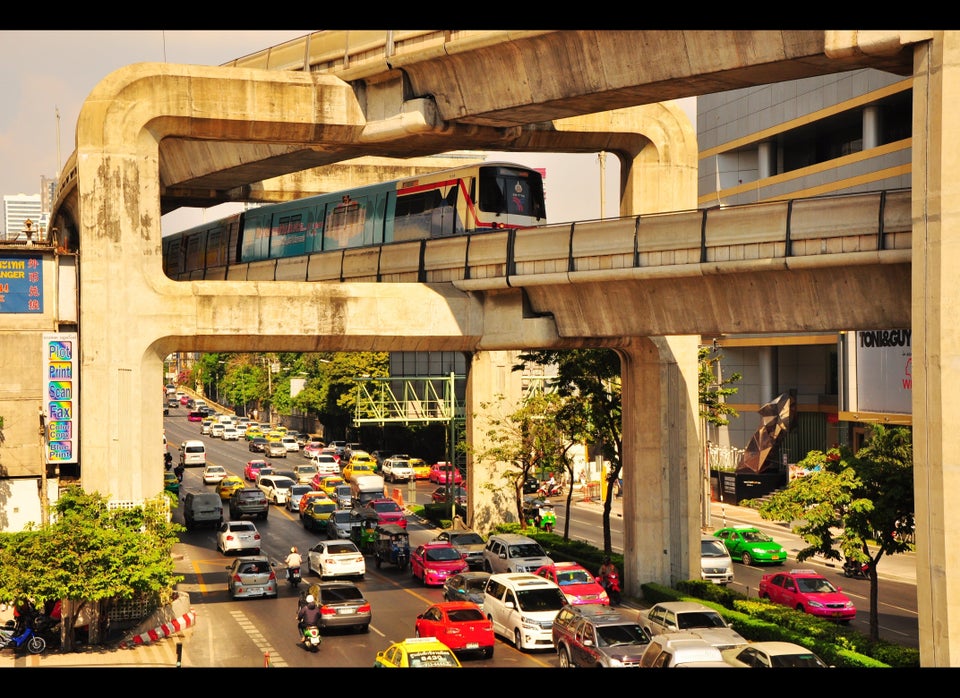 Bangkok's Compelling Chaos