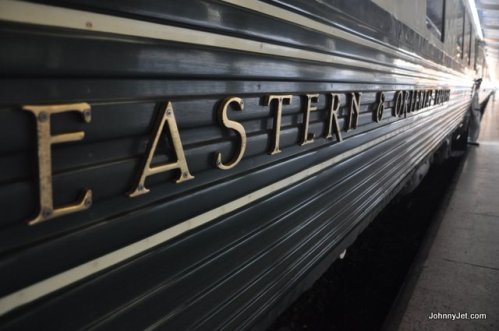 CHECK-IN
We were next to track 12, and I wasn't sure what the train looked like, so I asked the porter if the train behind him was the E&O. He laughed and said, "Oh, no sir--don't worry, it's much nicer than this." I breathed a deep sigh of relief, since that train wasn't looking too special.
WAITING ROOM
The private E&O waiting room really wasn't anything to rave about either. It just had some cool nostalgic posters and hot tea. Most of the passengers waiting appeared to be rich and stuffy, dressed in designer clothes and indiscreetly staring at one another trying to figure out what he or she does for a living. Once again I was reminded that you should never judge a book by its cover, because it turned out that most of the people weren't stuffy, and some not even rich. They were just there to celebrate a special occasion with a once-in-a-lifetime trip.
BOARDING
Boarding was supposed to begin at 5:30 p.m., but fortunately it started early at 4:45. The excitement began to build the moment we made our way to track 3, and it peaked the moment I made the high step onto the train. How exciting is it to be going on an Oriental Express train? The train was long, but we didn't have far to go since we were assigned to the third car, "C."
CABIN STEWARD
In carriage C there are four rooms. We were assigned to C-4, which is the first or last cabin, depending on which end of the car you board on. Our Thai cabin steward, who was on call 24 hours and assigned to all four of the C cabins, was waiting to welcome us and his other new customers. Sadly, I can't remember his Thai name, so let's just call him Sir, since that's what he called me. Sir showed us to our room and toured us around (see my video for a visual).
COMPARTMENTS
There are three types of beautifully appointed compartments: Pullman Cabins, State Cabins, and Presidential Suites. All have cherry wood interior walls and elm burr panels. The cabins are tight, but we made more room once we placed our bags on the small overhead luggage racks (there's one above each bed).
FYI: There's no TV, phone, or Internet, but my T-Mobile BlackBerry worked almost the whole way.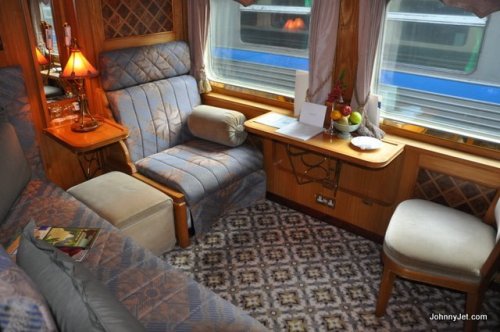 BEDS
We were originally assigned to a Pullman Cabin, which has bunk beds, but we were upgraded to a State Cabin, which has twin beds. During the day the beds are converted into a couch and chair, and then while you're at dinner the steward transforms them into cozy little beds with pressed fine linen sheets.
BATHROOM
Obviously, it's really nice to have your own bathroom on a train, even if it's tiny. Two people don't fit in it at the same time unless one is in the shower. There are a couple shelves with a basket of Bulgari toiletries, a hair dryer, and a miniature safe.
TRAIN HISTORY
E&O is the sister train to Europe's Venice Simplon-Orient-Express. It's the first luxury train to transport passengers directly from Bangkok to Kuala Lumpur and Singapore--a 1,262-mile (2,030-km) journey. Prior to September 1993 passengers had to change trains from Malaysian railways to Thai railways.
TRAIN TOUR
After we unpacked we took a quick walk through the train to see what we had in store over the next few days. First of all, the hallways of the carriages are tight--the only way someone can go by you is if you literally hug the wall. We passed through the on-board boutique, which sells everything from jewelry to copies of Murder on the Orient Express. I saw the reading room and saloon car before getting to the observation car.
OBSERVATION CAR
The observation car is located at the very end of the train. A third of it is an outdoor observation area decorated with teakwood. It filled up quickly with fellow passengers while we waited to depart. This is also the go-to place first thing in the morning so you can get a breath of fresh air since the windows in the rooms don't open. In the morning they serve tea, coffee, and muffins.
BAR CAR
The bar and restaurant cars have Thai wall carvings and engraved mirrors and are decorated in Chinese and Thai lacquer using Malaysian motifs. The bar car is open throughout the day and late into the night. Their signature drink is the Shanghai Express: bourbon, amaretto, Southern Comfort, orange and lime juices, and grenadine syrup. FYI: Drinks are not included in the price of the train trip, but food is.
DINING
One of the highlights of being on the train, besides feeling like you are trapped in an Agatha Christie novel reliving the colonial age, is the food. It's very safe for me to say the food was superb. Actually, it's shocking how good it is, and I have no idea how the French chef and his team work their magic in the puny kitchens. I wasn't the only one who felt that way. I asked everyone I met and they all agreed, and that's saying a lot since the train was full of well-traveled and pampered people.
DINNER
Lunch and dinner are served in the two lavishly decorated restaurant cars (both cars serve the same meals). Before you board they ask which seating you would like: 6:45 p.m. or 9:15 p.m. Natalie chose the 6:45, which I thought was too early, but I agreed 9:15 was too late. It was a good choice and that time stayed with us for all three nights. It also gave us the first lunch seating, which was at 11:45 a.m. and lasted 90 minutes.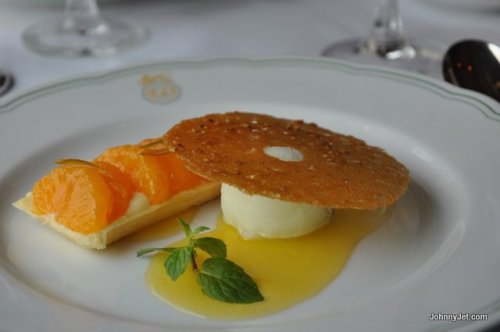 MENU
On our first evening, when I sat down and saw lamb as the entrée on the menu I was totally bummed, since I was starving and I despise lamb. When it came time to order, though, the waiter already knew exactly what I don't like (fish, veal, lamb, goat cheese). I forgot I had alerted them when we signed up--they ask everyone to send in their dislikes and/or allergies. Again, the food and presentation was outstanding. Here's a sample menu.
AFTERNOON TEA AND DESSERT
Every meal came with dessert, including afternoon tea, which is delivered to your room around 2:40 p.m. Actually, the only food improvement they need to make is on the afternoon tea desserts--they weren't up to par with lunch and dinner. That's a good thing, though, since it helped me control my sweet tooth.
OUR JOURNEY
To see how our journey on the Eastern & Oriental Express went click this link.

Related