As a frequenter of the Big Mango I have explored its juicy center fairly thoroughly -- more thoroughly than people I've known who have actually lived there. Even so, it's as if the Emporium on Sukhumvit Soi 22 is one edge of Bangkok's flat farang universe and to go any further is to fall off the edge. My mission this trip was to boldly go -- well, a bit further east (and not just on the way to the airport).
Like many journeys, this one started on the internet, but many Thai sites are, unsurprisingly, in Thai. However while investigating eating and drinking options, I found Bangkok.travel, a new website for visitors with updates on local tourism, nightlife and practicalities such as visas.
Equipped with ideas and hunger, I grabbed a couple of Bangkok-based expats equally enthusiastic about food and alcohol-fueled discovery, and we set off.
A decade ago Thonglor was a wasteland of car dealerships and wedding shops. Even three years ago it was "developing", but now it has truly arrived. With its own BTS station - conveniently named Thong Lo - it is easy to arrive at too. This is the area where affluent Thais now go to play; it is home to a wonderfully varied range of restaurants and bars.
BREW Beers & Ciders is set in a lively courtyard with indoor and outdoor options for perusing its extensive beverage list. Offering more than 330 beers, it claims to have the largest selection in Asia, including 10 on draft and 40 types of cider (eg, caramel, raspberry), in all representing about 20 countries. A Belgian Rodenbach had a fruity undertaste - its complex heritage includes brewing, ageing in an oak barrel, addition of cherry, then fresh beer for sourness. The menu is meaty fare, with great small plates for snacking, including spicy fried pork balls, Thai-style chicken wings, and sliced grilled beef with sour spicy sauce.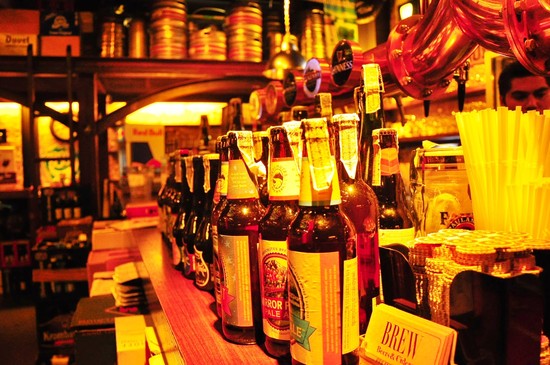 All hail the ale. The interior of BREW is dedicated to beer
Around the corner Mellow Restaurant & Bar is styled like a "New York loft" with lots of wood and exposed brick for a relaxed but stylish ambiance. An inviting menu of more than 220 cocktails includes classics, along with more unusual creations using premium spirits, fruit and spices. Big Apple combined infused vodka with Grand Marnier, apple, pear and cinnamon with a nutmeg meringue; Black Forest was vodka, crème de cacao, port wine, Frangelico and chocolate; sake jello, peach and sparkling wine came together in a chunky fusion Bellini. Dishes to share - chilli calamari, smoked duck and mozzarella spring rolls with mango chilli chutney, chicken nuggets with wasabi blue cheese dip - were crunchy and extremely moreish. The linguine in pink cayenne sauce with tiger prawns was also impressive.
Badmotel, across the street, is a new three-storey, multi-space venue with a courtyard, rooftop, exhibition spaces and bar. The menu is based around Thai street food, though the pasta with goats cheese looked tempting, as did Thai classics like crab cakes and yum makhua yao -- roasted eggplant and minced pork with chilli and lime. Innovative cocktails use Thai ingredients such as lemongrass and kaffir lime; a Bangkok Mule mixed bael-infused vodka with fruit, Angostura bitters and ginger ale, the 1887 Coffee Cocktail had no coffee in it, rather ruby port and cognac, and we shared a Bad Company, a "shot platter" with mix-it-yourself herby vodka, Chiang Mai honey and a selection of nibbley bits. Ed Westwick, who as Chuck Bass in Gossip Girl was well acquainted with bars, applied himself to the drinks list here recently, and it draws a fashionable crowd for art events.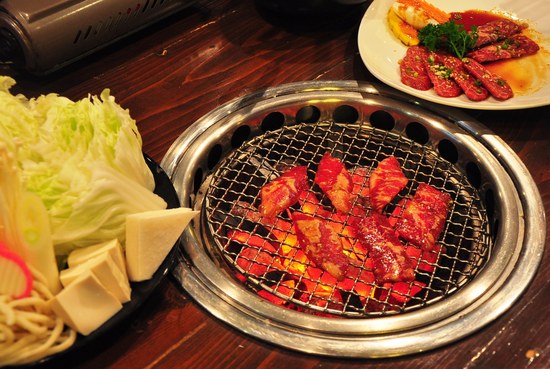 Grill your own beef without getting up from the table at Yakiniku Bar
It was Japanese for people who like meat at Yakiniku Bar where the grill is built into your table and diners are provided with tongs to cook right in front of them (yes, men love this). Marinated beef slices and dipping sauces were a deliciously tender appetizer. Yakiniku means grilled meat in Japanese, and Yakiniku Bar offers specialty cuts and breeds, including one similar to wagyu, to drop on the coals. Vegetarians needn't feel left out though, as they can have shabu shabu with vegetables and tofu cooked in a pot of broth at the table. As carnivores we tried two types (shoulder and bacon) of thinly sliced pork with ours, dipped in ponzu (sweetened soy) and goma (sesame sauce), along with rice cooked in "hot stone". It's a low-fat, healthy meal, but make up for that with some rich green tea ice cream for dessert, though Westerners may not care for red bean paste with it.
Coffee Beans by Dao in neighboring Ekamai was long overdue to be visited. This was the first of what I thought was a chain of fancy cake cafes, having previously dribbled over a counter display on the foodcentric ground floor of Siam Paragon. Dao is a real person, who makes an excellent gateau, but after starting with sweet stuff, the menu expanded to include Thai and international offerings - fusion is eschewed for consistent cooking and quality ingredients. When traveling sometimes you just want a comforting lasagne or a grilled chicken salad, and you can find that here. On the Thai side, the satay comes with a satisfying peanut sauce, and prawns with rice noodles, morning glory and roasted chilli sauce was well-balanced.
The cakes are tempting though -- light pandan sponge wrapping creamy fresh coconut, yoghurt muffins, the deservedly popular layered white chocolate cheesecake. As a chocolate fanatic I enjoyed the chocolate soufflé cake -- thin layers of sponger alternating with mousse - and the chocolate mousse cake, a denser, darker mousse with crunchy praline base.
Heading even further east to see Om Nut's night market and beer garden, along with a fix of old Bangkok around the local shopping and markets around Soi 71, I stopped at Jasmine Station Restaurant, a cool contemporary space with a large menu of Thai and Western dishes. It's a good choice to refuel for the afternoon- it has a variety of very reasonable lunch specials with promotions such as soup, salad, fruit and a main course for less than $6. It serves imported beef for those craving steak, and solid Thai classics - sweet and salty Pad Thai, hot and sour soup with salmon and omelette slices in chilli tamarind soup, papaya salad with grilled marinated chicken and chilli sauce.

Impressed by what I've found in this area so far, I can't wait to return and sample more. Thonglor in particular was a revelation, as it has the sophistication of more central areas, but with far less traffic and congestion.