The number of dead continues to rise in Bangladesh as rescuers sort through the debris of an eight-story building that collapsed Wednesday morning, claiming at least 123 lives so far in just the latest workplace disaster to hit the country.
The victims appear to be mostly poor garment workers employed in the building known as Rana Plaza. According to reports out of Bangladesh, the facility had developed cracks in its facade on Tuesday, drawing a visit from local government officials.
Although the facility houses a number of different businesses, including a bank and shops, it appears that workers employed at the garment manufacturers in the building were some of the only people who showed up for work on Wednesday. The building collapsed around 9 a.m. The bank, Brac Bank, had asked its employees to stay away from the building due to the cracks.
After the collapse, rescuers could hear the cries and prayers of victims inside the rubble, and they struggled to get water to those who were still alive. Television reports noted that emergency responders appeared ill-equipped to handle such a disaster. The Bangladeshi army is leading the rescue operation.
"It seems only 20 percent of the work has been completed. It will take days to complete the work," Ashik Hossain, a journalist who was on the scene Wednesday, told HuffPost.
Sumi Akhter, 25, told the Bangladeshi news site bdnews24.com that she and other workers had been ordered to work despite the obvious structural problems at the building.
"I did not want to enter the building. But management told us to join," said Akhter, who was being treated at a local hospital. "Hour later, it collapsed."
On Wednesday, HuffPost reached Kabir Hossain Sarder, a local government official who had visited the building on Tuesday. Sarder said officials didn't see an imminent danger given that garment workers had already evacuated the building by then. Pressed on what precautions local officials took to make sure no one re-entered the building Wednesday, Sarder hung up.
Wednesday's disaster is a grim reminder of the dangers faced by impoverished Bangladeshi garment workers, many of whom produce clothing for American consumers. Hundreds die in fires and other disasters each year. Many of the factories they toil in are in disrepair, receiving weak oversight from government officials and poor enforcement of labor laws.
The Tazreen factory that burned in Bangladesh last year, taking more than 110 lives, had been producing clothes for Walmart, among other retailers. Emergency exits had apparently been blocked and windows covered with steel bars, and managers had told employees who'd heard rumors of a fire on another floor to go back to work. Many survivors had jumped from the building.
"It says a lot about the priorities of the apparel industry," Scott Nova, director of the non-profit watchdog group Worker Rights Consortium, said of Wednesday's building collapse. "It's not just the people running these factories. It's also the psychology of that constant price and delivery pressure, by brands and retailers, that are produced on the management class in the country. They feel they can't afford any interruptions, or pay the price of losing their business.
"These are the predictable consequences," he added.
As of Wednesday afternoon, it wasn't clear what Western companies may have had clothing produced at the factories in the Rana facility when it collapsed. One factory in the building has an online website listing several European and Canadian buyers, including Walmart, though it isn't clear how accurate or up-to-date it is.
A Walmart spokesman told HuffPost the company was looking into the situation.
"We are sorry to learn of this tragic event," spokesman Kevin Gardner said. "We are investigating across our global supply chain to see if a factory in this building was currently producing for Walmart. We remain committed and are actively engaged in promoting stronger safety measures and that work continues."
Retailers Dress Barn and The Children's Place had once had arrangements with producers in the building, but both companies told HuffPost that they no longer buy products from them.
"We haven't purchased anything in this facility for at least the past three years," said Jeff Gerstel, president of Dress Barn, who said the company has developed its own compliance program. "When we see something like this happen, we're touched by the tragedy, but it's also a wakeup call to make sure our suppliers are acting within our policies."
Canadian apparel maker Joe Fresh has said it did have clothing produced at the facility. As HuffPost noted, the company said it was "extremely saddened" by the deaths.
"We will be working with our vendor to understand how we may be able to assist them during this time," the company said in a statement.
Local journalists on the scene of the disaster told HuffPost Wednesday that many workers had apparently showed up for work out of fear they'd be docked their pay.
"The workers were told through their supervisors that they would be [marked absent] for two consecutive days had they not gone to work Wednesday morning," Selim Ahmed, a reporter for bdnews24.com, said.
The average Bangladeshi garment worker earns around $63 a month.
"An absence of two days means a lot to a garment worker," Ahmed said.
Upward of 5,000 workers were estimated to be in the building when it collapsed, according to Bangladeshi media reports.
Negligent actors often go unprosecuted in Bangladesh after such garment factory tragedies, and as of Wednesday afternoon no arrests had been made. Mohammad Sohel Rana, the local ruling-party politician who owned the building, was reportedly escorted from the area by party sympathizers amid a public fury, local journalists on the scene told The Huffington Post.
President-elect Abdul Hamid, Prime Minister Sheikh Hasina and Opposition leader Khaleda Zia mourned the deaths and expressed their condolences to the victims' families on Wednesday. The government has declared Thursday a national day of mourning.
The day of the building collapse, the prime minister kept to her regularly scheduled events.
Related
Before You Go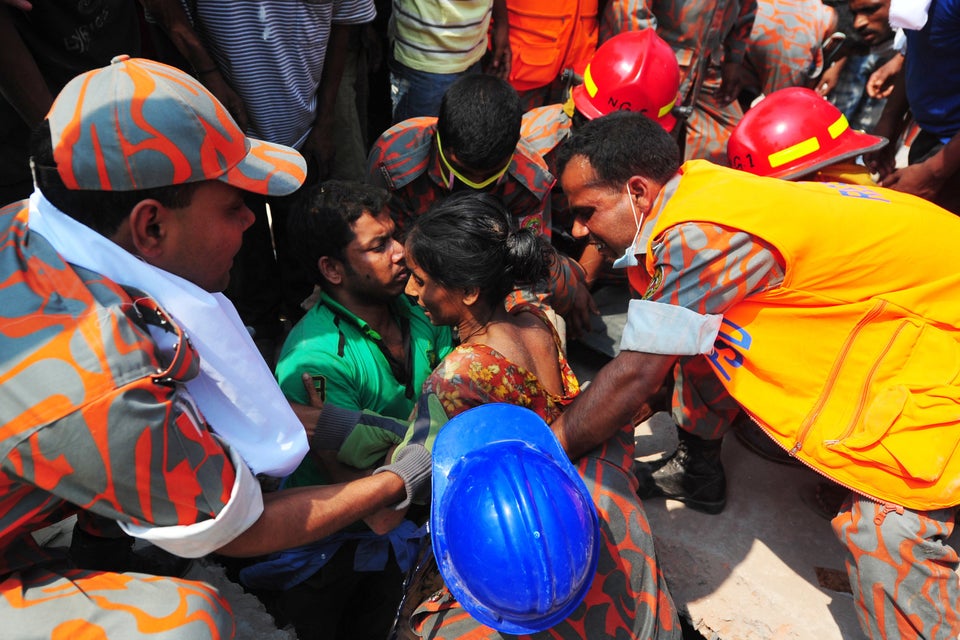 GRAPHIC WARNING Bangladesh Factory Collapses
Popular in the Community