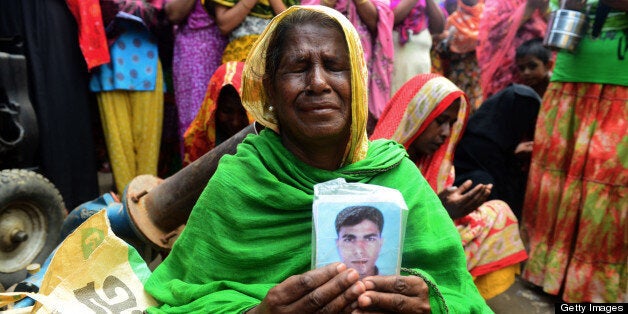 WASHINGTON -- Relatives of garment workers missing since last month's collapse of the Rana Plaza garment factory in Bangladesh demonstrated at the site of the tragedy Tuesday, carrying photographs and demanding the bodies of their loved ones.
"Rescue operation is over? ... Where's my son? How and where I'll get him?" asked Nazim Uddin, whose son, Uzzal, worked on the seventh floor of the building, according to Bangladeshi online newspaper bdnews24.com. The relatives of missing factory workers have spent the last three weeks searching hospitals, police stations and the recovery site for news of their family members.
Since the eight-story structure collapsed on April 24, 1,127 people have been declared dead, including almost 300 whose bodies have not yet been identified. On Monday, the Bangladesh Army announced that no more bodies remained in the rubble and officially ended the search.
The Rana Plaza building housed five garment factories employing more than 5,000 workers. It is unclear, however, how many workers were inside the building at the time of the collapse. The Bangladesh Garment Manufacturers and Exporters Association, or BGMEA, which controls garment factories across the country, has for weeks avoided preparing a list of victims, giving rise to allegations that it has been trying to downplay the scope of the tragedy.
On Tuesday, following the demonstration, the local government in Savar, an industrial suburb of the capital Dhaka where the disaster unfolded, finally began making a list of the missing. By 5 p.m. on Tuesday, more than 150 people had been reported missing by family members.
"The wreckage has been cleared, and there are no more dead bodies to retrieve. So we have begun making the list of missing to verify it with the BGMEA," said Kamrul Hasan Molla, the government executive officer of the district.
Molla told HuffPost that DNA testing is underway to try to match the unidentified bodies with those reported missing.
Operations in about 80 percent of factories in Ashulia, a major garment industry hub, remained suspended for the second consecutive day Tuesday. The BGMEA announced the indefinite closure of the factories because of worker unrest on Monday.
BGMEA president Atiqul Islam blamed the unrest on a small minority of workers who he said do not want to see the garment industry thrive.
"No owner wishes to keep their factory closed. We are compelled to keep the most compliant of our factories closed. Workers go there, give attendance, but do not work," said Islam.
Islam said the association held meetings with the Bangladesh government about the crisis throughout Tuesday. He would not characterize the results of the meetings or say when the factory closures might end.