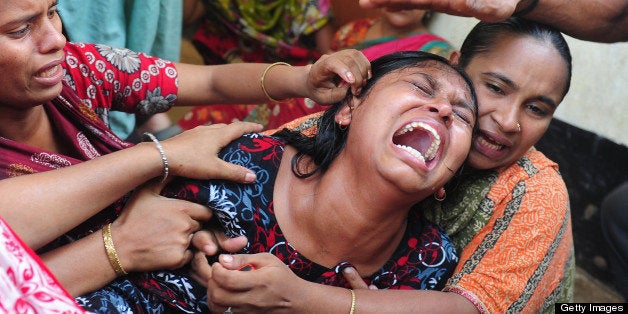 Major clothing brands like to say they have a system in place to avoid doing business with overseas suppliers that mistreat their workers: The corporate-funded factory audit, performed by credentialed inspectors and designed to weed out bad actors.
But for the past six years, Abu Bakar, a Bangladeshi garment worker in the sprawling industry hub of Gazipur, has helped create the clothes for which Western buyers seem to have boundless demand. In that time, he's developed his own idea of what a factory audit is.
That's when the foreigners show up to scrutinize everything he and his colleagues do -- not for the sake of safety, but for the sake of production. They make sure that the clothes are dyed right. That the shirts button properly. And that the right amount of product is going out the door in the right amount of time.
In all his time on the floor, Bakar said he has never been interviewed as part of a factory safety audit. His concept of an audit is pure production anxiety.
"No one turned up at our factory to ask about fire safety after the Tazreen fire," Bakar, who works in the dye department of his factory, told HuffPost in Bengali. The Tazreen factory was the site of a massive fire in November that claimed the lives of 112 mostly impoverished garment workers, many earning as little as $37 a month. Bakar's factory sits roughly 15 kilometers (9.3 miles) from Tazreen.
The death of more than 520 workers in the horrific collapse of Rana Plaza last week has raised fresh questions about the effectiveness of factory audits underwritten by Western brands. Two of the factories inside the building had undergone audits overseen by a monitoring group, the Business Social Compliance Initiative, which was created by a European industry group, the Foreign Trade Association. Similarly, last year, after more than 260 workers died in a factory fire in Pakistan, it was revealed that the plant had recently been green-lighted by a different industry-funded auditing group, U.S.-based Social Accountability International.
Many worker advocates criticize these auditing systems as well-meaning, but flawed, pointing to an inherent conflict of interest: The groups are largely funded by the very corporate members whose contracted facilities they're meant to monitor. The auditing process, these critics claim, ends up catering more to the brands involved than the workers toiling on the line, like Bakar, many of whom have never spoken to an inspector.
Suruj Miah, who's worked on garment lines in Bangladesh for four years, told HuffPost he has never personally been interviewed for a factory audit, but knows colleagues who have been.
"What to say to the auditors always comes from the owners," Miah said. "The owners in most cases would warn workers not to say negative things about the factories. Workers are left without a choice."
Business Social Compliance Initiative didn't respond to interview requests from HuffPost. Lorenz Berzau, the group's managing director, told The Wall Street Journal that its auditors aren't building engineers and wouldn't have been able to determine structural problems at Rana Plaza. Most of what its audits find are wage and safety violations.
"It's very important not to expect too much from the social audit," Berzau told the Journal. "BSCI and other initiatives contribute to improve the situation. ... But it's a long way we have to go."
Such monitoring programs, known in the industry as "social auditing" groups, have become a mainstay for Western brands since the 1990s, when corporations decided to ramp up factory oversight in the wake of high-profile sweatshop scandals. With garments coming from countries like Bangladesh, where the enforcement of labor rights and workplace safety laws are notoriously weak, social auditing firms now serve as one of the few levels of scrutiny in a supply chain where catastrophic factory disasters, not to mention workplace abuses, have become common.
As Berzau noted, only so much can be expected of the occasional audit, and such monitoring groups could never take the place of the strong government safety enforcement that is obviously lacking in Bangladesh. But the findings of Business Social Compliance Initiative's factory audits aren't available to the general public, or to the workers who toil in the factories being audited.
According to the group's most recent annual report, "Audit results are shared in a common database among BSCI's participating companies. This disclosure avoids multiple audits along with unnecessary costs and time spent for the companies and the producers."
More than 90 percent of the group's income in 2011 came from participating companies, according to the annual report. The rest came from the fees generated by audits.
Given Business Social Compliance Initiative's strong code of conduct for businesses -- the right to free association for workers, no forced labor or overtime, a prohibition against child labor -- worker advocates said they'd love to see what the audits have turned up.
"They have quite a database of information, which is really interesting for a lot of us," said Judy Gearhart, executive director of the International Labor Rights Forum. "If only we knew what they found.
"Our big gripe about all these systems," Gearhart went on, "is that the auditors get hired, they go in, they do their report, and then if the brand finds it too difficult to fix, they walk away and don't tell anyone."
Brian Finnegan, global worker rights coordinator at the AFL-CIO labor union federation, said there needs to be more transparency -- as well as worker involvement -- throughout the social auditing industry.
"Somebody audited it, somebody passed it or failed it -- but it's all in a black box," Finnegan said.
The promise of increased vigilance from Western companies, paired with the rising number of factory tragedies, has led to pessimism among workers and industry observers in Bangladesh. Selim Ahmed, a journalist who's covered the garment industry in Savar, an industrial hub of hundreds of garment facilities, said he's heard the calls for stronger scrutiny before. He recalled a similar building collapse in 2005 that killed more than 75 people.
"This time they talk about it, as too many people have died," Ahmed said. "I know how this industry works. ... I'll be surprised if the promise to work on factory safety lasts more than six months from now."
In addition to social audit groups, retailers themselves often monitor the factories where their clothes come from. But regardless of who performs the inspection, the process is often opaque to the workers themselves.
Worker advocates say coaching from supervisors is a widespread problem in Bangladesh. Sumi Abedin, a survivor of the Tazreen fire, recently told HuffPost that she knew of workers being ordered to wear "fire safety committee" T-shirts at her plant, even though no such committee actually existed. Workers were also provided with temporary fire equipment on days when inspectors came, Abedin said. In that disaster, workers like Abedin were forced to leap from upper floors in the burning building, as exits were blocked and windows were grated.
From the perspective of Miah, the four-year garment veteran, a safety audit brings an unusually busy day at the factory -- supervisors making sure the fire equipment is visible, and expired extinguishers being replaced with fresh ones. But once the inspectors are gone, such caution tends to vanish.
"We do have firefighting equipment there," Miah said of his own factory. "But we don't know how to use it."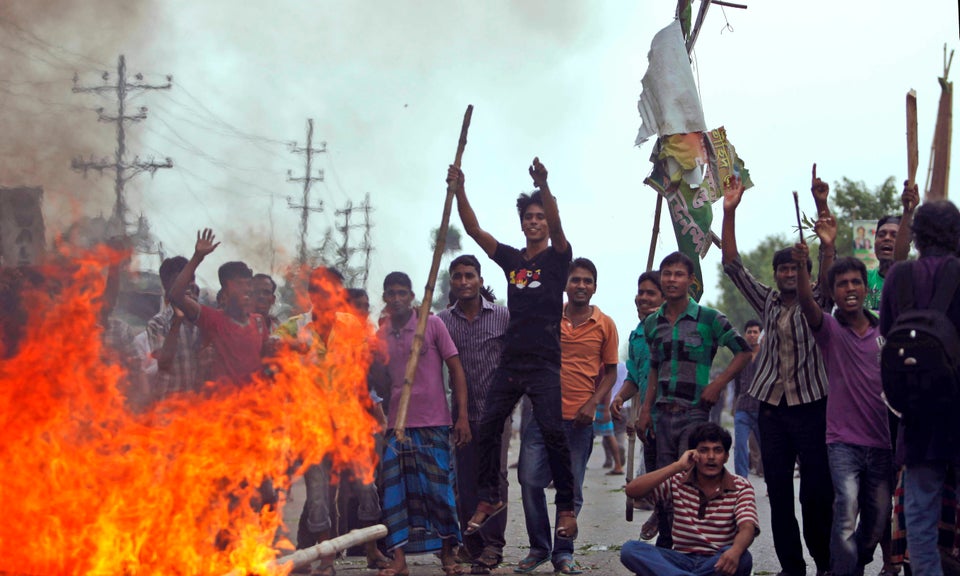 Bangladesh Factory Collapse (UPDATED)