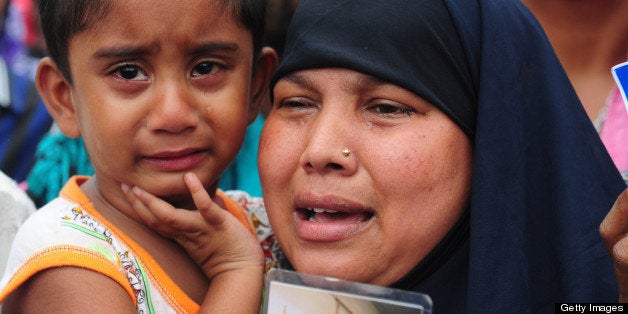 The climbing death toll in the wake of a massive building collapse in Bangladesh has put increasing pressure on Western retailers to commit themselves to safety improvements in the country's garment facilities.
As of now, the contributions made by U.S. and European brands toward safeguarding Bangladeshi factories that produce their apparel are largely voluntary and non-binding -- a fact that has exasperated labor rights and worker safety groups. As HuffPost reported just before last week's tragedy, the industry-funded compliance programs that retailers currently rely on are well-intentioned but mostly toothless, leaving the responsibility for safety with Bangladeshi subcontractors and the country's business-friendly regulators.
But with the number of dead in Savar, Bangladesh, surpassing 400 -- and hundreds more unaccounted for, possibly still in the rubble of the building, Rana Plaza -- even retailers who didn't have their clothes made there are facing calls from worker advocates and politicians pressuring them to pledge upgrades to safety standards and inspections.
"This most recent tragedy repeats what has become a serious and disturbing pattern in Bangladesh -- labor and workplace laws are flouted and workers' safety and rights denied in the pursuit of lucrative export opportunities primarily to Europe and the United States," the lawmakers wrote. "And workers -- most of them young women and mothers -- are left to pay the terrible consequences with their lives."
A spokeswoman for the White House's National Security Council said that the State Department had an "ongoing dialogue" with U.S. buyers who source from Bangladesh about how they can "ensure safe and healthy working conditions."
"This has been a terrible tragedy that serves to underscore the urgent need for the Bangladesh Government, owners, buyers and labor to find ways of strengthening respect for workers' rights," NSC spokeswoman Caitlin Hayden said in an email.
Groups like the nonprofit Worker Rights Consortium have tried to pressure retailers into adopting a memorandum of understanding known as the Building and Fire Safety Agreement, which would create an independent factory inspection process and legally require brands to help finance factory improvements. So far, the memorandum has found two signees -- PVH, which owns Tommy Hilfiger and Calvin Klein, and Tchibo, a German retailer -- but it needs four parties to join before it can be implemented.
Gap, along with Walmart and H&M, met in Frankfurt this week to discuss a course of action in the wake of the Rana Plaza collapse.
A Gap spokeswoman told HuffPost the company was making its own commitments to factory safety.
"Gap Inc. decided it was imperative to take action immediately in Bangladesh to improve building and fire safety standards across the company's approved third-party garment manufacturing factories in Bangladesh, which is why we are implementing our own plan," the spokeswoman said Wednesday in an email. Gap declined to discuss the Frankfurt meetings, but the spokeswoman described them as positive for the retail industry.
"Before another senseless tragedy occurs, I urge American companies contracting with factories in Bangladesh to take a leading role in protecting their subcontracted employees abroad," Meng, a member of the House Foreign Affairs Committee, wrote. "It is the moral responsibility of American companies that procure goods with the country to ensure their suppliers operate safe factories."
Currently, Western retailers and clothing brands typically create their own supply-chain ethics codes or join industry-funded nonprofits that help monitor working conditions. Neither system, however, legally obligates companies to contribute to safety improvements or compensate employees injured or killed working for overseas subcontractors. In fact, the ethics codes laid out publicly by many companies are often at odds with the working conditions revealed in disasters like the one at Rana Plaza.
The U.K.-based retailer Primark, for instance, had clothing produced in the building that crumbled last week. On its website, Primark notes, "Our Code of Conduct sets out the core principles that suppliers and factories must follow to ensure products are made in good working conditions, and the people making them are treated decently and paid a fair wage."
The garment workers who died at Rana Plaza, however, were apparently forced to clock in the day the building came down, even though it was widely known that the building had developed cracks the previous day. Workers said their employers had threatened to dock their pay if they didn't show up. The owner of the building, Sohel Rana, told police that the garment factory owners were afraid they'd miss shipments otherwise.
Bangladeshi garment workers earn as little as $37 a month, a minimum wage set after years of protest. The ready-made garment industry accounts for roughly 80 percent of Bangladesh's exports, according to the country's Export Promotion Bureau, with a labor force of 3.5 million workers, the majority of them women.
One of the factories in last week's collapse had previously listed Walmart as a buyer, but a spokesman for the largest retailer in the world told HuffPost after the collapse that it was still investigating whether or not it had clothes produced there. He didn't immediately respond to a request Wednesday for an update on the company's findings.
Sumi Abedin, a survivor from the Tazreen fire, has toured the U.S. in recent weeks demanding that Walmart pay compensation to victims of that disaster. Walmart had clothing made at Tazreen at the time of the blaze, although the company has said it didn't authorize its subcontractor to produce there. At the Tazreen fire, emergency exits were blocked, windows were covered in steel bars, and employees were told to go back to work even after they smelled smoke. According to a report by Bloomberg, Walmart opposed the binding memorandum on factory safety pushed by labor groups in 2011, on the grounds that it would be too costly for retailers.
Walmart, like Primark, has an ethical sourcing code, and earlier this month it said it would devote $1.6 million for safety training in Bangladesh. "We collaborate with other retailers, brands, NGOs and government leaders to verify the products we sell are produced in a way that provides dignity and respect for workers in our supply chain," the company says on its website.
In her letter to Walmart on Wednesday, Meng said that U.S. retailers need to be "accountable" to their supply chains and aware of the abuses perpetrated by their subcontractors. Lawmakers like herself, she added, "will judge them as such in the future."
This article has been updated with comments from the National Security Council and from Gap Inc.
This story appears in Issue 48 of our weekly iPad magazine, Huffington, in the iTunes App store, available Friday, May 10.
Related
Before You Go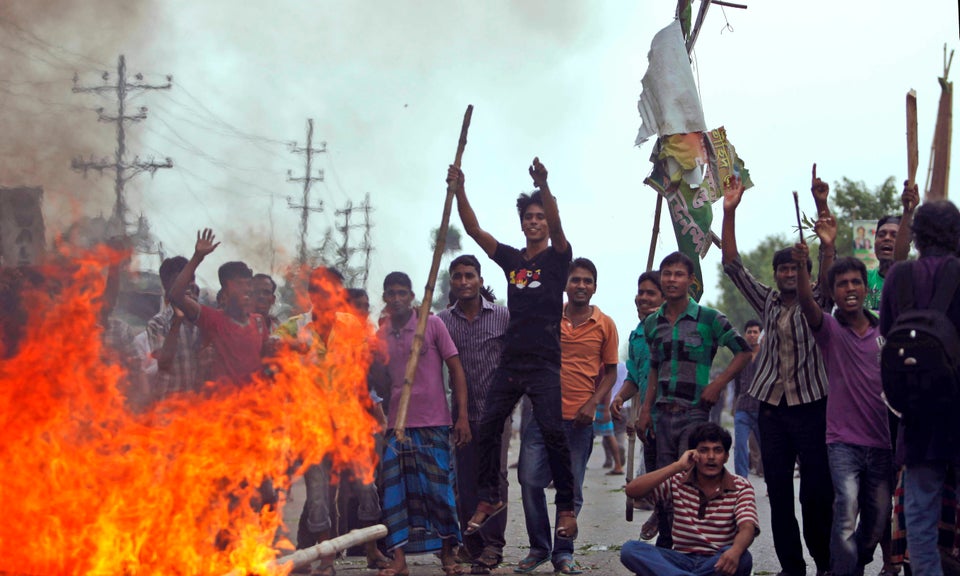 Bangladesh Factory Collapse (UPDATED)
Popular in the Community