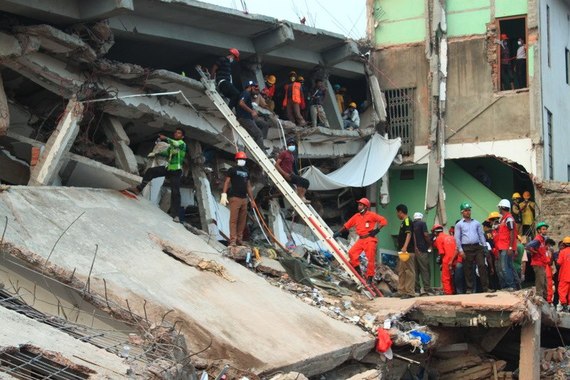 One year ago on Thursday, Rana Plaza, a building in Dhaka, Bangladesh, collapsed, killing over 1,100 and injuring over 2,500 -- the worst garment factory accident in history. Workers trapped inside the building had been making clothes for popular western companies like Walmart, the Children's Place and Joe Fresh. Factory owners, forced to meet fast production deadlines, ignored worrying cracks in walls that had appeared the day before.
The sheer scale and brutality of the calamity shocked us all. In its wake, calls for improving workplace standards in Bangladesh came from around the globe. In the year since, how much have conditions really changed?
Some multinational companies have taken important steps. Many companies that produce goods in Bangladesh committed to improving workplace conditions. Adidas, H&M and over 150 other companies, mostly based in Europe, signed the Accord on Fire and Building Safety in Bangladesh, a legally binding agreement to improve safety standards and inspections in the nation's factories.
A smaller group of mostly American companies including Gap and Walmart, reportedly concerned about the possibility of class-action lawsuits, signed a similar agreement, but it is non-binding. Both agreements were pushed by NGOs, labor organizations and concerned company shareholders.
Hopefully these efforts will lead to real reform, but it's important to remember how far short companies have fallen in the past. For nearly two decades, Western companies have said they were carefully monitoring their overseas suppliers for labor abuses but all-too-often weren't doing nearly enough.
These changes are important, but they're not enough. And while safety standards and wages are improving in Bangladesh, the disaster has had little impact on working conditions in other countries.
Poor working conditions and low wages paid by Western manufacturers and their suppliers in the developing world are part of a broader problem: corporations have devalued labor. Facing pressure to increase quarterly profits, many cut corners when it comes to treating workers fairly, paying them well or keeping them safe. They also put pressure on suppliers and turn a blind eye to wage violations or unsafe conditions. Changes some companies have made haven't altered the way they do business in any fundamental way -- so we need to do more to ensure that workers' rights and safety are protected over the long term.
In part that means taking more responsibility as consumers. The factory collapse was a horrific reminder of how important it is to support companies that make treating workers fairly a priority. For some consumer goods like coffee, fruit and chocolate, items that are designated as ethically produced or "fair trade" have grown increasingly popular -- and profitable -- in recent years. The trend has not taken root when it comes to clothing, but as consumers we should demand that companies give us the option.
Shareholders of manufacturing companies also need to keep the pressure on. Last year, a coalition of institutional investors including Amalgamated Bank, with combined assets of over $1.35 trillion, called on such companies to track who their suppliers are, ensure compliance with safety standards and fully disclose their supply chains. Other groups, like the Interfaith Center on Corporate Responsibility, also coordinated similar joint calls for corporate reform. The tragedy also spurred efforts to improve individual companies' manufacturing and supply chain policies. These have been good first starts, but achieving lasting change will require a long-term commitment.
As our economy has become globalized, we've become increasingly separated from the places where our consumer goods are produced and the people who produce them. That, in turn, makes it easier for companies to turn a blind eye to the rights of workers in distant places. As shareholders and consumers, we need to use what power we have to ensure that they don't.
REAL LIFE. REAL NEWS. REAL VOICES.
Help us tell more of the stories that matter from voices that too often remain unheard.