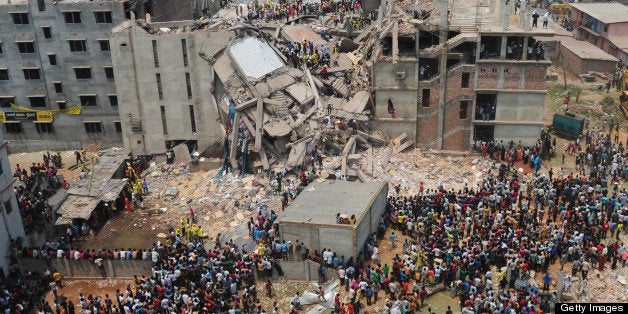 In the wake of another deadly disaster at a major hub of garment manufacturing in Bangladesh -- this time, the collapse of a building that took the lives of more than 300 people -- the multinational brands that use the country to make their products once again find themselves having to explain what went wrong.
Already, the Canadian retailer Loblaw, which owns clothing brand Joe Fresh, confirmed that "a small number" of its wares were produced in one of the five factories held inside the doomed Rana Plaza. British retailer Primark has also acknowledged doing business with a factory on the second floor of the eight-story building.
Following another horrific spectacle in a poor country that produces the garments worn by those with consumer power in far-wealthier lands, major brands are trying to limit their exposure to the tragedy. But amid the familiar public accounting, labor advocates assert that few can ever know, with absolute certainty, where their products are made and how factory workers are treated within those plants.
Even the best intentioned multinational corporations can be involved in disastrous situations because global sourcing is so vast, and many of the factories with which they contract tend to farm out some of the work to smaller operations. The further along the supply chain one inspects, the greater the tendency for less complex tasks to be performed in the underground economy, in hazardous working conditions, by people paid less than even local minimum wage laws.
Patricia Jurewicz, director of Responsible Sourcing Network, explained that sourcing practices are different for every brand. Some brands stay close to their supply chains by owning their own factories, while others outsource everything. A common practice is to work through sourcing agents who do all the subcontracting for the apparel company, making problems down the supply chain harder to track.
Yet, if companies had unlimited resources to devote to supply chain audits, they could find out everything about where their products come from, "down to the dirt," Jurewicz noted.
After seemingly every disaster, brands concerned about their reputations tend to publicly reinforce their commitments to auditing their supply chains. But the very process of auditing is rife with fraud and fundamentally flawed, said Lindsay Soulsby, co-founder of "mine the gap!," a firm that helps organizations improve their labor practices and working environment.
Factory social audits -- a check on social responsibility, such as labor conditions -- are often announced in advance, allowing managers to deceive auditors, Jurewicz said. Though not every factory owner or manager is unscrupulous, some don't hesitate to lie or withhold information. Workers are coached to say the right thing about their wages and working conditions.
"People are open to data manipulation or blatant lying, and it's not in their best interest to tell you the truth," Soulsby said. "They tell you what you want them to hear, rather than what's the reality on the ground ... Auditing is simply not getting to the truth."
But in practice, the audits -- typically conducted by independent, third-party auditors -- are usually "too short, too superficial and too sloppy" to identify potentially problematic violations, according to a recent report from the Clean Clothes Campaign. Workers are scared for their own jobs, so they don't speak up and blow the whistle. Generally, they're not given a chance to file a complaint.

"If you're a Bangladeshi female and you have a Western man in front of you with a translator, and your supervisor is probably nearby watching, you're not going to say what you really think," explained Soulsby. Even then, there's often no one listening.
Then there's the issue of the auditors themselves. In this world of underground manufacturing, not every auditor is acting in the best interest of the workers, and may accept bribes to lie about the true conditions inside a factory, according to Soulsby. Retailers are very much aware of the problem, and some auditors with bad reputations are often not taken seriously, she said.
"There are a lot of good auditors, and there is a lot of good information that comes from it, but they're not talking enough to the workers," said Soulsby. Instead, the task ends up being thrust to nonprofit groups and workers' rights organizations, who act as watchdogs for the industry.
"I can maybe understand a little bit more with the structural integrity of a building. It's not that often that you have factories collapsing," said Jurewicz, who stressed that it's no excuse for what happened. "If there's cracks and you have employees reporting that it doesn't feel safe, that should come up at least in the interviews with people."
The investor community has encouraged codes of conduct that retailers, suppliers and manufacturers are supposed to follow, she said. It's in a retailer's financial interest to know the labor conditions inside their factories and the exact source of all their materials because their valuable brands are at risk.
"A lot of brands are scared, they want to know who is making their stuff legally, because their label's on that product," Jurewicz said. "I think that most retailers do require that they know all the facilities that are touching their products."
But right now, retailers may not know exactly what's going on in those facilities. They're hidden away from much of the world, and it costs money to find out what's really happening on the inside. IKEA chief sustainability officer Steve Howard asked if companies should go so far as to start putting webcams in factories.
But Scott Nova, the executive director of the Worker Rights Consortium, pushed back against this argument.
"The reality is it's not that difficult," said Nova. Somehow, brands are able to control the quality of the products manufactured in their factories, and yet, they aren't able to monitor the workers. If apparel retailers don't know where the materials for their products are being sourced from, he said, it's because they chose not to care.
As Nova said, "It's a matter of priorities."
Related
Before You Go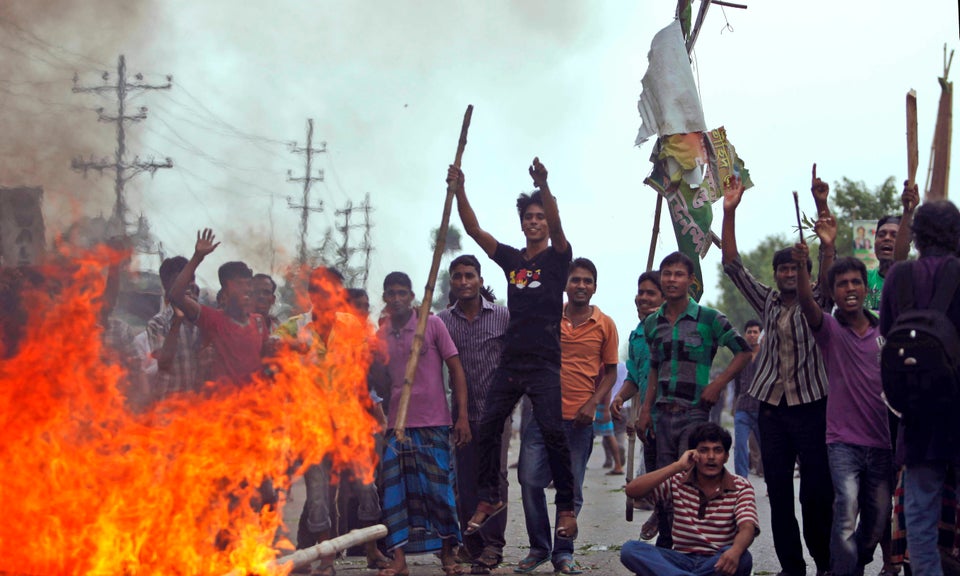 Bangladesh Factory Collapse (UPDATED)
Popular in the Community