Whenever impoverished garment workers die while making clothes for wealthier consumers in far-off lands, competing clothing brands manage to come together over a high-minded common cause: Better scrutiny of the overseas plants that produce their garments, to avoid putting vulnerable workers in harm's way.
But in the wake of an epochal garment industry disaster inside his own country, Shahidullah Azim, vice president of the largest garment manufacturing trade group in Bangladesh, declared such talk self-serving and misguided. If the big clothing labels are truly committed to improving safety standards inside factories in Bangladesh, he argued, they should reconsider their own cutthroat buying practices and agree to pay higher prices to underwrite the safety improvements they say they want for workers.
"The retailers only talk about ethical sourcing," Azim, of the Bangladesh Garment Manufacturers and Exporters Association, bemoaned to HuffPost, speaking Bengali. "I think this is the time we start talking about ethical buying."
The horrific collapse of Rana Plaza in a suburb of Dhaka last week took the lives of more than 440 people. Like the Tazreen fire that killed 112 last year, the vast majority of those who perished were poor line workers earning as little as $37 a month producing clothes largely for Western consumers.
Some of the European and Canadian retailers whose products have been linked to the factories have expressed sadness and amazement, suggesting little knowledge of the working conditions under which their clothes were being produced. The managers of the Bangladeshi factories, meanwhile, have found themselves the subjects of mass protest, bearing the brunt of an international swell of anger and disgust.
But according to Azim, everyone involved in the production chain bears responsibility -- not least, the global brands whose demands for rock-bottom prices can trump their codes of ethical sourcing and words of concern for worker safety.
"How much less you could pay for a product?" Azim asked. "How can a garment businessman keep up with this ever-increasing demand? Of course, by using every opportunity to minimize production costs -- paying workers less and not caring about workplace safety."
Azim, who himself supplies to European and American buyers, said Thursday that to improve safety, Bangledesh manufacturers and Western companies should consider setting standard prices for particular garments within the country, to prevent buyers from pitting producers against one another in a race to the bottom. Buyers, he said, often increase their volume demands while keeping the price the same, or otherwise they'll take their business elsewhere.
Government officials as well as garment workers became aware of dangerous cracks in Rana Plaza the day before the building came down. Survivors have told Bangladeshi media that they didn't want to go into work, believing the building unsafe, but were told by their employers that they would be docked pay if they didn't show up.
The owner of the building, Sohel Rana, a ruling-party politician now publicly loathed throughout Bangladesh, kept the building open despite the obvious dangers.
In the wake of such devastation, manufacturers in Bangladesh now face the prospect of losing image-conscious brands like Disney, which The New York Times reported this week had exited the country in March. Disney merchandise was found at the site of the Tazreen fire last year.
Anisul Hoque, another Bangladeshi garment businessman, said the impact of Disney's exit is more symbolic than economic. The company had only a small portion of its product coming out of the Bangladesh, but the move has already drawn international attention because of Disney's footprint in the world.
"Disney had never been a big buyer for us," Hoque told HuffPost. "Still, I don't feel comfortable by the news of them leaving our market. We want them to stay. They should stay."
Despite Disney's move, Hoque said he doesn't see great alternatives to Bangladesh for European and American buyers, at least at the prices they're demanding. China has become too costly for labor, he argued, though Myanmar may be attractive.
"Still, it would take at least two years for the buyers to shift there," Hoque said, citing production logistics.
Azim said a drop in orders from Western buyers has already become visible in the past week, although it will be months before manufacturers actually see how much business has been lost due to the recent disaster. The orders currently being fulfilled were placed weeks or months ago, he said.
Nazrul Islam Khan, the head of Jatiyatabadi Sramik Dal, the opposition party's labor front, said a loss of business would be troubling for the country.
"The buyers are really worried about Bangladesh," Khan said. "What we must all agree on is that our garment industry is really critical."
A recurring factor in such tragedies has been the byzantine system of subcontracting and unclear lines of production in the garment industry. At Tazreen, for instance, Walmart clothing was apparently being produced inside the factory at the time it burned, but the company has said the production wasn't authorized. Walmart, the world's largest retailer, has since been asked to pay compensation to victims' families and survivors, though it hasn't agreed to do so.
Azim said many buyers establish contracts with manufacturers without knowing their actual production capacity. As a result, much of it gets subcontracted to other players, unbeknownst to the buyer. Azim argued that it's up to buyers to find out how much their suppliers can produce.
As for the buyers shifting en masse to other countries, Azim said he isn't too worried. The economics, he said, are on the side of Bangladesh's manufacturers.
"I can assure you no country on earth can give cheaper labor than us," he said.
Before You Go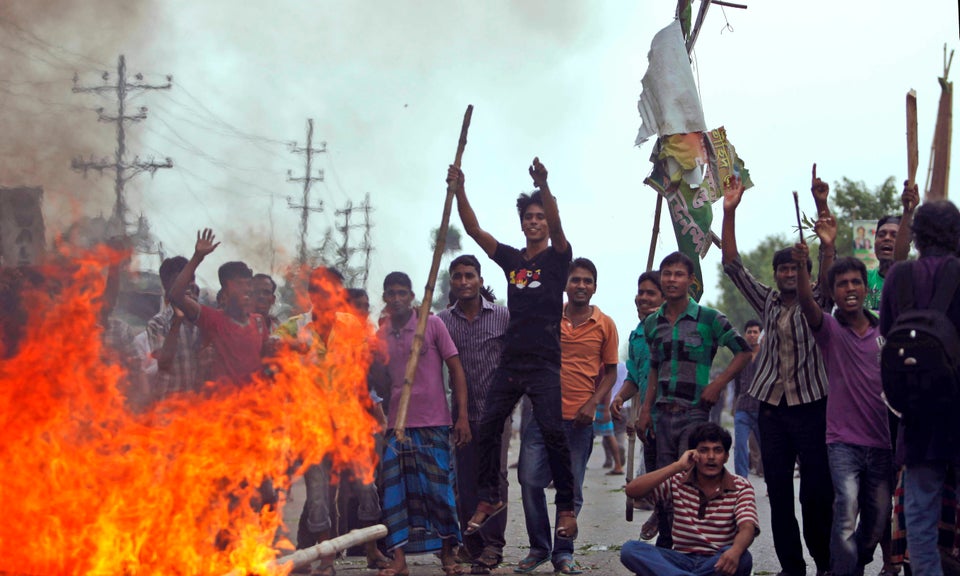 Bangladesh Factory Collapse (UPDATED)
Popular in the Community