Marzia Izrat, a young activist from Dhaka started an online campaign, calling for cross-border and international solidarity for an ongoing struggle against a coal plant in Bangladesh. The story of this struggle comes from a country that continues to face a series of cyclones and floods in the wake of climate change.
On Sept. 24, thousands of people in Bangladesh began rallying for 5 days and 400 kilometers to oppose a coal-fired power plant. Their march began in the capital city of Dhaka and is moving towards the Sundarbans, the world's single largest block of mangrove forests in the world. The Rampal power plant is a proposed 1,320-megawatt thermal project that is about to be built in Bagherhat, Khulna district of Bangladesh, not far away from these sacred forests. It is a joint partnership between India's state owned NTPC (National Thermal Power Company) and BPDB (Bangladesh Power development Board).
The ongoing protests to protect their beloved Suderbans are justified if we look at the potential risks involved. The plant needs to import 4.72 million tons of coal per year. This massive freight will need about 59 ships each having 80,000-ton capacity that take to the port on the bank of Poshur river at Akram point. The 40 kilometers from the port to the plant cuts through the Sundarbans and it includes the river flow path. These coal-carrying vehicles are not often covered as they scatter vast amounts of coal dust, fly ash (a result of coal burning), sulfur and other toxic chemicals are released through the entire life cycle of the project. The scale of impact is beyond doubt and that has stirred the local dwellers and concerned citizens alike to stop any further advances of this scheme.
This destructive project also violates the Environmental impact assessment guidelines for coal-based thermal power plants. After getting an initial clearance on Aug. 1, growing public pressure resulted in the Department of Energy setting 50 preconditions for the plant to be implemented. These conditions are critical but the very location of the plant, 14 kilometers from the Sundarbans violates a basic guideline which dictates that such projects should be outside a 25-kilometer radius from the outer periphery of any ecologically sensitive areas. A haphazard handling of the project has revealed the underlying political pressures to implement it at all costs.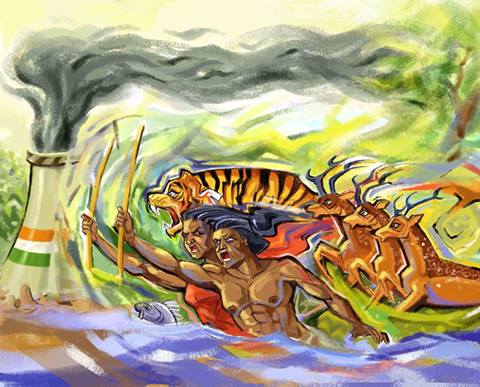 (Painting by Dhiman Sarkar)
Lastly, it is important to note that Bangladesh needs energy and power plants. The per capita power consumption of Bangladesh is around 300 kWh as compared to 13,000 kWh in the United States and 750 kWh in India. But as a nation that is one of the worst impacted by climate change, the Sundarbans act as a natural fence against rising sea levels. Any detrimental impact on these forests can only be suicidal.
The Rampal power plant in Bangladesh invokes the classic battle of development versus environment which is a mainstream thought in the developing world. But with rapid advances in clean energy, that debate is being made more and more redundant. Decentralized, democratically owned renewable energy is already showing us the folly of pursuing centralized thermal power. One of the many protest chants being raised against Rampal captures it beautifully: "There are many alternatives to power generation but there is no alternative to Sundarban."
Protest rallies are taking place regularly and the issue is getting ample media coverage that is bringing the discussion into people's living rooms. The Rampal struggle needs more voices from Bangladesh, India, and the rest of the world. The energy pathways that countries like India and Bangladesh will take in the coming years will be crucial in ascertaining the human and environmental safety for their people.
Calling all HuffPost superfans!
Sign up for membership to become a founding member and help shape HuffPost's next chapter