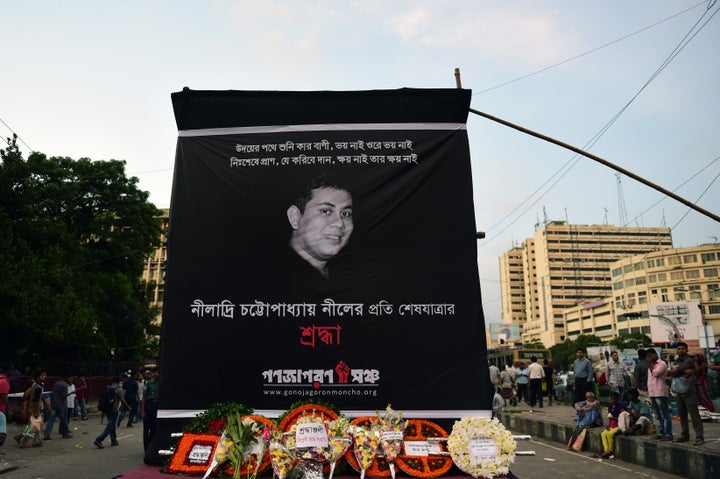 Every week, we bring you one overlooked aspect of the stories that made news in recent days. You noticed the media forgot all about another story's basic facts? Tweet @TheWorldPost or let us know on our Facebook page.  
Faisal Abedin Deepan was found hacked to death at his office in Dhaka, the capital of Bangladesh, this past Saturday. A secular book publisher, Deepan had printed writing that discussed topics like atheism and sexual orientation, and his work had garnered him death threats from religious extremists.
The murder is one of several attacks by religious extremists this year targeting Bangladesh's secular, liberal literary community. 
The most prominent of these killings was also the first of the year. In February, a group of suspected Islamist extremists murdered noted Bangladeshi-American liberal blogger Avijit Roy with machetes. Roy's wife, blogger Rafida Ahmed, was wounded in the same attack. The militants chopped off one of her fingers. 
Since then, four other secular writers and publishers have been killed, as well as an Italian aid worker and a 66-year-old Japanese man visiting the country on a business trip. Numerous others have been wounded in shootings and stabbings, including another three people in a separate attack on the same day that Deepan was murdered.
The incidents have stirred up fears of rising religious extremism in the majority Muslim but officially secular nation. After Roy's killing, hundreds demonstrated in Dhaka against the murder, while members of Bangladesh's media called for greater protection for non-religious writers. On Monday after Deepan's murder, publishers and book stores closed their businesses to demand that the government stop the violence.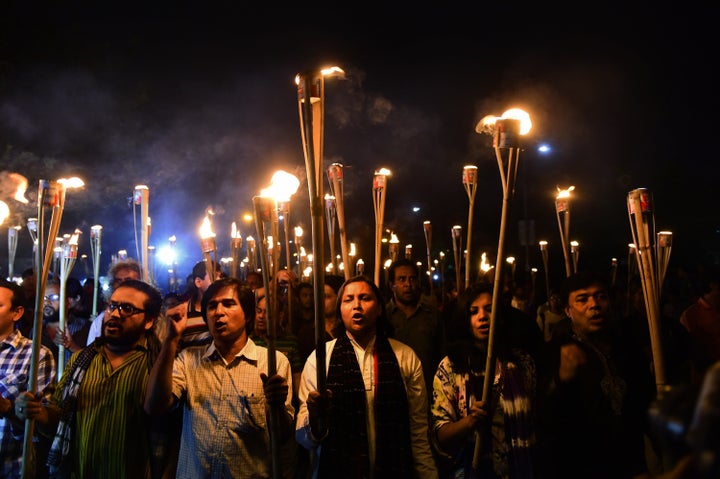 But the reality is that the response of the Bangladeshi government has been woefully inadequate.
The targeting of secular writers in Bangladesh goes back further than this year's spike in attacks or last year's election. Radical Islamists have targeted Bangladeshi liberal writers in years previous, including a spate of attacks in 2013. That same year, hardline Islamists calling for anti-blasphemy laws clashed with police and opposing activists in fighting that killed nearly 50 people. 
This year, however, attacks appear to have increased in both number and scope, as militants have expanded their targets to anyone who produces liberal work. Meanwhile, publishers and writers are growing increasingly outraged over government inaction despite the incredible danger that they face.
It's unclear which extremist group active in Bangladesh is behind the attacks, or whether it's a number of organizations carrying out separate plots. Various groups have taken credit for the different incidents, but many of their claims have been disputed.
In September, authorities arrested the leader and two other members of a group they said was behind some of the attacks, the al Qaeda-inspired Ansarullah Bangla Team, or ABT. Later that month, the extremist group was linked to the publication of a list of writers and activists it wanted dead, and government officials now suggest it is behind the latest killing.
The relatively new al Qaeda in the Indian Subcontinent offshoot claimed responsibility for killing Deepan, but police point to ABT as a more likely suspect. Likewise, the Islamic State claimed the murders of Japanese and Italian foreign nationals, but Bangladesh's Prime Minister Sheikh Hasina rejected the group's declaration and blamed militants associated with her rival political party, the Bangladesh Nationalist Party.
Hasina's suggestion that the opposition party was connected to the attacks highlights the deeply contentious state of Bangladeshi politics, after an election last year that saw hundreds of people killed during violent protests and a BNP boycott of the vote following the arrests of its supporters. 
Secular activists have said the government is scapegoating its rivals, as well as failing to properly protect liberal, atheist aspects of society out of fear it will lose support among Bangladesh's religiously conservative populace, The Financial Times reports.
"If the government took a stance against radical Islam, they are worried they would be perceived as anti-religious," secular activist Imran Sarkar told the FT.
Government regulations on speech also don't favor liberal and atheist writers, who can face over a decade in jail if convicted of publishing material deemed defamatory. One atheist blogger had his blog banned and was arrested in 2013 for anti-religious remarks, The Guardian reports. 
Secular blogger Niloy Chakrabarti claimed in May that his request for police protection due to death threats was ignored. He was later hacked to death in his home in August. 
Calling all HuffPost superfans!
Sign up for membership to become a founding member and help shape HuffPost's next chapter