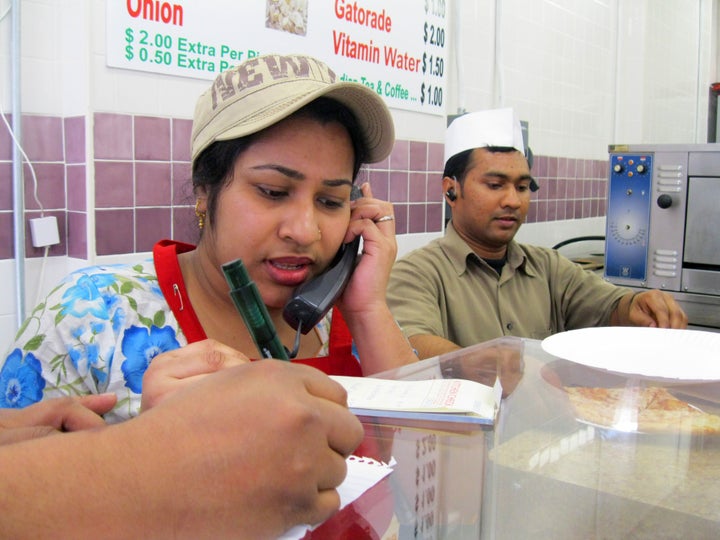 NEW YORK -- A new 99¢-a-slice pizza place that opened in the East Village highlights the rise of a once-small Asian American group in New York City: the Bangladeshis.
Shakir Mazumder, the owner of FDR Pizza, is from Dhaka, a city of 10 million and the capital of Bangladesh. He moved to America twenty years ago and drove a taxi for most of that time before opening FDR Pizza on the corner of 2nd Street and Avenue A in February.
He now lives in the Kensington neighborhood of Brooklyn with his wife, Farhana, a co-owner of FDR pizza, and their two daughters. Shakir hopes to sell enough pizza to support his family, pay his six employees, and make rent every month in the amount of $3,150--plus an extra $2,000 for electricity and gas.
So far, FDR Pizza has done well. On most nights there are small crowds of young people standing on the sidewalk eating pizza (there is no seating inside). And between 2 and 4pm, after school lets out, has seen a big rush as well.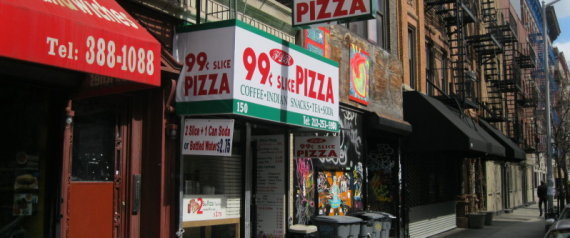 A new Bangladeshi-owned pizza place at 150 2nd St in The East Village.
But although the concept of a Bangladeshi pizza place in New York City might sound a bit strange, the numbers suggest that New Yorkers will see a lot more Bangladeshi-owned small businesses in the coming years.
And by 2008, the Bangladeshi population in the five boroughs had risen to over 57,000. A group of people that large would barely have fit into Shea Stadium.
The high growth rate for the Bangladeshis is thought to be the result of the Green Card Lottery, a congressionally mandated program that offers 50,000 visas a year to educated or skilled immigrants from countries with low immigration rates to the United States. The program has been in effect since 1990.
Bangladesh is a secular-Muslim nation in southeast Asia. Although it's about the size of Utah, the population of Bangladesh is greater than that of Russia, or Mexico. About 40% of the population is underemployed, and the unemployment rates for women are drastically higher than the rates for men. Less than half the total population is literate.
But although the Bangladeshis are so well represented in New York City, the city has been slow to meet their needs. Thirty-one percent of Bangladeshis in New York City were living in poverty, according to the 2000 Census. Twenty-seven percent of Bangladeshi adults did not have a high school diploma. The per-capita annual income for Bangladeshis in New York was $10,479--less than half of the rest of New York City's, which stood at $22,402.
First generation immigrants who speak a foreign language have a notoriously difficult time using social services. Three out of five Asian Americans face barriers in accessing education, employment, and social and health services because of their inability to speak fluent English, according to a report published in February by Asian Americans For Equality, a non-profit advocacy organization.
But they are willing to brave hardship to make better lives for the next generation. Shakir and Farhana plan to send their daughters to college. Their younger daughter wants to be a doctor, and the older one wants to go into politics.
If only they can sell enough 99¢ slices.
Additional reporting by Sam Wilkes
Popular in the Community