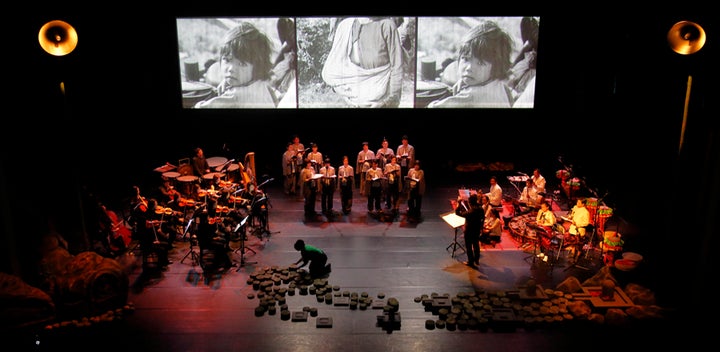 The only way to rebuild society after all has been torn apart by war, is for its survivors' to teach their children about their roots. This is the lesson of the superlative production of Bangsokol: A Requiem for Cambodia; one of the most poignant stage works I have seen in my life, which recently left BAM and goes on to tour parts of the US and Paris, before heading back to Cambodia. What war can do shatters lives; in the case of the Khmer Rouge it took two million souls with its communist agenda. All the seats in Howard Gilman Hall were draped with white fabric for the audience to wear and be wrapped in this story which merges Buddhist ritual with film, dance, music, voice and sound.
The chorus walked through and around the stage while singing; a young girl took blocks from them and thoughtfully built them into a monument for all the souls lost to genocide.
Bangsokol is a collaboration between Him Sophy a survivor from Prey Veng province, Cambodia who is now a professor at the Royal University of Fine Arts of Cambodia and Rithy Panh the Academy Award Nominated Cambodian documentary director, also a survivor. The sweet authentic sounds of this illustrious culture and delicate charming dances compelled the audience into a trance of beauty so fine and tender I lost myself in the performance. Then suddenly we were arrested by the faces of all those murdered in the images of the film interspersed with the spraying of poisonous Agent Orange gas and Nixon decrying the importance of U. S. participation in the holocaust perpetrated on the Cambodians, to the rise of the Khmer Rouge, to the fields where farmers planted and the subsequent famine, then back to the striking women in exquisite costume with flared and furled fingers dancing in happier times-- to remind of us of the splendor and the loss. The interspersing of images of hands picking up items and investigating the past throughout the film in the present made it all the more heartbreaking and real. According to an article in the New Yorker "It is said that the Khmer Rouge Killed 90% of the country's artists" in an effort to restrain free thinking and sophistication. Performances by Keo Dorivan, Keo Sonankavei, Keo Sophy, Pov Reasksmeymony, Say Tola Singoun Kavei, Serey Roth, Chumvan "Belle" Sodhachivy with the Metropolis Ensemble and choir Taipei Philharmonic Chamber Choir by Yu-Chung Johnny Ku, were superb; with marvelous music direction and conducting by Andrew Cyr and lighting design by Bosco Shaw with excellent costume design by Romyda Keith and finally outstanding libretto by Trent Walker. It was a flawless work of art and deservedly received a standing ovation as the ultimate image we were left with are the vivid colors of a triumphant culture rising like the phoenix from the flames as the older generation teaches the young to sing.
Related
Popular in the Community