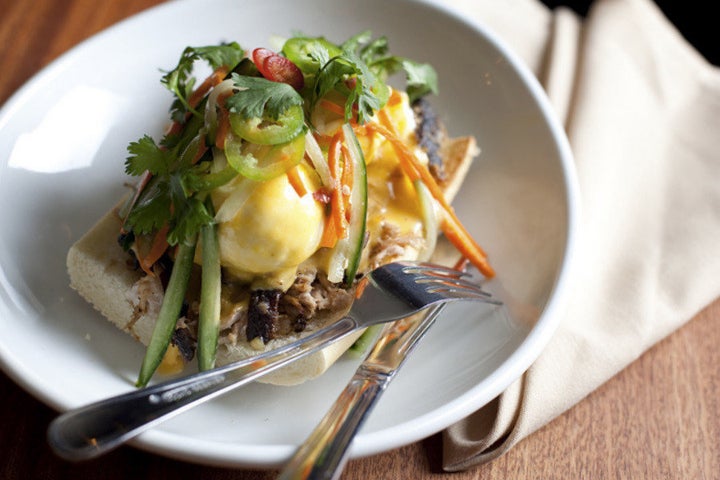 It's still possible to meet folks that have never heard of banh mi, the Vietnamese baguette sandwich that is typically stuffed with pickled carrot and daikon, sliced jalapeno, cilantro and a meat variety. But among urban food lovers, traditional banh mi is now a widely sought-after sandwich (in LA, there are at least three food trucks slinging regular banh mi). But now the trend is to knock off the banh mi -- put a twist on the sandwich if you will. As an ode to the bona fide banh mi, the menus at the following six LA restaurants all feature a banh mi wannabe worth eating:
Eggs Banhedict at 1321 Downtown Taproom Bistro: For yours truly, the South Bay was simply where the nearest in-mall Chick-fil-A operated; but now, with the recent unveiling of 1321 Downtown, there is (finally) playful American pub fare feeding today's assertive diner. While dinner's supper plates are positively hearty, and there is a Smoked Pork Banh Mi listed under "Burgers," for weekend brunch, 1321 whips up an excellent Eggs Banhedict -- piled with your usual banh mi ingredients, but topped with poached eggs and rooster hollandaise. 1321 Downtown Taproom Bistro, 1321 Sartori Avenue, at Marcelina Avenue (310-618-1321 or 1321downtown.com)
Kurobuta Pork Belly Banh Mi at Mendocino Farms: Chef Judy Han will often tweak her sandwich menu to include seasonal offerings; but we hate to imagine how her cult following would react if she took off the infamous Kurobuta Pork Belly Banh Mi -- crispy, crumbly braised and caramelized pork belly on Breadbar's ciabatta. Naturally, Chef Judy would just add another banh mi for spring -- this one stuffed with lemongrass-marinated steak with chili aioli and house made sweet chili sauce. Mendocino Farms, 300 South Grand Avenue, at West Third Street (213-620-1114 or mendocinofarms.com for additional locations)
Banh Mi Poutine at The Gorbals: It was traditional banh mi that was intended for a staff meal one night -- but the bread supply ran empty. Without wasting banh mi's integral -- and delicious -- ingredients of pickled carrots and cucumbers, the resourceful chefs at The Gorbals substituted one carb for another: sliced potatoes. It's a pulled pork banh mi atop French fries -- with melted mozzarella -- easily one of LA's weirdest fries and banh mi knock-offs. The Gorbals, 501 South Spring Street, at South Spring Street (213-488-3408 or thegorbalsla.com) Banh Mi Spring Roll at Sage: Echo Park's beloved organic vegan bistro might offer a vegan "Vietnamese Sandwich" (aka banh mi) as a daily special, but its lunch menu has a standing hors d'oeuvre called Banh Mi Spring Roll, which of course, flaunts banh mi's usual veggie ingredients -- and it's all wrapped in kale. Sage, 1700 West Sunset Boulevard, at Logan Street (213-989-1718 or sageveganbistro.com)
"Banh Mi" at Red Medicine: Red Medicine offers straightforward banh mi fare for its Beverly Hills lunch goers (shall it be pork or chicken?), but at dinner, the controversial not-that-Vietnamese Vietnamese canteen offers a small plate called "Banh Mi" (those quotes end and begin with Red Medicine), which is simply a complicated-looking art project of $16 foie gras and pate de campagne. Red Medicine, 8400 Wilshire Boulevard, at South Gale Drive (323-651-5500 or redmedicinela.com)
Banh Mi Sliders at Corkbar: The first appearance of Banh Mi Sliders at Downtown's beloved wine bar was, at first, fleeting (that memorable pork-and-wine pairing a few months back). But the sliders are back! And for good. Any night of the week at Corkbar, you can order a trio of banh mi, in spicy slider form, of ground pork and ginger on mini Challah buns. Corkbar, 403 West 12th Street, at South Grand Avenue (213-746-0050 or corkbar.com)
Calling all HuffPost superfans!
Sign up for membership to become a founding member and help shape HuffPost's next chapter