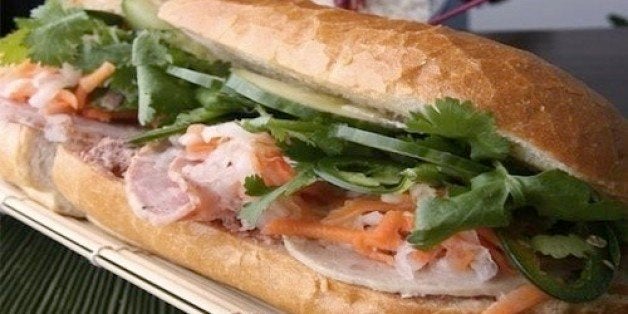 Since the Vietnam War ended 40 years ago, Vietnamese have shared much of their culture with the larger world. But many of us who fled as refugees could not have imagined that the Vietnamese sandwich, bánh mì, would one day become an international sandwich sensation, a culinary wonder of our globalized age.
Today it has spread from Saigon to California and from there to the rest of the planet. Every city in North America now has its own bánh mì shop or chain: Bánh Mì Saigon in New York, Bun Mee in San Francisco, BONMi in Washington, DC, Bánh Mì Bá Get in Chicago, Bánh Mì Boys in Toronto. Bánh mì is standard food truck fare from San Diego to Boston. Yum! Brands, owner of Kentucky Fried Chicken, Taco Bell, and Pizza Hut, has opened Bánh Shop fast-food outlets in Dallas.
South of the border in Mexico City is a bright red and yellow bánh mì food truck called Ñham Ñham. Shops and chains have sprung up everywhere else; in London there is Kêu!, Bánhmì11, and, next to St. Paul's Cathedral, Banh Mi Bay. Among the options in Shanghai is Mr. V, whose menu includes the Obscene Double Triple--bánh mì with headcheese, Vietnamese sausage, and peppercorn terrine; in Singapore, you can try Bánh Mì 888; one of the busiest in Tokyo is a place simply called Bánh Mì Sandwich.
It is an airy French baguette with a thin crunchy crust that could contain a cornucopia of roast chicken or pork, homemade pâté, cured ham, headcheese, a mélange of pickled daikon radish and carrot, slices of cucumber and chili pepper, a generous sprinkling of cilantro leaves, a few dashes of Maggi sauce, and a spread of mayonnaise. At once spicy, salty, sour, savory, sweet, and aromatic: a bite into a well stacked bánh mì is always a moment of rapture.
Bánh mì's origins, as its architectural foundation indicates, of course, are in France. The French arrived in Vietnam initially as missionaries in the seventeenth century and established colonial control of Vietnam in 1887 with the formation of La Fédération Indochinoise. The French brought their language and their food, including eventually the baguette, the long thin loaf of bread that became popular in France in the early twentieth century. Growing up in Hanoi my grandmother called it bánh tây, literally Western-style bread. By the 1950s the Vietnamese started to tinker with it and, signaling Vietnamese appropriation of the baguette, started calling it bánh mì--simply, wheat bread. Some recipes called for a mix of rice flour with the wheat flour. The aim was to make it fluffier than the French baguette, allowing it to be easily stuffed with Vietnamese delights.
Bánh mì has long been a food staple of the working poor. Bánh mì stalls and carts are everywhere in the streets of Vietnam, providing simple and delicious sustenance, typically for breakfast or the midday meal, to the masses. It was street food long before street food became an obsession with foodies--in those days, some well-to-do Vietnamese shunned street vendors out of concern about typhoid fever and other illnesses. Ingredients like the sweet, crunchy fresh vegetables and pungent herbs and spices are what make the bánh mì Vietnamese. An essential component of the Vietnamese way is Maggi sauce, a Swiss-made savory seasoning introduced by the French.
The Vietnamese sandwich could be found in the communities of Vietnamese students and émigrés in France from the 1950s onwards. The traiteur Hoa Nam in the thirteenth arrondissement of Paris has been selling bánh mì wrapped in wax paper for years, although the foodie trend in bánh mì is now evident in bobo (bourgeois and bohemian) spots on the Right Bank like Saigon Sandwich and Bulma.
But it was the mass exodus of Vietnamese with the Fall of Saigon in 1975 that propelled the Vietnamese sandwich on its way to global stardom. In no time, refugees in the United States were opening Vietnamese restaurants, bakeries, and delicatessens, offering up all the dishes from the homeland--including bánh mì--for fellow refugees and curious American diners alike.
Some trace bánh mì's cultural migration to the sandwich's burst of popularity in California's Silicon Valley.
Vietnamese refugees eager to build new lives in America had flocked to the area to work in the booming high-tech industry's assembly lines. In 1980, a man called Lê Văn Bá and his sons parked a food truck outside a computer manufacturing plant, targeting Vietnamese who couldn't go far or spend much for lunch. Lê, a wealthy sugar merchant who had lost everything in the Communist takeover of South Vietnam, sold the cheapest fare around, including Vietnamese baguette sandwiches. It didn't take long before bánh mì caught on with non-Vietnamese workers as well as local college students.
By 1983, Lê's sons, Chieu and Henry, turned the success of the sandwich into Lee Bros. Foodservices, Inc.--the family Americanized their name to Lee--which today serves more than five hundred independently owned food trucks throughout northern California. The business also evolved into Lee's Sandwiches, a fast food chain of dozens of shops selling bánh mì from San Francisco to Houston. Cathy Chaplin, author of the Food Lover's Guide to Los Angeles, once blogged, "If there was a Lee's Sandwiches for every McDonald's, the world would be a better place." Indeed, when Lê died, his obituary in the San Jose Mercury News called him the Ray Kroc of Vietnamese sandwiches.
Bánh mì's meteoric rise in the past few years is probably best explained by a convergence of pop-culture food trends in the United States--the popularity of food trucks dishing up tasty and inventive street food, the explosion in food blogging, the phenomenal success of television cooking shows, and the advent of the celebrity chef. The bánh mì craze has produced an authority on the subject, Andrea Nguyen, a northern California writer whose blog, Viet World Kitchen, explores the culinary traditions of Vietnam as well as of Asia more broadly. She published The Bánh Mì Handbook: Recipes for Crazy-Delicious Vietnamese Sandwiches, which made National Public Radio's list of best cookbooks of 2014.
"Vietnamese bánh mì offers a wealth of textures," Nguyen told me. "Crispy bread! Fatty mayo and meats! Crunchy pickles! Hot chilies! Refreshing cucumber and herbs!" Nguyen attributes bánh mì's crossover appeal to its familiarity and adaptability. "It's pretty, not overly mysterious for people interested in exploring new cuisines," she says. "It's varied in fresh vegetables, light flavors, and people can more or less identify what they're eating. Vietnamese cuisine blends East Asia with Southeast Asia, South Asia and the West. Bánh mì is the perfect hybrid." One of her recent blog posts: "Laughing Cow Cheese Omelet Bánh Mì Recipe."
Pauline Nguyen, cookbook author and owner of the Red Lantern, Sidney's top Vietnamese restaurant, sees the bánh mì's attraction in its exquisite taste. "Let's face it, the traditional French baguette with jambon, a bit of fromage, and possibly some cornichon, doesn't quite compare," she says. "You have a beautiful balance of the sweet and piquant of pickled vegetable, the heat of chilies, and richness of the pâté and mayonnaise, along with the unctuousness of the pork terrine, the aromas of the coriander and spring onion, and of course the texture of crisp baguette."
Just as the cheap price drew Vietnamese to bánh mì, says Minh Tsai, CEO of the Hodo Soy tofu business in Oakland, it is one of the reasons for its spreading interest among non-Vietnamese. He explains that bánh mì was quickly recognized as a bargain because Americans always perceived Vietnamese food as tasty yet inexpensive. For the same reason, he adds, phở, the Vietnamese noodle soup, likewise has become a ubiquitous dish across America.
"It was all about volume and cheap labor," says Steve Do, among the boat people who fled Vietnam for the United States in the 1980s, who found financial success in real estate and Internet technology stocks. "I lived with bánh mì while going to high school and college, and I knew several families who worked in the business," he told me. "Families working together making sandwiches eliminate labor cost--even underage kids make sandwiches after school to help the family out. Often the stores don't hire anyone but Vietnamese newcomers who work under the table while still on government subsidies. It's the refugee way, but it works."
If bánh mì survives as common street food in Vietnam today, I imagine that some vendors would get a kick out of knowing that the Việt Kiều--Vietnamese overseas--took the sandwich on to international fame and glory.
Related