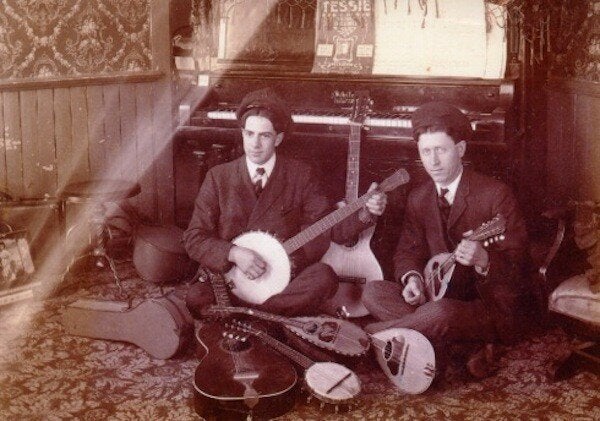 Inspired by one professor's infectious enthusiasm for Emily Dickinson, Obsessed is a new HuffPost Culture series exploring the idiosyncratic, all-consuming passions of public figures and unknowns alike. Through a mix of blogs and interviews, these pieces will highlight the elusiveness of whatever it is you just can't live without -- whether it's blue jays, Renaissance fairs, fan fiction, or in the case of David Lynch, coffee. If you have an obsession to share, drop us a line at culture@huffingtonpost.com.
I used to think being obsessed by the banjo was weird. How could a farm boy from Iowa fall in love with an obscure African instrument? Blame Earl Scruggs and the Beverly Hillbillies. But it didn't get any easier as an adult. That's when I found almost 70,000 kindred spirits -- banjo lovers from around the world -- at Banjo Hangout, a site dedicated to banjos. This place is banjo heaven!
For years I hung out in this forum dedicated to discussions of little-known stars, banjo porn (gorgeous pics of new, custom-made instruments), music and tabs for arcane tunes. That. and the camaraderie of peers across the globe, equally obsessed with this delightfully happy, yet mysterious instrument. The rapid growth of membership from 3,000 or so in 2003 to today's community of 69,000 has something to do with the web, but probably more to do with the current resurgence in interest in the banjo by today's popular musicians (i.e. Mumford & Sons, The Avett Brothers and Taylor Swift). Now, trends is trends, and those new folks may come and go. But a true obsession runs very deep. For at least one lifetime.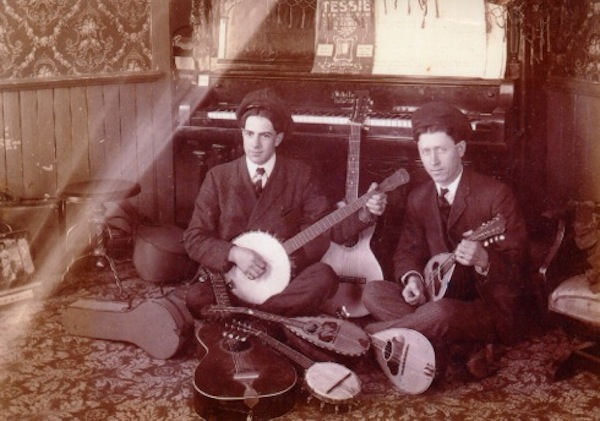 My interest in the banjo grew 10-fold when my mom showed me a 1907 picture of my great uncle and grandfather as young men. They were seated cross-legged on a parlor floor with seven or eight acoustic stringed instruments scattered about them. Guitars and mandolins were everywhere. But my great uncle held my holy grail -- an open-back, 5-string banjo. Three generations later, it was clearly still "in the blood" (my son is also a banjo player). I'm not sure we ever had a choice.
Now, this banjo I speak of isn't what Earl (Scruggs) plays. That's too new. I'm obsessed with what the slaves brought from Africa and celebrated as a pivotal part of their heritage. What we know as the banjo is actually some Rube Goldberg job, cobbled together by the Africans from available materials (over here) that may represent one of 62 plucked lutes from Western Africa. There's another key component of banjo obsession -- the mystery of its past. But I digress...
After finding myself with some spare time at age 50, I joined two bands: One, a bluegrass gospel quartet, the second, an old-timey, foot-stompin' dance band. Four CDs later, it's still not enough. I had to learn more about the instrument itself, which led me to the banjo builders. Why-oh-why would anyone want to build a banjo? There's clearly little-to-no money in it. But I couldn't help but wonder -- what kind of people would be drawn to such a profession? That's when my banjo-obsessed world took an extraordinary (even more fun) turn.
Beginning last year as a 60th birthday present to myself, I traveled more than 10,000 miles around the US, interviewing 25 North American, open-back banjo builders. I chatted with banjo performers and retailers along the way, and stayed and played with lots of nice banjo-playing folks. I took along my video camera and recorded the fun. Volume 1 (Banjo Builders East of the Mississippi) is now finished and Volume 2 (Builders West of the Mississippi) is nearing completion (you can see a highlight reel of the series here). What I discovered in the banjo builders is an amazing group of independent-minded, happy people. They know the magical power of the banjo (to make people smile and dance). And they also know their banjo building is genuinely making the world a better, happier place. Where they've come from and what they did in previous lives runs the gamut. What they all have in common is the same obsessive spirit -- reverence, even -- for the banjo. I found myself taking to a group of new, old friends. The Banjo community is alive, well and below the radar of modern society. Thank God for that.
But the real shocker came about halfway into my first interviews, when the Smithsonian Folkways people heard about my adventure. They then asked to include the Documentary Series in their catalog. Whoa! You never know when or where another group of banjo-lovers might surface. In fact, Smithsonian Folkways is even starting a new collection -- The Instrument Builder Collection -- based on the work. So for now and far into the future, even more people will learn of banjo obsession.
But now, I'm obsessed with another part of this banjo experience: Community. Banjo and old-time/Americana music is magic. It's a combination of European fiddle melodies and toe-tapping, banjo-provided syncopated rhythms. It draws people, makes them smile, little kids dance. There's something incredibly primal and satisfying about it. There's more mystery around my obsession the deeper I go. This new discovery is, well, enough for at least one more banjo-related adventure.
So how lucky can a guy get? Plenty! I've got an artist wife who understands my banjo obsession. Call me blessed.
Related
Popular in the Community