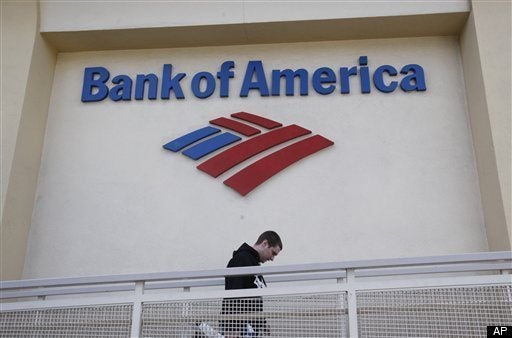 Even as concerns over the legitimacy of mortgage documents plague homeowners and investors nationwide, the office of a Bank of America mortgage modification call center tries to remain positive, the New York Times reports.
Posters with words such as "Empathy," "Winning" and "Leadership" can be seen on the walls of the Simi Valley, Calif., call center, the NYT says, where 4,000 employees field 50,000 calls per day, addressing complaints from struggling homeowners and investors in mortgages that Bank of America handles. The bank, after nationally halting and then resuming some of its foreclosure proceedings, faces a Federal racketeering lawsuit for allegedly using "robo-signers," workers who approve thousands of foreclosure documents daily without reading them.
"It's a learning process," Brenda Seymore, who fields calls for Bank of America, told the NYT.
As HuffPost's Arthur Delaney reported last month, Bank of America has granted permanent mortgage modifications to only 21 percent of its borrowers who are potentially eligible for the Federal government's Home Affordable Modification Program. Bank of America executive Rebecca Mairone tried to put a good face on the bank's performance by citing the raw number of its permanent mortgage modifications, which is higher than that of any other mortgage company, Delaney noted.
Still, Bank of America's rate of converting potentially eligible borrowers into permanent modifications is by far the lowest of the nation's four biggest banks.
As HuffPost's Shahien Nasiripour reported with Delaney in August, HAMP has fallen far short of its goals. In many cases, the program has made struggling homeowners' situation even worse. In its first year, 40 percent of initial participants were kicked out of the program, Nasiripour and Delaney reported.
The Simi Valley call center employees acknowledge the system's flaws.
"Another modification would just leave them in the same position a year from now," call center representative Tammy Tipton said.
Yves Smith, of Naked Capitalism, is skeptical of the NYT's claim that it's investors who "do not necessarily want to modify the loans." The banks, she says, are the ones resisting mortgage modification, since it's more profitable for them to initiate foreclosure. Here's Smith:
"Despite the enormous media hype presenting a struggle between banks and borrowers on the mortgage front, the reality is that the overwhelming majority of investors favor mods. ... [T]here is one party that wins, big time, from foreclosing, and it's the servicers. Servicing a mortgage that is current is a breakeven, at best a thin profit business. Late fees and foreclosure-related fees pad a servicer's bottom line."
According to a new report by the Congressional Oversight Panel, the "robo-signer" scandal might represent fundamental problems in the mortgage industry, which could cost Wall Street billions of dollars, HuffPost's Shahien Nasiripour reports Tuesday.
Officials from Bank of America and other banks will testify before Congress on Tuesday about their companies' mortgage practices.