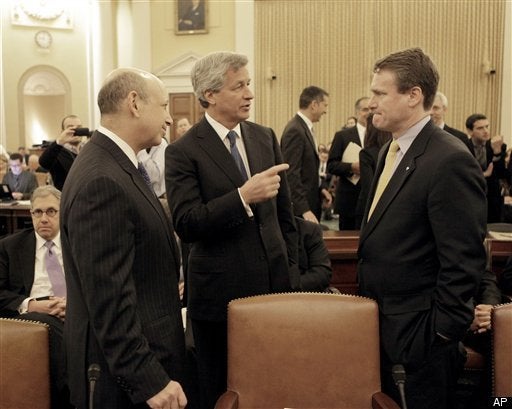 As four of the nation's top banking CEOs appear on Wednesday before the Financial Crisis Inquiry Commission to discuss the collapse of the country's financial system, it's worth recalling just how much their firms have already greased the wheels of political machinery.
According to data compiled by the Center for Responsive Politics, the four banks represented on Wednesday's panel -- Goldman Sachs, Morgan Stanley, Bank of America and JP Morgan Chase -- have donated more than $63 million to members of Congress since the 2000 election cycle. "During this same period, these companies spent $109 million to lobby Congress," the group added. The totals are broken down as follows
Goldman Sachs
Campaign contributions: $24.3 million, Lobbying expenditures: $17.2 million
Morgan Stanley
Campaign contributions: $14.1 million, Lobbying expenditures: $20.8 million
Bank of America
Campaign contributions: $10.8 million, Lobbying expenditures: $20.4 million
JP Morgan Chase
Campaign contributions: $14.1 million, Lobbying expenditures: $51.3 million
When the Huffington Post interviewed FCIC Chairman Phil Angelides back in late July, he stressed that his commission's job did not include investigating the role played by Congress in aiding (or simply not preventing) Wall Street's collapse. So discussion on campaign donations, lobbying expenditures and overall influence-peddling seems unlikely to happen. But that hasn't stopped good government officials from pushing for an expanded investigatory scope.
"The commission is investigating systemic risk and other matters that led to the meltdown in the financial markets," said David Donnelly, national campaigns director, Public Campaign Action Fund. "They should also investigate the systemic risk of letting these banks continue to 'own the place' to quote Sen. Dick Durbin."
On a related note, White House Press Secretary Robert Gibbs was asked for the administration's thoughts on the first FCIC hearing. Did the bank CEOs owe an apology to the American public?
"It would seem to me that an apology would be the least people should expect," Gibbs replied. "Some common sense and rationality in how they are paid (would also be nice)... I think that there are some on Wall Street who seem to believe that nothing has changed."