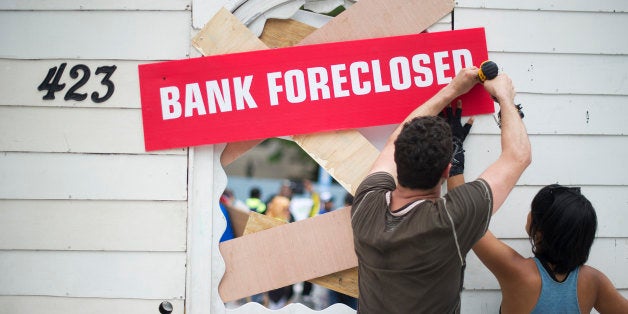 After hundreds of lawsuits and thousands of complaints, banks are finally pushing for reform in one of the darkest corners of the housing market. Under new guidelines expected to be adopted this year by most of the industry, the workers that watch over millions of homes in default or foreclosure will be subject to heightened levels of background checks.
The measures are meant to screen out people convicted of a criminal offense, such as theft or fraud. They follow widespread allegations, first reported by The Huffington Post, that the handymen and home inspectors that banks hire to look after vacant properties are breaking into still-occupied homes, and looting them of valuables. Some of these people, who work indirectly for the banks through a web of contracting companies, have lengthy criminal records.
"The intent is to give communities a high level of confidence that the people walking around in homes are not going to cause problems," said Eric Miller, the executive director of the National Association of Mortgage Field Services, the trade association that helped design the new standards.
HuffPost's investigation last year found that most of the break-in complaints involve homes that are in some stage of default or foreclosure, but still in legal possession of the occupants. In many instances, contractors stand accused of ignoring obvious signs of habitation, kicking down doors and crawling through basement windows in order to gain access, then changing the locks. In some cases, they are also accused of helping themselves to valuables found inside. One contractor working for Safeguard Properties in Arkansas is accused of looting a home of paintings and other valuables. A Connecticut woman claims another one of these workers stole her son's piggy bank.
It's not clear how often contractors accused of such thefts also have a criminal record, though sources within the industry say people with checkered pasts are drawn to the work, which often requires little training or special skills. While there is no data to show whether these people are more likely to commit abuses than others in the industry, background searches of individuals named in several consumer cases alleging break-ins and thefts revealed lengthy criminal pasts.
In one case, in Florida, a contractor arrested previously at least six times on felony charges is accused of taking a laptop computer and other items from a vacation home. According to a police report, the contractor, who was working indirectly for CoreLogic, a company based in Westlake, Texas, denied the allegations, even though his fingerprints were found on a can of beer left open on a counter in the home.
At the forefront of the push for new oversight is Wells Fargo, which recently began requiring its contractors to have "a satisfactory background check in place" before performing any work on its properties, according to a spokesman. Several companies that work for Wells Fargo, including Mortgage Contracting Services, based in Plano, Texas, have already alerted subcontractors and other workers that they are expected to comply with the new guidelines by the end of January.
In an email, a Wells Fargo spokesman said the change in policy came in response to "a lot of scrutiny around this issue."
The guidelines allow for different levels of scrutiny, though the companies adopting the policies haven't yet said which workers would be subject to the most intensive screenings. Miller said the aim was to prevent contractors with recent criminal convictions from stepping onto a property, a standard that would apply even to the low-paid workers who mow lawns.
Seven of the biggest foreclosure contracting companies that deal directly with banks have said they will adopt the heightened screening rules, Miller said. "We are seeking to professionalize our workforce," he said.
Bret Douglas, who owns Team Ironclad Preservation with 25 employees near Daytona Beach, Fla., said he understands the reasoning behind the heightened screening requirements, but said he is confused by the new guidelines. It isn't clear, he said, whether employees with criminal records could still perform basic maintenance work.
Douglas said he objects to the cost of the background checks -- $65 each -- and the presumption that someone who has committed a crime in the past should not be permitted an opportunity at redemption.
"If they did the crime and served the time, I say they should be given a second chance," he said. Several workers on his crew have criminal records, he said, adding that it is difficult to find adults willing to mow lawns in the hot Florida sun who don't have spotty pasts.
Also still unknown is how aggressively the mortgage companies will enforce the new standards. In the past, banks largely deferred to the contractors they hired to oversee themselves, a strategy that hasn't proved particularly effective.
That's because the contracting companies have often brushed off accusations that they are failing to supervise their workers. Safeguard Properties, which has attracted the majority of complaints, says it has required background checks for years.
At an industry conference in October, Safeguard founder Robert Klein signaled that stepped-up scrutiny wouldn't be welcome. Safeguard, he said, "has been monitoring itself for quite awhile."
"Complaints are going to happen," Klein said at the conference. "It is the habit of people, they love to complain."
Related
Popular in the Community