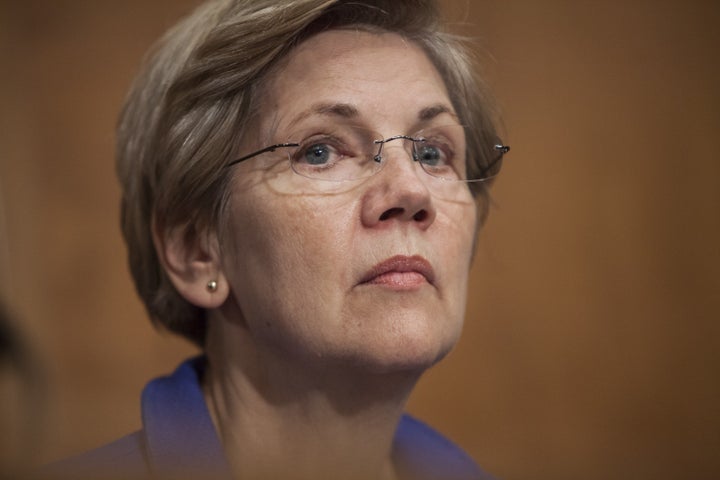 WASHINGTON -- House Republicans are angling to slip two pieces of bank deregulation into a major highway funding bill that is expected to pass with broad bipartisan support.
According to a source familiar with discussions, Republicans are trying to remove tighter regulations that were imposed on banks with at least $50 billion in assets after the 2008 financial crisis. They also are aiming to weaken the Consumer Financial Protection Bureau -- a brainchild of Sen. Elizabeth Warren (D-Mass.), which has worked to prevent big banks, payday lenders and other financial firms from ripping off households.
The GOP doesn't need Democratic votes to pass the broader highway bill -- it has a wide majority in the House. But while securing federal highway funding is a top Democratic priority, controversial riders like the bank deregulation items may prompt a veto from President Barack Obama that would be impossible to override without Democratic aid. The riders could also serve as a potential test of new House Speaker Paul Ryan (R-Wis.) and his willingness to use major legislation to ram through conservative priorities.
It's not clear whether the House Freedom Caucus would choose to hold Ryan's feet to the fire on bank-friendly legislation, however. The group of hardline conservatives frequently bemoans "crony capitalism," and one of its most prominent members, Rep. Walter Jones (R-N.C.), consistently votes against Wall Street.
The move to weaken the CFPB is deeply unpopular with Democrats. The legislation, authored by Rep. Randy Neugebauer (R-Texas), would eliminate the bureau's single director and replace it with a bipartisan panel of commissioners. Since Republicans are generally hostile to financial regulation, the result would be to hamstring the agency with partisan disputes under Democratic presidents, without empowering Democrats to secure tighter rule-making and enforcement under Republican presidents.
"In some cases you are worried that an agency will do the wrong thing," Former House Financial Services Committee Chairman Barney Frank told HuffPost in September. "The danger with the CFPB is not that it will do the wrong thing, but that it will do nothing."
The CFPB measure is strongly opposed by Frank and Sen. Elizabeth Warren (D-Mass.). Just two Democrats on the House Financial Services Committee voted for it last month. It has not received a vote on the House floor. 
Warren and others hope to avoid repeating a  2014 debacle for financial reform advocates, in which Republicans secured a measure to reinstate federal subsidies for derivatives trades -- the risky contracts at the heart of the 2008 meltdown. They did so by slipping the measure into a must-pass government funding bill, a tactic Republicans hope to replicate with the highway bill.
The other deregulation item the GOP hopes to get into the highway bill currently has 20 House Democrats as co-sponsors. The bill would lift Dodd-Frank's tougher rules on banks with more than $50 billion in assets, provided those banks have not been deemed a "Globally Systemically Important Bank" by a panel of international regulators. Since only a small number of banks have that status, the bill effectively deregulates a host of very big banks that are not quite Wall Street behemoths.
The Fed had the power to impose tougher rules on such banks before the 2008 crash, but Dodd-Frank required regulators to take action, forcing banks to fund their operations with more of their own money, instead of borrowed cash. The idea was to curb banks like Countrywide Financial and Washington Mutual that were not too-big-to-fail, but which nevertheless engaged in reckless and destructive behavior. 
The GOP bill, authored by Rep. Blaine Luetkemeyer (R-Mo.), wouldn't just unwind Dodd-Frank's tougher rules on these banks -- it would make it even harder to regulate them than it was during the George W. Bush era. Under Luetkemeyer's bill, a panel of regulators would have to undergo a multi-year process with input from several agencies to determine whether a $300 billion bank should be subjected to tougher rules than an $11 billion bank. It would be a significant boon to regional powerhouses, including BB&T, PNC Bank, Capital One, Charles Schwab, SunTrust, American Express, Regions, KeyBank and others, which all are currently subject to tighter regulations.
Democratic co-sponsors of the bill include Reps. Patrick Murphy (Fla.), Terri Sewell (Ala.), David Scott (Ga.), Kyrsten Sinema (Ariz.), Cedric Richmond (La.), Filemon Vela (Texas), Alcee Hastings (Fla.), Gwen Graham (Fla.), Grace Meng (N.Y.), Joyce Beatty (Ohio), Emanuel Cleaver (Mo.), Frederica Wilson (Fla.), Scott Peters (Calif.), Lois Frankel (Fla.), Marc Veasey (Texas), Brian Higgins (N.Y.), Sheila Jackson Lee (Texas), Brad Ashford (Neb.), Brad Sherman (Calif.) and Gene Green (Texas).
The House Rules Committee is scheduled to vote Wednesday on whether to grant the deregulation amendments a vote on the House floor. The full bill could reach the floor as early as Wednesday evening.
Zach Carter is The Huffington Post's senior political economy reporter and a co-host of the HuffPost Politics podcast, "So That Happened." Listen to the latest episode here: 
PHOTO GALLERY
Elizabeth Warren
Calling all HuffPost superfans!
Sign up for membership to become a founding member and help shape HuffPost's next chapter