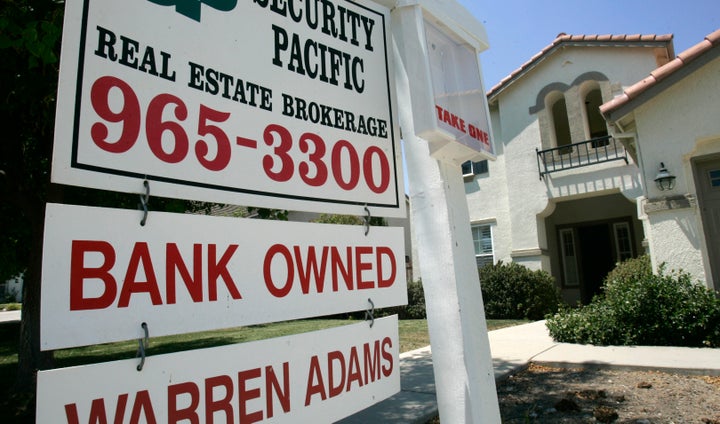 The bank had added Szymoniak's son, Mark Cullen, to the foreclosure suit this May, a move that many experts saw as an act of retaliation against Szymoniak, who has publicized banks' widespread use of forged signatures in the foreclosure process to improperly give borrowers the boot. On June 8, lawyers filed a "Notice of Dropping Party" with the Florida court dismissing its previous claims against Cullen.
The bank's decision to back down marks a minor victory for Szymoniak in her own fight to preserve her home. When Deutsche Bank hiked the interest rate on Lynn Szymoniak's mortgage in 2008, she challenged them in court, alleging the move was a violation of the original contract.
Szymoniak has challenged her bank outside the court as well" She has taken them to task in the halls of Congress, with state and federal law enforcement agencies and over the airwaves. A white-collar crime expert who specializes in documentation fraud, Szymoniak has detailed scores of commonplace foreclosure documentation improprieties as the foreclosure epidemic has deepened and shared her findings with state and federal officials.
Szymoniak also appeared on CBS New's 60 Minutes" in April to detail the rampant forgery of signatures at the heart of the foreclosure system implemented by most major national banks.
These forged signatures help banks cover up their own mistakes, some which have pushed borrowers into foreclosure through no fault of their own. In Lynn's case, she says she decided to stop paying her mortgage after the bank improperly raised her interest rate. But her investigations then uncovered that her bank's had relied on forged signatures to prove that they owned her loan in the first place.
A Flordia court agreed with Szymoniak, and shortly after her "60 Minutes" appearance, a judge threw out the bank's case. The bank was given a few weeks to refile the case if it could get its ownership records in order.
When the bank refiled, her son, Mark Cullen, had been named a party to the lawsuit, creating a blight on his legal record and a major hassle for the family. Independent foreclosure attorneys accused the bank of attempting to intimidate Szymoniak's family and retaliating against Szymoniak for her public activism.
Szymoniak's case provides a window into several different bank improprieties in the foreclosure process and is one of many cases that could pose major liabilities for Wall Street -- liabilities that could dwarf the existing capital of some major firms.
Deutsche Bank serves as the trustee for numerous mortgage-backed securities, bundles of mortgages packed into securities then sold to investors, including a security that included Szymoniak's loan. Trustees are responsible for ensuring that all of the loan documents for mortgage bonds are appropriately collected and accounted for. The attorneys general of both New York and Delaware are investigating trustees for fraud.
Szymoniak's basic case is straightforward: Deutsche Bank cannot prove that the trust owns her mortgage because her mortgage was never properly sold to Deutsche Bank, she alleges. If many mortgages in the Deutsche Bank trust are found not to have been transferred appropriately, that could make Deutsche Bank liable for huge investor losses.
When asked to comment, Deutsche Bank insisted that it had nothing to do with the decision to include Szymoniak's son in the foreclosure case. While the lawsuit is being brought in its name, the bank farms out almost all of the actual work on its securitized mortgages to other parties, called mortgage servicers. And trusts, including Deutsche Bank's, have very tight contracts that limit banks' liability for actually doing anything in foreclosure cases, making them almost immune from losses associated with what mortgage servicers do in their name.
"The trustees on MBS are pretty close to brain dead entities," said Thomas Adams, an attorney who has worked in mortgage securitization for decades. "They do not have true oversight functions and typically negotiated their transactions so that they had minimal responsibilities."
Just as Deutsche Bank is having trouble proving that it owns Szymoniak's mortgage, American Home Mortgage Servicing, the servicer for Szymoniak's loan, has had trouble figuring out who actually lives in her house. American Home declined to comment after the new court documents were filed, but a spokesperson told HuffPost earlier that the decision to include Szymoniak's son in the refiled lawsuit was not an act of retaliation. Instead, they said at the time they believed him to be a tenant who could have a secondary claim to the home. He was named in the foreclosure suit, American Home said, to make sure that he couldn't come back and press legal claims against American Home if his mother is later evicted.
But Szymoniak's son, Mark Cullen, has not lived there for seven years, Szymoniak said. He is a graduate student in poetry at the New School in New York, a fact that any cursory inquiry by American Home's lawyers could have detected.
Like many mortgage servicers, American Home outsources most of its legal work on foreclosures to " foreclosure mills " -- law firms that process thousands of foreclosure documents a day, packing austere warehouses full of recent law school graduates to robo-sign key documents. Several foreclosure mills in Florida have received sanctions from state government, with the Law Offices of David J. Stern shutting down following an investigative report by Andy Kroll at Mother Jones.
When Szymoniak challenged the foreclosure, the bank brought in Florida corporate law behemoth Akerman Senterfit & Eidson. It wasn't the notoriously sloppy foreclosure mill adding Szymoniak's son to the case -- it was an expensive team of corporate law experts. That fact reinforced the impression among Florida foreclosure attorneys that the decision to add Szymoniak's son to the mortgage was an act of intimidation. Akerman did not respond to phone calls for comment but conferred with American Home prior to the mortgage servicer's interactions with HuffPost.
Calling all HuffPost superfans!
Sign up for membership to become a founding member and help shape HuffPost's next chapter