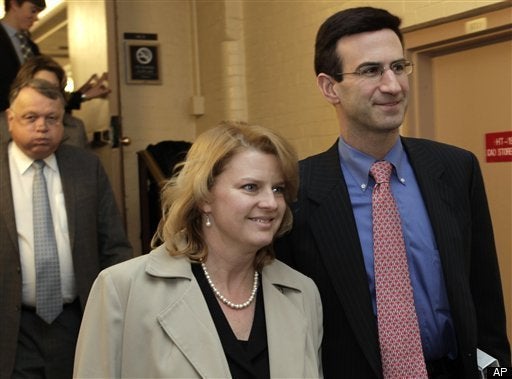 A group of Democrats friendly to Wall Street interests forced a delay in consideration of the landmark financial regulatory reform bill scheduled to hit the House floor on Wednesday, Financial Services Committee Chairman Barney Frank (D-Mass.) told reporters in the Speaker's lobby.
Frank accused the New Democrat Coalition of blocking the bill because its members are being prodded by big banks to abolish the Consumer Financial Protection Agency and to allow major financial institutions to avoid state laws tougher than federal regulations.
A Democratic leadership aide confirmed that centrist and conservative Democrats are threatening to vote no, leaving the caucus short of the needed votes.

"The big banks in particular are trying to get more preemption," said Frank. "It's a state-consumer battle with the big banks. We want compromise. They want to offer an amendment that makes it easier to preempt state consumer laws."
New Dem Vice Chair Melissa Bean (D-Ill.) is demanding that her preemption amendment, which would in effect mean that state regulations on the financial industry could be no tougher than federal guidelines, be given a vote on the House floor. It was first beaten back in committee in October.
Bean and other advocates of preemption say that uniform national standards are preferable to allowing each state to make different rules. Opponents note that federal regulators have been less than adept over the past several years at reining in corruption and excess.
Blue Dog Rep. Walt Minnick (D-Idaho) is also pushing an amendment that would abolish the CFPA, a top priority of the administration and the brainchild of Harvard professor Elizabeth Warren, said Frank.
Minnick worked to defeat the CFPA in committee but was unsuccessful. While the House sits in recess, leadership and opponents of reform within the caucus are negotiating their way out of the deadlock.
When a bloc of Democrats wants to exert its influence in an extreme way, it threatens to "take down the rule" -- legislative lingo for, in effect, blocking consideration of the bill on the floor.
When Frank was first asked whether Democratic leadership had the votes it needed to proceed on the floor, six loud bells rang out.
"Do you know what you're listening to now?" asked Frank. "They're now sounding six bells. Do you know what that means? It means a recess. What do you think, the kids have to go out and play in the yard? That's your answer."
Minority Leader John Boehner (R-Ohio) told HuffPost he had the same political instincts. "If they had the votes, we'd be out there debating the rule," said a smiling Boehner. "It's that simple."
UPDATE: 9:10 p.m. "New Dems have reached an agreement that includes a balanced compromise on our key issues. This agreement will allow us to create an empowered Consumer Financial Protection Agency that will place tough new federal regulations on financial institutions from large banks to payday lenders to mortgage brokers," reads a statement put out by Rep. Joseph Crowley (D-N.Y.), Chair of the New Democrat Coalition and Bean, New Dem Vice-Chair and Co-Chair of the New Dem Financial Services Task Force.
"We look forward to continuing to work with House Leadership and the Obama Administration on enacting comprehensive reform that will achieve our long stated goals of overhauling our nation's financial regulations to ensure more effective oversight, greater transparency and robust consumer protection."
The deal, HuffPost is told, has been reached in principle and allows a Murphy/McMahon/Kratovil amendment relating to derivatives used by end users to go to the floor.
And instead of getting a floor amendment, Bean will get some of her language on preemption inserted into the manager's amendment that Frank will introduce.
The agreement clears the bill to move forward.
Support HuffPost
The Stakes Have Never Been Higher
Popular in the Community