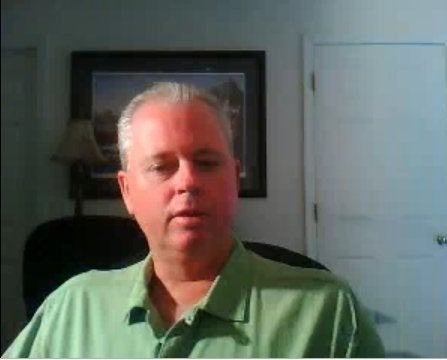 Darren Bryant of Pensacola, Fla. spent hours in what he calls Bank of America's "phone maze," getting bounced from person to person, never reaching somebody who could address his situation.
Finally, in one last desperate attempt to get someone's attention, he uploaded a five-minute video to YouTube in which he explains his predicament and gives his phone number and email address.
"The reason I'm making this video is to get in contact with somebody from Bank of America that can make a decision," Bryant says in the video, which he uploaded on Monday. He then emailed a link to over a dozen Bank of America email addresses he said he found online.
Within four hours of posting the rant, Bryant got a phone call. It was somebody from the office of David Darnell, president of Global Commercial Banking at Bank of America Merrill Lynch.
"She says, 'We received your video and I'm calling you to see what the deal is and to go over the situation with you,'" Bryant said. The woman asked for his account number and said the bank would investigate.
"She said, 'We take this very seriously when somebody posts a video.'"
Bank of America has proven responsive to other videos from its customers. Ann Minch of Red Bluff, Calif., made a huge splash in September when she declared via YouTube that she wouldn't pay off her credit card debt unless the "evil, thieving bastards" at Bank of America lowered her interest rate. The video went viral, and within a week of its posting an executive got in touch with Minch and agreed to her demand.
Bank of America spokeswoman Jumana Bauwens confirmed to the Huffington Post that the bank got in touch with Bryant after he made his video. But even though Minch's one-woman "debtors' revolt" has become a fledgling movement, Bauwens said Bank of America would have responded to Bryant video or not.
"If he sent that letter without the video he would have got the same response," Bauwens said.
Bryant, a 45-year-old real estate investor with three kids, said he's struggling to keep afloat with fewer tenants and lower rents in his 32 units; he wants Bank of America reduce his interest rate on a $750,000 loan by a point and a half. Otherwise, he said, he'll lose everything, including his own personal home, and Bank of America will lose hundreds of thousands in the foreclosure process.
"You have a $750,000 note. If you sold the property in these market conditions like they are now, you'd be lucky to get $500,000 for the property. Basically you're going to be forcing me into a foreclosure which will force me into bankruptcy. It's not going to be a win-win situation for Bank of America, nor myself."
He said he wasn't inspired to use YouTube to air his grievance by Minch -- he said it's entirely coincidental that he posted his plea in the midst of the "debtors' revolt."
"Basically, I'm forced to get on YouTube for my last resort and see if I can get any help," he said in his video. "The whole purpose of this video is not to make Bank of America look bad, but to inform Ken Lewis the CEO of Bank of America what is going on. It's hard to imagine that with me filling the properties back up, getting the properties back into a cash flow position, that Bank of America's not willing to work with me."
Here's Bryant's first video:
Bryant uploaded a second video on Wednesday with an update. He said he heard from a Bank of America executive who explained that "right now there's no government assistance, there's no modifications, there's nothing for any investment properties as far as somebody that's in your situation."
Calling all HuffPost superfans!
Sign up for membership to become a founding member and help shape HuffPost's next chapter