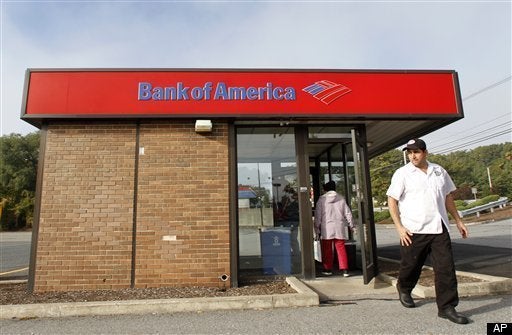 Bank of America, mired in scandal and facing potential losses over its alleged mishandling of mortgages, now says it will be able to fully leave its taxpayer bailout behind.
Whether the nation will soon escape its own bad experiences with Bank of America -- not least, a spate of allegedly unfair and improper foreclosures -- remains an open question.
The country's largest bank by deposits, B of A has one final task to complete before it can shake off the influence of the bailout program known as the Troubled Asset Relief Program: It still must raise $3 billion in additional capital as a reserve against future losses, even after repaying its $45 billion TARP bailout. According to a Financial Times report, the bank has told the Federal Reserve that, by selling various assets, it will be able to reach the $3 billion goal by the end of the year.
But even if the bank follows through on that pledge, its future remains uncertain, and that poses myriad risks for a still weak American economy. As a major source of finance in virtually every sector of commercial life -- directing loans to small businesses, and mortgages to homeowners -- Bank of America's willingness to extend credit influences the vigor of the broader economy.
And whatever the strength of the bank's balance sheet, its starring role in the national foreclosure crisis has reinforced questions about whether its taxpayer-financed rescue has delivered adequate dividends for ordinary people.
After admitting that it employed "robo-signers," who approved thousands of foreclosure documents without even reading them, the bank temporarily halted its foreclosures nationwide, and it now faces a federal rackteering lawsuit. Reports emerge regularly of the bank's botched foreclosures -- New York Times' Joe Nocera recently told the story of an elderly woman who almost lost her home through the bank's sheer sloppiness. As evidence mounts that the mortgage company Bank of America owns didn't properly transfer crucial documents when it sold mortgages to be transformed into securities, investors are demanding their money back. To top it off, WikiLeaks could soon unearth further examples of the bank's questionable practices.
As experts estimate that banks may be forced to buy back $179.2 billion worth of securities, troubles for the industry are far from over.
"Bank of America may be able to do some deals just now, to get itself off the TARP hook, but Bank of America going forward, along with the major banking systems as a whole, that's a big question that nobody really knows the answer to," said Mark Blyth, a political science professor at Brown who specializes in finance. "The future for these very large institutions is not looking too positive."
A Bank of America spokesperson, Jerry Dubrowski, said "the costs associated with the mortgage repurchase requests are manageable," while declining to offer greater specificity.
Still, the human cost of Bank of America's alleged mistakes remains unaccounted for. Dubrowski insisted the bank's efforts to help homeowners have been effective.
"We continue to do all we can to help homeowners stay in their homes," he said. "We have modified to date more than 700,000 mortgage modifications since the beginning of 2008, more than any other U.S. bank."
But the bank has granted permanent mortgage modifications to only 21 percent of its eligible borrowers. Among the banks that handle the monthly mortgage bills -- institutions known as mortgage servicers -- that record stands as the poorest.
"Bank of America is clearly performing the worst of any of the servicers," said Diane Thompson, an attorney at the National Consumer Law Center. "They're just not doing them. Fundamentally, that's the problem."
The government's $700 billion taxpayer bailout of Wall Street was just part of the $3.3 trillion that the U.S. government lent out, as it disclosed last week, to financial institutions around the world. While the rescue may have averted a far worse crisis than the one that emerged, any direct effect of American taxpayer dollars on the American taxpayer has been slight. The nation's unemployment rate climbed to 9.8 percent in November, and unemployment benefits for millions of Americans -- many of whom lost their jobs through no fault of their own -- recently expired.
The big banks that received the government rescue are largely keeping their fists tight, hoarding money rather than using it to lend to the real economy. Income at banks with consumer deposits has skyrocketed, reaching $14.5 billion during the second quarter, compared to $2 billion during that period last year.
As big banks get special treatment -- such as a lower rate of interest when they borrow money from the government -- the nation's small banks suffer, posing a potential threat to the economic recovery. These banks provide crucial funds to small businesses, which in turn create about 70 percent of the nation's jobs.
Popular in the Community