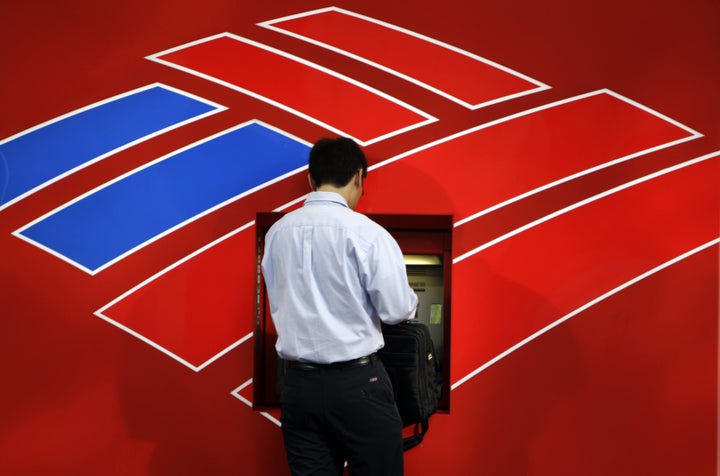 Corporate Executives often pursue multiple strategies when it comes to maximizing shareholder value. Sometimes they try to provide the public with products of real worth. Sometimes they deploy complicated accounting schemes to create fictitious value. And sometimes, they just try to keep people from calling them nasty names on the Internet.
Beseiged by allegations of rampant fraud, Bank of America appears to be making a big push on strategy number three. The company seems to be buying up scores of domain names that portray the financial behemoth and CEO Brian Moynihan in a negative light. Want to start a website slamming Moynihan? Too bad! URL addresses like "BrianMoynihanSucks.com" and "BrianMoynihanBlows.com" are already gone.
According to a Monday report by Domain Name Wire, a company that frequently purchases domain names for large company has snapped up "hundreds" of URL addresses that are critical of Moynihan, BofA CFO Charles Noski and members of the bank's board of directors.
In addition to allegations that it has committed widespread fraud in the foreclosure process, Bank of America will be the subject of a new release of sensitive documents by international muckraking clearinghouse WikiLeaks in January. One Bank of America mortgage borrower has even claimed that the company broke into her home and stole the ashes of her deceased husband.
BofA wouldn't be the first megabank to make a big stink about domain names instead of, say, addressing real problems. Back in 2009, Wall Street titan Goldman Sachs attempted to shut down "www.GoldmanSachs666.com" after the site became a hotspot for criticism directed at the investment bank. Somehow, people managed to keep disparaging the company.
Calling all HuffPost superfans!
Sign up for membership to become a founding member and help shape HuffPost's next chapter