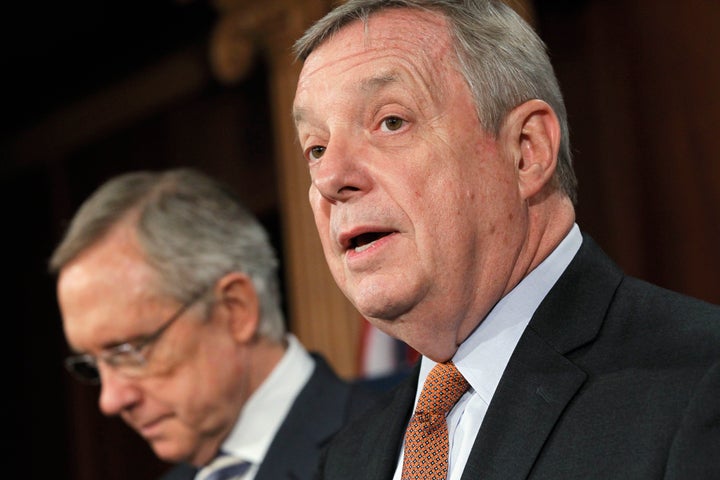 WASHINGTON -- While demonstrators in New York are calling for an occupation of Wall Street, a new push by Democrats in Congress proposes a different tactic: Just walk away.
Senate Majority Whip Dick Durbin and Rep. Brad Miller are going on the offensive against Bank of America after the financial behemoth cited Wall Street reform in announcing a new five dollar monthly debit charge last week. Miller, a Democrat from BofA's home state of North Carolina, plans to introduce legislation that would make it easy for consumers to switch banks and simultaneously swap their direct deposit, electronic bill paying and other automatic features that make moving money from one bank to another more hassle than it's often worth.
Illinois Democrat Dick Durbin, meanwhile, is encouraging consumers to abandon the bank's debit card. "My word to consumers across America is talk with your feet, look for a debit card that doesn't charge the Bank of America fee," Durbin told HuffPost, adding that the revenue from the new fee likely far outstrips what they'll lose to swipe fee reform. "It would be no surprise if we found out that Bank of America is overcharging consumers again. They've been found guilty of that in the past, but I really encourage consumers across America to look for competition that doesn't charge this fee, move their debit cards."
The Chicago Tribune, Durbin's home state paper, dubbed the BofA charge "the Durbin fee," which conservative blogs and Republicans have been happy to latch onto, arguing that the hike was a logical consequence of Durbin's swipe fee reform, which capped the fees banks could charge merchants for using debit cards.
On Saturday, the Federal Reserve instituted a 24 cent cap on swipe fees, estimating that running the card costs banks between 7 and 10 cents per swipe. The cap is roughly 20 cents lower than the average swipe fee had been previously.
Anne Pace, a Bank of America spokeswoman, noted that other banks are testing similar fees and that Regents and SunTrust are also hiking charges. "The price of a debit card was previously determined by the amount and type of transactions. We were able to pass some of these costs along to merchants, but because of regulatory changes, we are adjusting our pricing to reflect today's economics," she told HuffPost.
On Friday, Durbin's office sent around a memo, obtained by HuffPost, to other senators who had supported his swipe fee amendment, telling them to reject the suggestion that swipe fee reform required BofA to raise fees. Banks raise fees no matter what, Durbin argued in defense, noting that they'd raised fees after the bailout.
The Electronic Payments Coalition, which represents banks in the swipe fee battle, hit back at Durbin. "It is astounding that Senator Durbin, who created today's chaos, is now trying to point the finger at everyone but himself for the widely predicted consumer harm," spokeswoman Trish Wexler emailed to HuffPost.
"Senator Durbin has spent years pushing the agenda of giant retailers, while flatly ignoring repeated warnings by consumer advocates, economists, and regulators this type of consequence. The truth is that Senator Durbin knew that banks and credit unions across the board would have to raise prices. Instead of heeding our warnings and protecting consumers, he chose to put millions of dollars into the pockets of giant retailers."
Miller's bill represents a chance to go on offense. Durbin told HuffPost it's something he could get behind, though he has yet to see the legislative language. "I've worked with Brad, he's come up with some pretty good ideas and I like the concept very much," Durbin said. "We've got to give consumers an opportunity for creating competition in the banking industry. Right now that is very difficult, we've got to make it easier."
The system in place today makes it difficult to switch accounts. But it doesn't have to be that way. The Federal Deposit Insurance Corporation regularly takes over failing banks on Friday afternoons and converts them to new banks by Monday morning, using software that makes sure not a single customer misses an automatic bill pay or a direct deposit. Miller's bill would require banks to make it as easy as technologically possible to switch accounts, and would forbid practices aimed at keeping consumers locked in.
Miller had been studying the legislation for at least a year, he said, but decided to pull the trigger after BofA's $5 fee was instituted. It is at heart a free-market reform, he said, and was inspired by HuffPost's Move Your Money campaign that unfolded after the bailout.
"If we can find a way to introduce real competition into banking, that'd do more than any regulation," Miller told HuffPost. "The biggest banks have turned the switch for market forces to the off position. If consumers could shop around for banks the way they can for everything else, banks wouldn't think they had a God-given right to pay their executives vulgar bonuses and still make enormous profits, and consumers would get a much better deal."
Due to Republican-controlled redistricting, Miller faces a difficult primary against Democratic Rep. David Price if he hopes to remain in Congress, as both have been stuffed into the same district.
Legislation and regulation without a free market will ultimately fail, Miller said, and will lead to endless new fees as banks replace revenue lost to consumer protections with new charges. Without a real free market, consumers won't be able to respond the way they normally would.
Durbin noted that small banks and credit unions that are able, under Durbin's amendment, to charge higher swipe fees, should use that revenue to provide free debit cards that could win market share from BofA. "The community banks and credit unions that are exempt from this ought to step in with a zero charge debit card. At that point, it could be interesting. We could actually have some competition over debit cards," he said.
"In any other line of business, companies would be reluctant to raise their fees for fear of losing customers. That fear doesn't seem to be present in the banking industry," Miller said.
Even without the increased competition from Miller's bill, BofA's fee may not last. In January 2010, TCF Bank, which pioneered free checking in the 1980s, announced it would begin charging a monthly fee in response to Fed rules restricting overdraft charges. The move was regularly cited during the 2010 swipe fee fracas as evidence of the harm that would befall consumers if Durbin didn't back off. This January, TCF brought back free checking after losing customers.
One day before the Senate was expected to vote on delaying swipe fee reform in June, Chase went one step further: Thanks to the Durbin amendment, thousands of Chase customers were warned, your kid can forget about that trip to Disney World. "Congress recently enacted a new law known as the Durbin Amendment that significantly impacts debit cards," reads the letter. "As a result of this law, we will be changing our debit rewards program. After July 21, 2011 you will no longer earn Disney Dream Reward Dollars when you use your Disney Rewards Debit Card."
Durbin said that the fee is part of the bank's lobbying strategy to undo swipe fee reform. "I expect the banking industry to continue to kick and scream over this...They just happen to think they can win the day, ultimately, in Congress if they keep the pressure up," he said. "I'm not going to shed any tears for Bank of America. They made some awful decisions when it came to mortgages that jeopardized the future of their bank. They've had problems with profitability and losses leading up to this moment and for them to blame this law, which finally puts an end to the monopoly they had on swipe fees, it just doesn't bear up under close inspection."
Miller, in a letter to House colleagues, describes ways in which the legislation makes it easier to switch accounts:
The Freedom and Mobility in Consumer Banking Act makes the following changes and clarifications to existing law:

Increases competition among banks by guaranteeing consumers the right to close a personal checking or savings account:

•Provides consumers the right to close an account at no charge

•Provides consumer the right to close an account at any time, regardless of whether the balance is positive, zero, or negative

•Provides consumer the right to close an account in person, by phone, or by other remote means as may be prescribed by regulation

Prohibits abusive fees and charges:

•Prohibits fees or charges from being assessed to an account after receiving a request to close an account

Requires banks to take reasonable steps to facilitate account closures:

•Requires institutions to notify consumers of preauthorized and recurring debits that hit their account for 30 days after a qualified account is closed

•Requires institutions to remit the balance in a closed account to the customer's new account electronically if the consumer chooses

Prohibits banks from blacklisting consumers for failing to satisfy bank-generated fees assessed to an account at time of closure:

•Provides that consumers shall be given at least 30 days to remit payment for an account that is closed with a negative balance before the institution can initiate any collection activity, or reporting to a third party

•Provides that where an account is closed with a negative balance that is exclusively the result of overdraft or other fees assessed to the account by the depository institution, the institution may not report the account as delinquent to ChexSystems or any similar specialty consumer reporting service.
HuffPosts's Zach Carter contributed reporting.
This article has been updated to include a statement from the Electronic Payments Coalition.
Popular in the Community