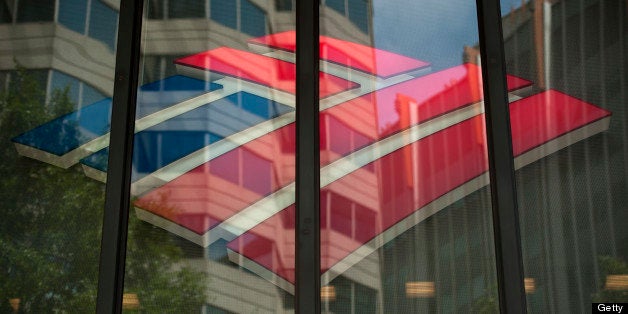 Bank of America is fighting back in court against former employees who claim the bank encouraged them to push homeowners into foreclosure instead of the government's mortgage-relief program.
In a court filing on Friday seeking to keep homeowners from teaming up to file a class-action lawsuit, Bank of America's lawyers said that the whistleblowers had "wildly misrepresented their duties at the bank" and declared that the claims they made were "impossible."
Last month, in support of the homeowners' lawsuit, seven former bank employees filed sworn affidavits claiming that Bank of America had encouraged them to push delinquent mortgage borrowers looking for relief under the government's Home Affordable Modification Program (HAMP) into foreclosures or in-house mortgage modifications instead, so the bank could make more money. Some of the whistleblowers said that they had seen the bank offer rewards to employees, including $500 cash bonuses and gift cards to Target and Bed Bath and Beyond, for excellence in making borrowers' lives miserable.
Bank employees were encouraged to doctor bank records, delay HAMP application processing and lie to customers in order to make this happen, the whistleblowers claimed. Bank employees who complained about the system were fired, according to their affidavits.
In its response on Friday, Bank of America says the whistleblowers had little or no involvement in processing HAMP claims and so couldn't possibly have seen the kinds of things they claim they saw. If such things existed, which they didn't, says the bank.
"In sum, the declarants could not have witnessed what they claim to have witnessed because they were not in a position to do so -- and would not have witnessed such things in any event because Bank of America's actual practices were diametrically opposite," the bank's court filing says.
The bank says that six of the seven whistleblowers were motivated to lie because they had been fired for "inappropriate behavior," including threatening a coworker with violence, sending inappropriate text messages and "bullying."
The whistleblowers could not immediately be reached for comment.
As Consumerist's Chris Morran points out, the bank does not try to deny the claims of one ex-employee, who said she worked in customer service and was instructed to tell every HAMP applicant who called that their case was "under review," even if it had not been touched in months or if their plea for loan modification had already been rejected.
In its filing, Bank of America claims that "other employees" say "the bank bent over backwards to help borrowers seeking HAMP modifications" and that "employees were often contacted directly by borrowers wishing to express thanks for their help on HAMP applications."
Calling all HuffPost superfans!
Sign up for membership to become a founding member and help shape HuffPost's next chapter
BEFORE YOU GO
PHOTO GALLERY
How To Get Your Boss Fired: Forbes