 It may be harder to get cash from Bank of America as its ATM network shrinks, but starting this week it'll be easier for customers to give the bank their money.
On Tuesday, the Charlotte, N.C.-based bank made life a bit easier for its 10 million mobile customers by adding a mobile check deposit feature to its iPhone app.
This feature allows an account holder to snap photos of the front and back of a check and deposit it into one or more accounts remotely.
The service, which works on the bank's iPad app, will be available for Android or Windows-based phone in the near future, according to MyBankTracker.com.
JP Morgan Chase was the first big bank to debut mobile check deposit at the end of 2010, and other banks have followed suit. Citibank, First Republic, PNC, USAA and several other banks and credit unions currently offer mobile check deposit services. Wells Fargo is currently testing mobile check deposit in several markets and is expected to make it widely available by the end of the year.
The rise in mobile banking comes as banks look to cut costs by closing branch locations. Bank of America has said it planned to shutter 1 in 10 branches by 2014 and, overall more than 1,400 bank braches closed between 2009 to 2011 in the United States, the Boston Globe reported. Regulations changing where banks can get revenue and compliance costs have contributed to branch closures.
Check out screen shots of the app below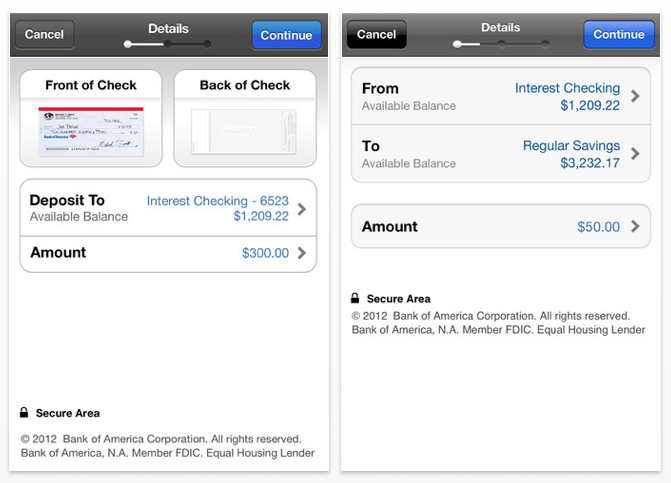 Related