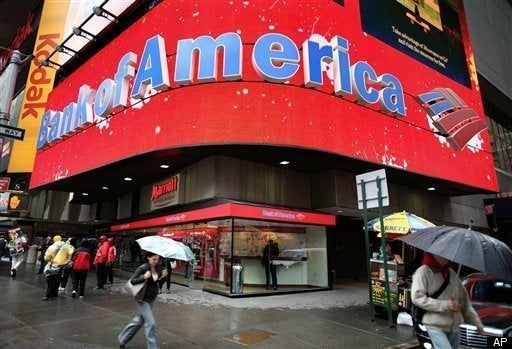 Bank of America stands out among the biggest mortgage servicers for an exceptionally poor performance under the Obama administration's Home Affordable Modification Program, according to data recently released by the government.
The eight largest servicers have offered an alternative mortgage modification to 44.5 percent of homeowners whose HAMP modifications have been canceled, but Bank of America has offered alternate mods to only 24 percent of the 148,129 homeowners whose trial modifications the bank canceled. For homeowners denied trial modifications, 31.3 percent have been offered alternate modifications by the Big Eight. Bank of America has offered alternate mods to just 11 percent of these folks.
"Bank of America seems to be stubbornly refusing to go along with the program," said Valparaiso University Law School professor Alan White, who first flagged Bank of America's standout performance in a Public Citizen blog post.
"BofA has also mastered the art of false hopes," wrote White. "It has converted only 26% of trial modifications to permanent ones, while servicers as a whole have achieved a rate of over 50% (still terrible, but it's all relative.) Over half of BofA's trial modifications are more than six months old, despite the fact that they are supposed to convert to permanent or be canceled after three months."
Bank of America did not immediately respond to a request for comment from HuffPost, but every month the bank puts out a press release touting its mortgage modification progress the day before the Treasury Department puts out its HAMP data. Bank of America boasted last week of its "industry-leading 79,859 completed modifications through the government's Home Affordable Modification Program." It has more permanent modifications than any other servicer, but that may be because the bank has an eligible pool of delinquent mortgages more than twice the size of every other servicer's (except Chase, which services 201,771 mortgages to BofA's 383,482).
The goal of HAMP, under which the government gives servicers $1,000 incentive payments to give eligible homeowners a five-year "permanent" modification after a three-month trial period, was to "enable as many as three to four million homeowners to modify the terms of their mortgages to avoid foreclosure." Treasury Department officials now shy from that goal as more people have been kicked out of the program than have been given permanent mods.
The Treasury Department has not fined a servicer for noncompliance with HAMP or even formalized a penalty scheme. The Government Accountability Office reported in June that Treasury's lack of penalties for bad servicers "risks inconsistent treatment of servicer noncompliance and lacks transparency with respect to the severity of the steps it will take for specific types of noncompliance."
Related
Popular in the Community