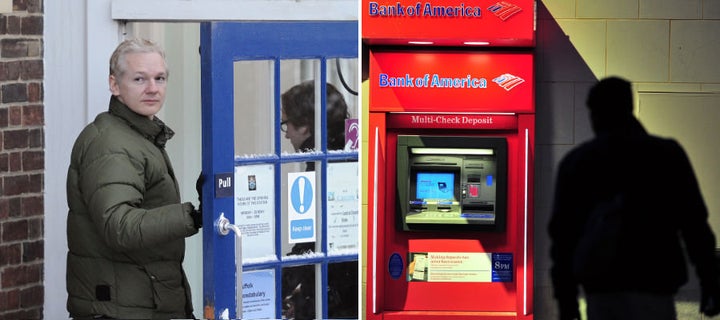 In a burst of wikipanic, Bank of America has dived into full-on counterespionage mode.
In an interview from October 2009, WikiLeaks director Julian Assange told Computer World that his organization was in possession of cache of information taken from a 5GB hard drive of a Bank of America executive. It apparently took until November of this year for the news to sink in at BofA, where, according to the New York Times, they have now launched a broad internal investigation, in an attempt to discover the content and source of the alleged leak.
"If something happens, we want to be ready," one bank official told the NYT. "You want to know what your options are before it comes out, rather than have to decide on the spot."
15 to 20 bank officials, along with consulting firm Booz Allen Hamilton, will be "scouring thousands of documents in the event that they become public, reviewing every case where a computer has gone missing and hunting for any sign that its systems might have been compromised."
So far, the team hasn't found the source of the leak. As for the content, the NYT reports that the counterespionage task force is focussing closely on BofA's acquisition of Merrill Lynch, which was investigated by the SEC in 2009 and 2010, along with the bank's acquisition of the ailing mortgage giant Countrywide Financial in 2008.
As Assange put it in a recent Forbes interview, his organization latest link will detail the "the ecosystem of corruption" in corporate America.
No word yet as to when this newest material will be leaked, but according to the Computer World interview, the delay may be a matter of presentation. "It's a difficult problem. We could just dump it all into one giant Zip file, but we know for a fact that has limited impact. To have impact, it needs to be easy for people to dive in and search it and get something out of it."
As for the impact, Assange wants the world to think enron. "For this," Assange told Forbes, "there's only one similar example. It's like the Enron e-mails."
The day of Assange's Forbes interview, Bank of America had its worst day since May 2009.
Related
Popular in the Community