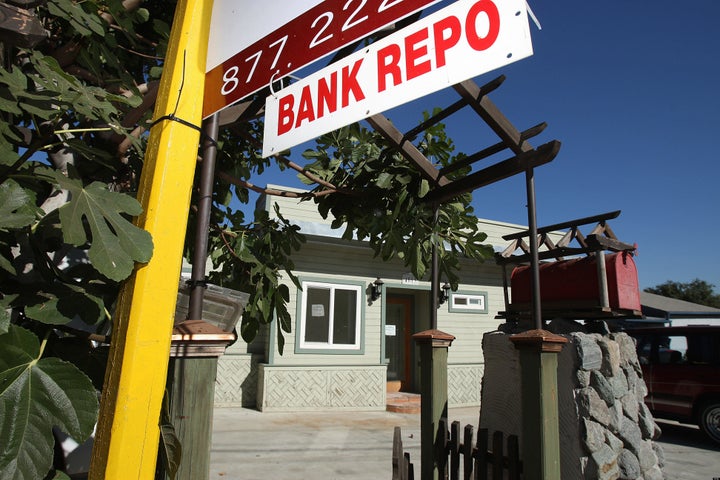 On Monday, the Huffington Post's Shahien Nasiripour reported on the failure of President Obama's $75 billion foreclosure program, citing JPMorgan Chase's prediction that only 15 out of 100 homeowner applicants have or will likely receive a permanent loan modification.
So far, the actual numbers are worse -- much worse.
According to a new Treasury Department report, fewer than 5% of borrowers participating in the Home Affordable Modification Program have received permanent loan modifications.
And some of the biggest TARP recipients -- Bank of America and Citibank -- have especially paltry rates.
At Bank of America, only 98 out of 156,864 borrowers in the trial program had received permanent fixes. That's 1 out of every 1,600 borrowers.
At Citibank, only 271 out of 100,124 borrowers in the trial program received permanent loan modifications. That's 1 out of every 369 borrowers.
In comparison, other giant banks had much higher, though still minuscule, rates. Around 3 percent of JPMorgan Chase borrowers and nearly 4 percent of Wells Fargo borrowers had received permanent fixes. And about 14,000 additional Wells Fargo borrowers are expected to receive permanent modifications in the next few months, Wells Fargo's co-president Cara Heiden told the Wall Street Journal.
Bank of America chose to focus on the future rather than explain the low rate, telling the WSJ:
A Bank of America spokesman said the company had "the highest number of...active trial modifications" and expected to gain momentum in converting borrowers to permanent fixes in December.
On Wednesday, the bank announced that it had repaid the $45 billion in taxpayer funds it received through the TARP program. It has been widely speculated that the one of the main motivations for Bank of America's repayment was to escape government-imposed pay limitations.
Calling all HuffPost superfans!
Sign up for membership to become a founding member and help shape HuffPost's next chapter