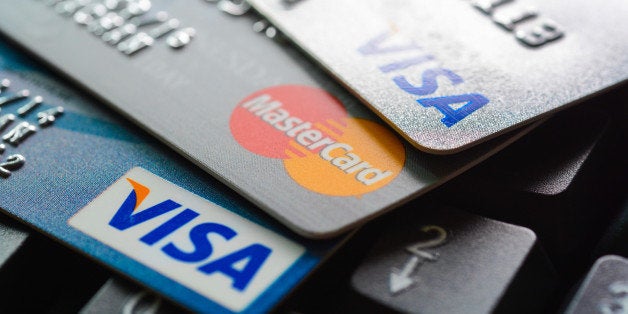 It's time to make sure that African-Americans get more for their money--and that starts by getting out of cash and into cards and electronic payments. Doing so will green the financial deserts that plague our low-income communities and wither upward mobility on the vine. A simple piece of plastic can help the millions of financially underserved African-American families meet their financial needs and save the time and money they need to move up.
The lack of banks in low-income neighborhoods forces people who are already stretched for money pay more for less at check cashers and payday lenders. These financial predators are called "alternative financial institutions," but in reality nearly 9 million African-American households have no other alternative. Nearly 21 percent are unbanked and more than 33 percent are underbanked. Nearly 10 percent of their average household income is spent on interests and fees. That's the same percentage the average American household spends on food each year.
Simply put, financial deserts in African-American communities drain an estimated $21.4 billion each year in fees and interest. That's money that could go toward education, transportation, food and, most importantly, back into our community and our small businesses instead of flowing out through the pockets of money changers.
For those of you wondering why it is so hard for many hardworking African-Americans to get ahead, the answer is that they are getting hit twice on payday: once with low wages and twice with fees to access their money. We can solve the problem by using our heads and working to get financially underserved African-Americans out of cash and into affordable and fair payment cards.
The solution is not begging banks to come back to our neighborhoods; the solution is to green our financial deserts with electronic payments that save time and money, and protect the money of working people.
Payroll and prepaid cards are powerful tools to make sure people have more money in their pockets and that our money stays in our community. And the best news is that they are affordable and can be made more easily accessible through outreach and education efforts.
Fair and affordable payroll cards can be offered by enlightened employers to provide instant financial inclusion to workers who don't have or can't afford bank accounts. In addition to avoiding check-cashing fees through direct deposit of wages, employees now have a card they can use to shop online, pay bills, make reservations, pay automatic tolls and, most importantly, protect their money from fraud, theft and loss. Payroll cards are actually cheaper for employers, saving them an average of $0.89 per check over writing traditional paychecks. If payroll cards aren't offered, the financially underserved can buy a good prepaid card with low fees and fair terms that functions in the same way.
Cards provide significant savings over cash. Compared to receiving paper paychecks and using only cash, people who switch to cards can dramatically cut monthly expenses. For example, the total monthly cost of relying on cash can be as high as $96, not including the time spent waiting in line at a check casher or to pay bills in person. Compare this to the approximate monthly cost of using a low-fee prepaid card: $24, and less time wasted getting less for your money.
Underserved families need to know that the financial deserts they live in are causing a catastrophic drain on their wealth--and they need to understand how to move to payroll and prepaid cards to turn that desert green.
When I became president of the A. Philip Randolph Institute (APRI), fighting for a fair wage for our workers was my top priority and has been APRI's mission since the organization was founded. However, we quickly realized that more money in families' paychecks doesn't add up to much if they don't have the power to use their wages whenever, wherever they want.
That's why I'm on the Advisory Board of Master Your Card, a community empowerment program that will work with us to deliver affordable alternatives to predatory financial services and green our financial deserts through the use of card and mobile payments. We're meeting with community leaders across the country, sharing what we've learned and planning to move forward as a united community.
We should not resign ourselves to living in these financial deserts indefinitely. It's time to seize opportunity, take advantage of payment technology and move our community into full financial inclusion. Let's not wait for the banks to come back to us--let's chart our own comeback with revolutionary technology that makes our money matter more.
Popular in the Community