Last month, the World Bank released new data about how adults around the world use formal financial services. The good news: the number of people with a bank account grew by 700 million worldwide from 2011 to 2014. The bad news: of the remaining 2 billion people without a bank account, women are still disproportionately underserved. The gender gap of 7 percentage points did not budge from 2011 to 2014.
This data shows that low-income women around the world are still not accessing the financial tools and resources they require to build security and prosperity. In many cases, barriers are cultural with men controlling the family's savings accounts and loans even though women are more likely to manage the household budget and make financial decisions. In other cases, especially in low-income communities, women can't reach banks because they live in remote areas or can't access loans in their name because banks don't recognize the value of their businesses and don't have the necessary collateral.
A woman who has a bank account can take care of herself and her family and change her future. By giving women equal access to loans, savings accounts and insurance, they are better able to invest in their future and their family's future. So how can banks be convinced to serve low-income women? Here are five women, accessing five different financial tools specifically designed for their needs. Each woman is showing us why we should bank on her.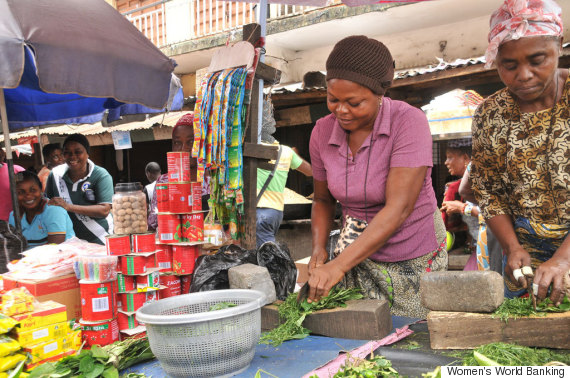 Ime, Food Vendor, Nigeria
Ime Akpan Issac's stall is in the Idumota Market in Lagos, Nigeria. She chops and sells okazi leaves, which are used to make traditional Nigerian soups. Ime started her business three years ago with only US $31. Running a business on her own all day, she doesn't have time to visit a bank branch or go to an ATM. Ime uses a BETA savings account from Diamond Bank. Every day, a bank agent (known as a BETA friend) visits Ime in the market to collect her savings deposits. She uses her savings to help support her husband and seven children and to save for her children's school fees so they are able to have a better future.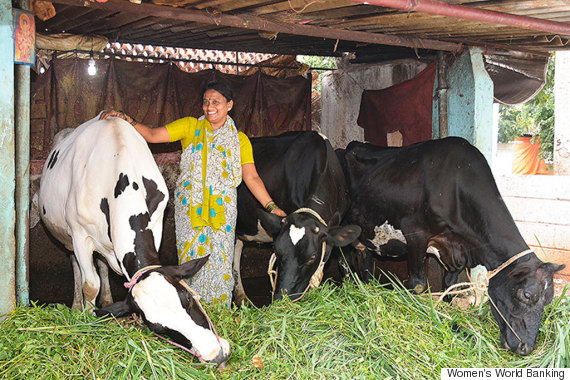 Sukanya, Dairy Farmer, India
The names of Sukanya's three cows are Lakshmi, Gowramma and Durga, all named after Hindu goddesses. Sukanya started the cow business 17 years ago with her husband. They started with five cows and were making a comfortable living, when four of the five suddenly died. Sukanya was able to take a loan so she could buy two replacements cows. Today, Sukanya is proud to share that she has grown her business and is putting her children through college.
Kissa runs a grocery store in rural Uganda. Her last pregnancy required a four-day hospital stay, which meant she and her family had to cover the cost of the hospital admission, surgery and hospital materials. This, however, was only half of what the family paid. The other costs - transportation, lost income, food - amounted to as much as the surgery itself. They used savings to cover part of the costs and the rest came from selling livestock at below market value due to the urgency. Today, women like Kissa are eligible for a hospital cash health microinsurance program, which allows them to protect their savings and assets during health emergencies.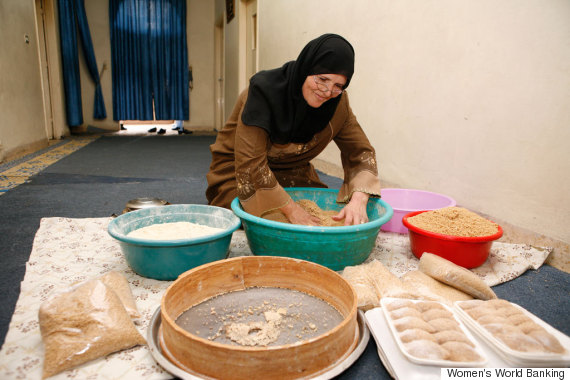 Anga, Cook, Jordan
After her husband's death, Anga had to find a way to cover her four children's education expenses. She had an idea to sell ready-made meals to working women, but she couldn't afford to finance her idea. Agna took her first loan of US$69 and started her project in her house. Early on, Anga became ill and was hospitalized, but with her health insurance, she was able to keep her business open. Step by step, her business grew; she rented a new work space and hired five other women. Now, Anga is distributing to well-known supermarkets and restaurants and aims to grow her business and employ more women from the community.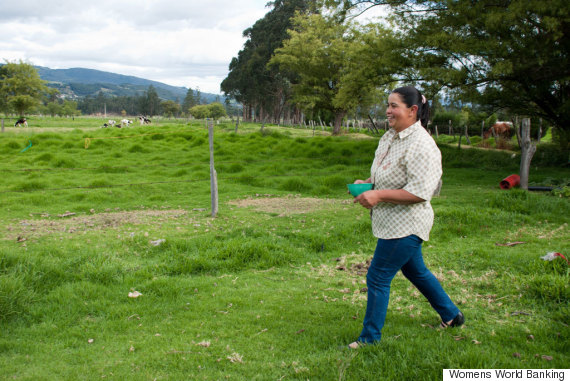 Blanca, Farmer, Colombia
Blanca's husband runs a small farm and Blanca considers herself 'just a housewife' even though she knits wool scarves and sells eggs in the market, making a significant contribution to her family's income. In the last year, she obtained her first loan that allowed her to buy more chickens and freed up her time to knit more scarves. Her husband now sees her as an equal partner in the household and the farm.
Women's World Banking worked with the financial institutions that serve all five of these women to design savings, loan and insurances products tailored specifically to meet their unique needs. These women are proof that accessing formal financial tools benefits not just women, but their families, their communities, the global economy and the banks that serve them. Visit bankonher.org to learn more about how Women's World Banking is banking on women across the globe.