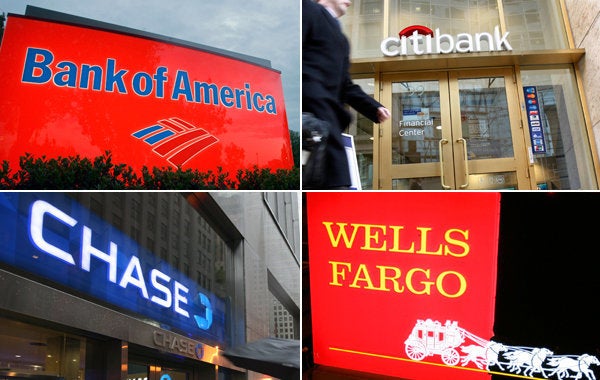 Bank profits soared to their highest level in two years as near-zero interest rates and lower reserves for future losses allowed U.S. banks to book an $18 billion quarterly profit in the midst of a prolonged economic downturn.
Big banks led the way, accounting for $15.6 billion, or nearly 87 percent, of the industry's total first-quarter profit, according to a Thursday report by the Federal Deposit Insurance Corporation. Defined as banks with more than $10 billion in assets, they account for about 78 percent of the industry's total assets.
Boosted by the lower cost of funds they enjoy versus their smaller competitors, the big banks' margin on interest rates -- the difference they pay in interest versus what they charge -- jumped to its highest level since 2002. Banks with more than $10 billion in assets also tripled their return on assets relative to the same period a year ago. It's the highest level since the third quarter of 2007.
The industry as a whole paid $29.3 billion in interest in the three-month period ending in March, 32 percent lower than the same period last year and 65 percent lower than what banks paid two years ago. Though the industry also recorded less revenue off the interest they charge on loans and other credit products, the decline in banks' cost for funds outweighed the decline in what borrowers paid, enabling banks to record an easy profit, according to FDIC figures.
Big banks were the biggest beneficiaries of the low rates, paying just 0.90 percentage point interest for its funds, 48 basis points lower than banks with between $1-10 billion in assets. (A basis point is 0.01 percentage point.)
The incredibly low cost of funds big banks enjoyed in the first quarter is 204 basis points lower than what they paid during the same period two years ago. It's a bigger drop than what their smaller competitors enjoyed. It's also the lowest rate the FDIC has ever recorded, according to records dating back to 1984.
The Federal Reserve's main policy-making body voted in April to continue keeping the main interest rate "exceptionally low" for an "extended period." The federal funds rate, the interest rate at which banks lend money to each other overnight, stood at 0.20 percentage point last month, according to Fed data.
The FDIC noted that the surge in income was due to a decline in what banks set aside to cover future losses. The industry set aside $51.3 billion in the first quarter, a $10.2 billion decline from a year earlier. Banks made $5.6 billion that quarter.
Elsewhere in the FDIC report, the agency's figures show that banks recorded fewer newly-delinquent home loans relative to last quarter, a sign of encouragement that mortgage delinquencies may have peaked.
And small banks continue to struggle relative to their bigger peers. The number of "problem" banks grew from 702 to 775 during the quarter as smaller banks continue to be hobbled by rising losses on commercial real estate loans.
"There will be more failures, to be sure," FDIC Chairman Sheila Bair said in a statement. "The banking system still has many problems to work through, and we cannot ignore the possibility of more financial market volatility.
"But the positive signs I've outlined today suggest that the trends continue to move in the right direction," she added.
Calling all HuffPost superfans!
Sign up for membership to become a founding member and help shape HuffPost's next chapter