 I'm often asked how a former banker becomes an artist. I think of myself as an artist who became a banker who then came full circle back to art. In my freshman year of college, I signed up for my first studio art course taught by a young professor by the name of Tom Krens, who went on to Guggenheim greatness. Tom brought in the pop artist Jim Dine. He had this incredible intensity. I was hooked and soon enough studio art became my major.
I came from a modest but well educated family where everyone had advanced degrees. I remember thinking I did not want to be the only one without an advanced degree, and a good college friend suggested business school as a degree that would leave me wide open as to what to do next. For my application "essay" I submitted a set of cartoons which I did weekly for my college newspaper, and, to my surprise, was admitted. A number of people counseled me that to get something out of business school, I should work first. Taking that advice, I bluffed my way through an interview with Morgan Stanley, deferred business school and proceeded to get sucked in for the next 25 years or so.
Now I go to my sculpture studio every day keeping even longer hours than I did as a banker. As a newer artist, I have to do everything: source my materials, make the art, pitch my ideas and follow-up with potential venues and buyers. My job as a banker was to connect with people and convince them why agreeing with my point of view was in their interest. Art is actually not that different. I want to connect with as many people as possible, which is what drew me to public art.
When I see an empty space, I can't help but immediately start to think what could go there.
It's the reverse of Michelangelo's saying that the sculpture is already in the marble and he just "liberates" it. Public spaces are special. You don't need a ticket to access them or to worry about opening hours. They are accessible to everyone, even those who don't think they like art. And I love the feedback from passers by. While installing my most recent work You Are Not the Boss of Me (Tree Totem) on public trees on West 24th Street, we had a dozen or so people stop, ask about the work,and take pictures. That was incredibly exciting for me.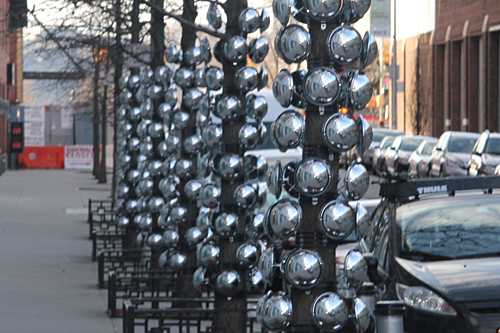 As a new artist it is a challenge to get my work exposed to as many people as I can, so what better place than the nexus of the New York art scene during one of its major art weeks? I wanted to participate in the "moment," in a very visible way, so I created my own 24th street art opportunity. I was lucky the City was equally enthusiastic about my proposal, and granted me the permission I needed. The work I installed on 24th street You Are Not the Boss of Me (Tree Totem) addresses paranoia and narcissism in the urban condition, which is quite appropriate for the location. Sharing the Tree Totems with the entire art world during Art Week was definitely one of the most fun things I've done this year.
I've always been fascinated by the indigenous totem poles of the Pacific Northwest. They played an important social function by commemorating events. I was intrigued by how many people, including myself, had incorrectly assumed they had some sort of religious significance. I started working with utility poles, and combining them with readymade objects provided a rich springboard for me. I hit upon chromed steel dome safety mirrors, the kind commonly used for security in difficult to see spaces and on trucks and buses. Grouping these mirrors in massive assemblies, they speak to the abject fear and paranoia that are a common component of today's urban and suburban condition. They work wonderfully on so many levels, referencing narcissism and placing a whole new perspective on the landscape we inhabit.
I am very excited about my show Totally Totem this summer at MASS MoCA, my first major solo museum show, which will further explore and develop these issues. Wait until you see Can't Hear You (Fat Totem), it is over 35 feet high and 45 feet in diameter! I am also planning something for the week of Frieze New York in early May.
Popular in the Community