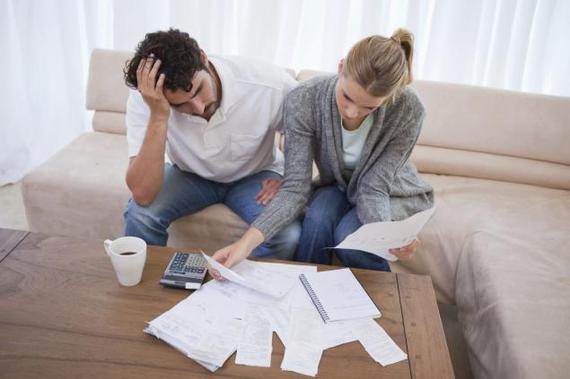 The quarterly survey results from banking experts predict higher levels of credit card debt in 2015, which could cause consumers to have more delinquent payments. The study was a joint effort by the Professional Risk Managers' Association and FICO, the credit scoring company. Risk officers, who are the industry's watchdogs at financial institutions, were asked to provide insightful answers about what consumers and credit card users should expect over the next year.
Concern about the Wealth Gap
Just like nearly everyone else -- excluding the wealthy one percent -- the bank's risk managers expressed worry about the ever-growing wealth gap in the U.S. The earning power and net worth of the middle class has been shrinking dramatically over the past decade, while approximately $1 trillion has found its way into the wallets of a tiny percentage of the population who are super-rich.
The risk managers who were surveyed are not sure what affect the continuing trend may have on the ability of average consumers to repay their debts; however, it's clear they're not optimistic. Three months ago, 62 percent of them said that the wealth gap posed a risk to the financial system. Then, 90 days later, those who agreed with the previous assessment rose by more than 15 percent. Currently, 74 percent of risk managers are worried that an unequal wealth distribution will cause additional lending risks for financial institutions.
The Impact of Stagnant Wages
More than 40 percent of the risk managers surveyed pointed out that despite the widening disparity between the economic classes in America, the banks have yet to change their consumer credit standards and requirements. This is good news -- for now -- for anyone trying to take out a loan or apply for a credit card. If the banks decide to update their policies and requirements because of a growing risk, it could mean a significant clamp to their current lending standards.
If wages rise, it could be a real game-changer both for banks and for consumers. Despite some efforts to raise the minimum wage in a few states, or even at the federal level, there is little hope that paychecks are going to increase over the coming year.
Judging from the survey, these risk officers predict that consumers will use credit cards more frequently this year, but pay off their balances less. The number of respondents who expect credit card usage to fall is the lowest since the inception of the survey in 2010. More than 35 percent risk officers predict an increase in consumer credit card debt, while close to 60 percent foresee Americans carrying larger than average balances, and about 40 percent also anticipate a spike in credit card delinquencies and late payments.
Right now Americans are saving very little money, which always makes consumers more vulnerable to financial burdens like late payments, missed payments, and mounting credit card debt. If you want to change the trend in 2015 and prove the predictions of the experts wrong, finds ways to squeeze a few extra dollars out of your budget for additional savings.
Switching to a credit card that has no annual fees and has lower interest rates is one way to save. You can also opt for a cash rewards credit card that will automatically pay you back a percentage of everything you spend. That's just like dropping coins into a piggy bank every time you use your plastic, and is one of the easiest ways to turn debt into savings in 2015.