 The day after the 1906 San Francisco earthquake, it is told, A.P. Giannini -- a turn-of-the-century social entrepreneur, micro-finance pioneer of his day, the founder of the behemoth Bank of America -- made loans to devastated residents on the basis of a handshake.
Sixty years later, when the ostentatious, 52-story Bank of America headquarters building was completed in San Francisco, local wags summarized the languishing Giannini legacy by tagging the 200-ton black Swedish granite sculpture in the main outdoor plaza the "Banker's Heart." What has happened to bankers?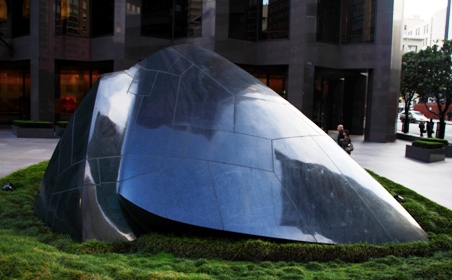 "Bankers are (for the most part) not born any greedier than other people. It is just that they may have more opportunity and stronger incentives to do mischief at others' expense," reasonably notes Nobel Prize Winner and economics professor Joseph Stiglitz. "When private rewards are well aligned with social objectives, things work well; when they are not, matters can get ugly."
"The first rule of social change is to maximize your impact without being a jerk," says Jacob Harold, CEO of Guidestar (quoted on iOnPoverty.tv last month when he was Philanthropy Program Officer for the Hewlett Foundation).
Jacob's counsel, offered quietly to social activists but thunderously universal for pretty much all we do in life, reminds us that social change comes not only from choosing a career of conscience, but also from having the courage to act on your values.
If you are making money from companies that pollute the environment (think Big Oil), screw the poor (too many big banks today), make people sick (Big Tobacco) or sell misery and mayhem (gun merchants), you are screwing up the world for the rest of us. To paraphrase Jacob Harold, don't be a jerk with your money.
Economic opportunity and economic justice depends on good banks. We need bankers pumping capital into underserved communities, into innovation and into companies of societal consequence. And, we need everyone to make money as if they were a banker with a heart of gold, not a heart of stone.
With our retirement funds we are all bankers. Want everyone to have a shot at economic opportunity? Invest in microloans. Want clean air to breathe? Invest in solar panel companies. Want something done about the homeless? Invest in low-income housing.
As Jacob prods us, "One can have a moral compass in any field...even as a banker."
REAL LIFE. REAL NEWS. REAL VOICES.
Help us tell more of the stories that matter from voices that too often remain unheard.