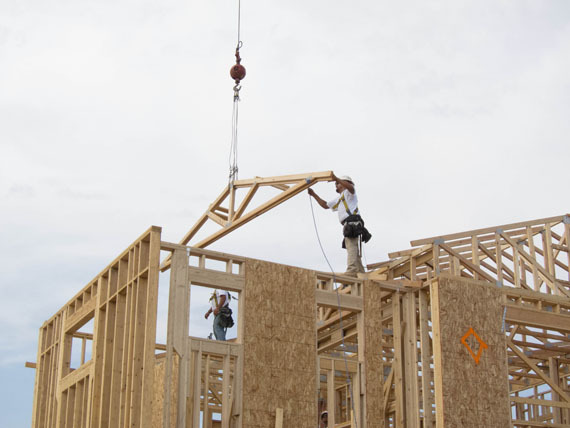 Banking is about trust. Our relationship with our customers is at the heart of how we help families find financial security and help local and global economies grow. Too often our industry has failed to earn this trust, especially when it comes to helping families with their largest investment: buying a home.

Our customers trust us with their dollars, and our communities and policymakers trust that we will lend responsibly and aggressively. In return, our government shares some of the natural risk in banking, and banks earn profits. But too many banks have cashed in without living up to our responsibility.

The banking community has an opportunity to restore this trust and make good on our social contract with customers, communities, and policymakers. We should start by investing in homeownership, which has always been the foundation of the American Dream.

When banks invest in both the borrower and in the products they're buying, we help our most economically vulnerable communities solve a challenge that is draining scarce resources, undermining broad-based economic opportunity, and worsening the financial barriers at the core of immobility.

And in doing so, we'll create financial security that has eluded far too many families.

At Amalgamated Bank, we're embracing this opportunity by doing three things right now.

First, we will invest more than $100 million to rehabilitate and build thousands of affordable units in New York. Mayor Bill de Blasio's ambitious and visionary goal for 200,000 additional affordable housing units in the next decade will require a significant effort to rehabilitate standing properties across the city's five boroughs. These loans will help do that.

Second, I'm proud to announce that every time someone uses his or her Amalgamated Bank Donate the Change debit card for a purchase of $10 of more, we will donate 10 cents to Habitat for Humanity, the non-profit builder of quality homes for those in need.

Finally, we'll double down on what we do best: offering purpose-driven, affordable, accessible banking to communities in need. For nearly a century, our bank has embraced our role as the industry leader in the fight for social and economic justice. We're proud of our history and we will continue to finance movements of progressive change.

Our mission is not philanthropic -- it's a business model grounded in our progressive values. Our bank makes the bet every day that socially conscious banking is good not only for those on the receiving end of a loan or capital gain. Smart, aggressive lending and investing serves a public good and expands the marketplace by economically empowering families and local businesses -- and that's good business for bankers, too.

After a recession fueled in part by investments in dangerous derivatives, we must shift our investments toward infrastructure like housing -- and we hope other banks follow our lead. If they do, some of our most economically vulnerable communities and families will for the first time have a shot at the financial security and upward mobility they need, and our economy can grow as it should, from the middle out and bottom up.

Banks must be leaders in solving public policy challenges that confront economic opportunity -- not just for the wealthiest Americans, but also for those left behind by our economic recovery. Abdicating this responsibility only slows the recovery for those on every rung of the ladder. Banks' reluctance to invest in affordable housing will only limit the marketplace and leave untapped the enormous economic power of the disenfranchised.

We can change that. By investing in social progress on housing we can make it easier for the banking industry to forge a reputation as a creator of wealth for others, rather than just for ourselves. And while we're at it, we'll restore the trust at the heart of our business.
Calling all HuffPost superfans!
Sign up for membership to become a founding member and help shape HuffPost's next chapter