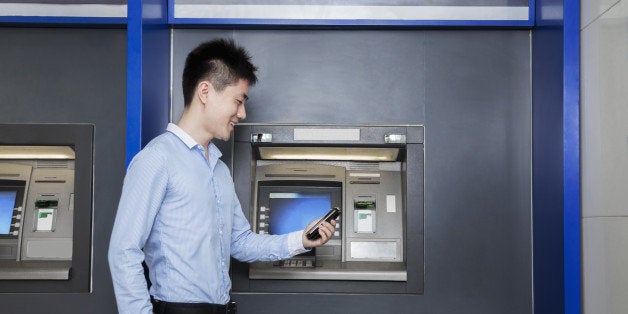 There have been a few pieces of banking industry news recently that, taken together, are signs of the pace picking up in the industry's transformation - and the importance of digital to both the way customers transact and consume media and content. With face-to-face customer opportunities waning, how fast are banks working to replace those opportunities where customers spend their digital time and are in the right frame of mind?
Firstly, both Wells Fargo and PNC, among others, have been accelerating their efforts to make smaller branch formats work. Wells is opening 1,000 sq. foot stores in recognition that a branch remains an important backstop to the customer experience. According to research they conducted, 80% of customer transactions don't require employee assistance, but 70% of Wells' customers still visited a branch every six months. PNC, according to their spokesperson, is moving toward more "teller-less" branches recognizing that only 18% of their customers do most of their banking in a physical branch. Branches are not going away but their role in the overall client relationship is diminishing.
The second piece of news is that satisfaction with banks has begun to rise according to the American Customer Satisfaction Index (ACSI). It is back to pre-recession levels, which is nothing to brag about. A major driver of the improvement has been the quality of new mobile and online experiences: "What we are finding is that banks have created high-quality websites and they have done a good job of gently nudging their customers in their direction," according to ACSI Managing Director David VanAmburg. eMarketer research points out that more than 61% of banking is conducted online, with 35% conducted via mobile devices. Overall, according to eMarketer, digital media consumption exceeded TV for the first time in 2013.
Bank digital marketing has been fully embraced to drive acquisition of new accounts, particularly for credit cards. Existing customer relationships - which relied on face-to-face branch interaction in the past - have not used digital to take up that slack to the degree possible. How many banks are delivering personalized messaging to existing customers when they are conducting online and mobile banking transactions? Not very many, and it's a lost opportunity. These are the best instances of money consciousness when carefully crafted digital messaging and content could serve customer satisfaction and cross sell objectives effectively. It is not for lack of available sophisticated targeting, audience matching, and optimization tools either. Often the problem is as simple as diffused organizational responsibility between those who operate online and mobile banking channels from those who direct digital marketing.
Whatever the impediment, the challenge is clear: There is an immediate need to speed up how the industry engages existing customers as they use their new digital banking channels of choice.
Popular in the Community