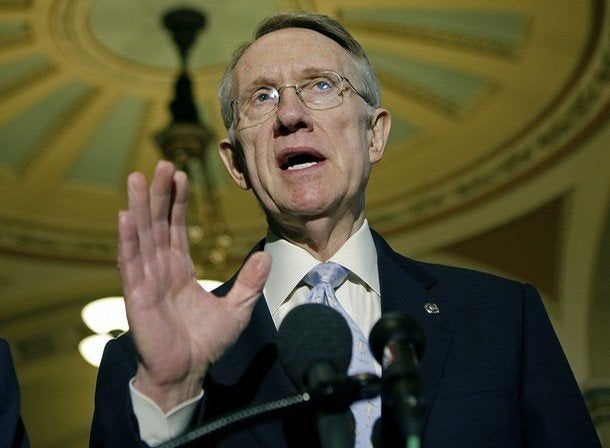 The bankruptcy reform bill that passed the House weeks ago amid much fanfare is on course to be gutted by the Senate Thursday. Senate Majority Leader Harry Reid (D-Nev.) told the Huffington Post Wednesday that he wasn't sure the bill had enough votes to overcome a GOP filibuster and that its key provision -- cramdown -- may have to come out.
"We're going to find out. I don't know," he said when asked if the bill had enough votes to pass.
Democrats Ben Nelson (Neb.), Mary Landrieu (La.) and Jon Tester (Mont.) have indicated to the Huffington Post that they oppose the bill's central measure -- giving bankruptcy judges the power to reduce, or cramdown, a homeowner's mortgage payment under bankruptcy proceedings.
That provision is on the chopping block.
"The bill that the House sent us is a very, very good bill, a very good bill," said Reid. "It would be a terrific bill if we had cramdown in it and it'll still be a good bill if that's not in it."
Cramdown, however, is the guts of the bill, House Speaker Nancy Pelosi (D-Calif.) told the Huffington Post.
"Well, it wouldn't be a bankruptcy reform bill without cramdown in it," she said.
The two versions of the bill would need to be reconciled in a conference committee. "I strongly support [cramdown], but we'll see what happens on the Senate floor," said Pelosi.
On Tuesday night, Sen. Dick Durbin (D-Ill.), the lead proponent of the cramdown measure, laid out the latest compromise version, which includes strict conditions governing which mortgages would be eligible. Only mortgages entered into before Jan. 1, 2009 would be open to judges to reduce. A mortgage would need to be delinquent for 60 days. A borrower would need to notify the bank of economic difficulty 45 days before filing for bankruptcy. Only mortgages under $729,000 would be eligible.
Cramdown faces fierce opposition from Wall Street. "The very same banks that are saying these people have to pay a price for bad decisions, many of these banks were in line to receive millions if not billions of federal dollars because of the same mistakes they made, when they made a business mistake," said Durbin.
Popular in the Community