 The federal judge overseeing Detroit's historic bankruptcy abruptly halted a trial Wednesday, ordering the city to renegotiate a proposed settlement with its creditors -- major banks owed hundreds of millions of dollars who are among the first in line to be repaid. The settlement would put to rest a swaps deal, a financial bet gone wrong, that's been blamed by some experts for helping drive the city into bankruptcy.
Following Judge Steven Rhodes' decision to officially declare Detroit bankrupt earlier this month, city attorneys and creditors met Wednesday in court, attempting to finalize an end to the swaps deal, along with a new $350 million loan from London's Barclays Bank, the Detroit Free Press reports. The loan money would be used to pay two more banks, UBS AG and Merrill Lynch (now part of Bank of America), $230 million total that the city owes after the swaps deal, which was originated by former Mayor Kwame Kilpatrick in 2005. The remaining $120 million would be used to improve services to residents.
The city, currently controlled by state-appointed Emergency Manager Kevyn Orr, has treated the banks as secured creditors. Challenging these debts could mean Detroit could save hundreds of millions of dollars -- crucial savings for a city contemplating shortchanging the pensions of retirees.
"Every transaction -- including this one -- that the city has entered into in connection with these swaps … has been with a gun to its head," Rhodes said, according to the Detroit Free Press. "That has to stop. ... And I think it's part of a bankruptcy judge's role to carefully scrutinize a debtor's request to approve a settlement when that settlement was made with a gun to the debtor's head."
Despite prodding from Rhodes, Orr asserted attorney-client privilege, the Free Press reports, and refused to disclose whether the legality of the swaps deals, used to fund Detroit's pensions in 2005 and 2006, could be challenged in court. Paying the termination fee to UBS and Bank of America would save the city as much as $3 million monthly in interest payments, Ernst & Young consultant Gaurav Malhotra told the court, the Detroit News reports.
The city currently claims to have $18 billion in long-term structural debts that it cannot afford to pay.
But liberal think tank Demos said the swaps deals should be challenged, writing in a recent report, "the banks that sold these swaps may have breached their ethical, and possibly legal, obligations to the city in executing these deals."
In order to pay $1.44 billion into underfunded pensions, Kilpatrick and the city created nonprofit entities and corporations to issue the debt, and bought interest rate swaps as a hedge, betting that interest rates would rise. "The 2005 deal was a dangerous doubling-down that pushed the city beyond its legal debt limit," according to a Detroit Free Press report.When interest rates plunged south in 2009, "the city lost the bet, adding to the pensions' underfunding by as much as $770 million over the next 22 years," the Free Press report stated. Detroit owes the difference between interest rates to the swaps holders, who secured their investment with significant collateral -- $11 million in monthly payments Detroit's three casinos pay the city. When Orr decided to default on these payments in June, the monthly casino revenue went to the insurers of the swaps holders.
If Detroit can get out from under the swaps deal, it will regain direct access to its casino tax revenue. That's more money that can be invested into crippled city services.
Attorneys from Jones Day (Kevyn Orr's prior law firm), who are representing the city in bankruptcy court, pledged to spend Thursday dealing with Bank of America and UBS before meeting again in court on Friday with a progress report. The city attorneys also said a lawsuit over the swaps financing deal could still be forthcoming, the Detroit News said.
Joshua Pugh, communications director for the Michigan Democratic Party, said Orr and Gov. Rick Snyder (R)R have spent millions of dollars on consultants, rather than improving services for residents.
"Gov. Snyder should stop favoring Wall Street special interests over the rights of working people," he told The Huffington Post in an email. "It's time to restore Detroit's elected city council and mayor, so that Detroit can once again be led by Detroiters."
Related
Before You Go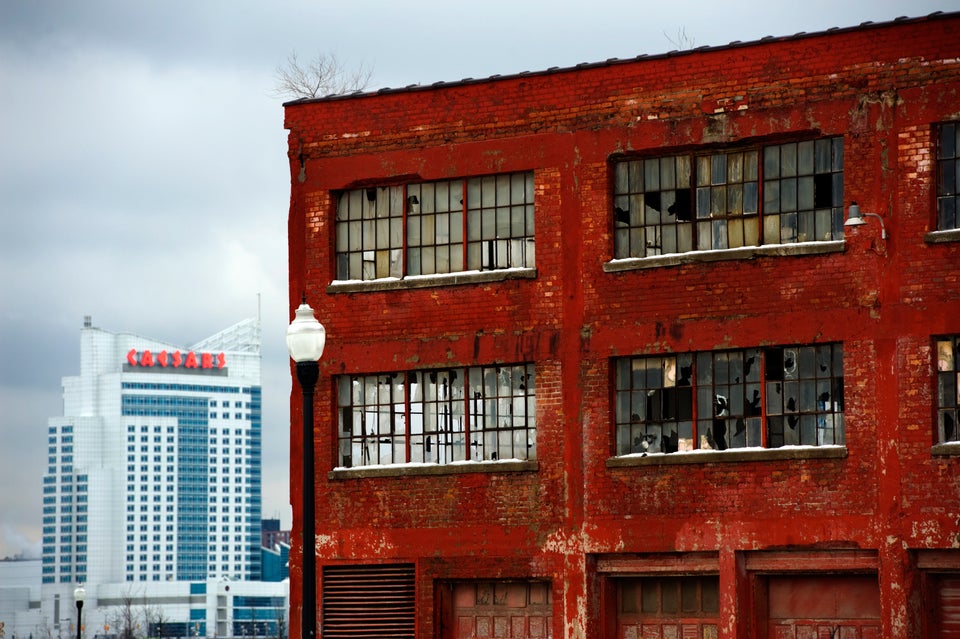 The Ruins Of Detroit
Popular in the Community