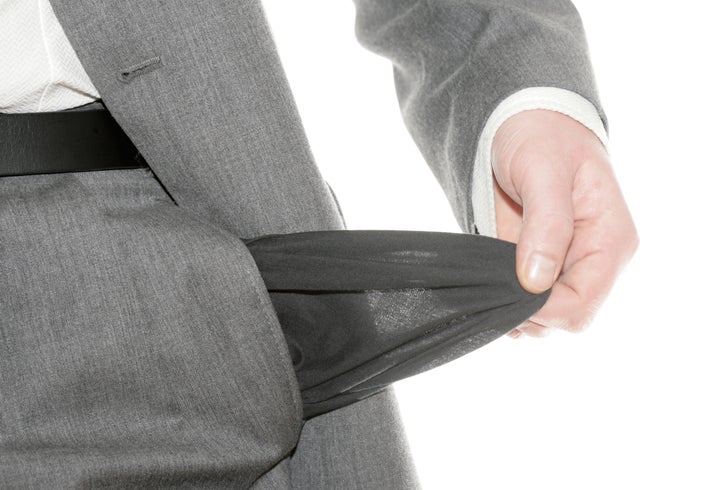 I didn't know it at the time, but apparently, I got off easy. When my best friend from college got married last summer, I had to spend only $1,000 total for her bachelorette party in Las Vegas, my plane ticket from New York to Los Angeles, hotel room, bridesmaid's dress, shoes, hair styling and wedding gift.
"You have no idea!" my brother interjected when he heard me grumble. He was invited to five weddings this year -- three of which were out of town, including one in Jamaica with an all-inclusive price tag of $1,300. Then there was the four-day bachelor party in Cabo San Lucas, which cost $900, and the three-day boys' ski trip to Mammoth for $700. That didn't include the aggravation of blowing through his yearly vacation budget. "I've had to say no to a lot of these events," he says. "I'm sick of spending all my money on other people's weddings."
As the cost and scale of weddings continue to escalate, it's not just the bride and groom or their parents who are feeling pinched. The bridal beast is bankrupting the lowly wedding guest -- leaving many to quietly mutter "Oh, please don't invite me to your wedding" following those dreaded words, "We've got some news!"

For just one holy union, it's not uncommon to be invited to several engagement parties, showers or teas (where you have to bring gifts and are often expected to chip in for expenses). Some showers are "spa days," and the bride can't be expected to pay for her massage, facial, mud treatment and low-carb turkey wrap herself, can she? And if you're a bridesmaid, you not only have to pay for that cherished dress and shoes, but often you're on the hook for professional hair and make up, too. And we're not talking a few artful flicks of a curling iron. For my last few bridesmaid gigs, I was accessorized with little hair ornaments and sprayed into a laminated, bouffant-ed babe. Then came the lip liner...
If you're invited to a bachelor or bachelorette party, you can't just buy your pal a few shots during an all-night bender. No, you're looking at a weekend trip, where guests pay for the soon-to-be-betrothed's hotel, meals, mojitos, club covers, lap dances, taxis and morning cappuccinos. You can always claim you've got a big project at work and have to bail, but it's not so easy, especially if others have forked out for you. If you're in a circle of friends, the standards get set quickly, and everyone expects equal treatment, i.e.: "If we all went wine-tasting in Napa for Amanda's bachelorette party, we can't go to the Cheesecake Factory for Jen."
But nothing compares with the biggest resource suck of them all: destination weddings.
Betsey Jones, a wedding planner with King Street Events of Alexandria, Va. says she planned a week-long wedding on a dude ranch in Montana, where guests were expected to pay several thousand dollars for horseback rides and cowboy barbecues. A friend of mine declined an invitation to a week-long Mexican wedding cruise. And it seems like every week I hear of someone going to a wedding in the Caribbean. What's a wedding guest to do? And what if several friends get married during the same season? You want to share their joy and all, but frequent-flier miles and Mastercard can only go so far.
Of course, destination weddings aren't all bad. That Kinko's cardstock of an invitation can be a ticket to an instant dream vacation... and the bragging rights that go with it. (As in, my friends are so worldly that they're having their wedding in Fiji. And they think so highly of me, they feel their special day wouldn't be complete without me flying half way around the world to join them.) For example, I have a cousin who's getting married in Greece next summer, which gives me almost a year to boast: "Oh, sure, road tripping next August sounds fun. But you know, I'll be in Athens for a wedding!" And since I'll already be there, I might as well drink a little ouzo and check out a few islands. I suddenly have permission to spend money on a fancy vacation under the premise that I have to.
My friend, Sparrow, squealed with joy when she received an invitation to a friend's wedding weekend near Lake Como in Italy a couple years ago. "It was an excuse to go somewhere I hadn't been before," she says. She started fantasizing about side trips to Tuscany until she freaked out about how she was going to pay for it all. What made the difference, she says, was a thoughtful bride, who tried to make the trip work for everyone. She checked into charter flights, paired single guests in hotel rooms, researched public transportation options to and from the airport and asked guests not to bring gifts. The couple also covered most of the food for the three-day extravaganza. In the end, the trip cost Sparrow less than $700, which with a lot of notice, she was able to fit into her budget.
What irks wedding guests aren't the financial demands so much as the expectations behind them, stresses Jones. "There are a lot of people with unbelievable incomes. People who are older or are having a second wedding may assume everyone else has money," she says, referring to one outrageous wedding where the bride stunned her bridesmaids by choosing $1,000 dresses by Vera Wang that they were asked to pay for. It's all about finding a balance between a bride and groom's expensive tastes and everyone else's budget, she says. One couple covered the cost of renting a Tuscan villa (complete with a cook) and just asked guests to pay for their flights. If the bridal party can't pitch in for their guests, Jones suggests inviting a select group to that Caribbean island, then throwing a less-formal cocktail reception to include everyone else later on. Or if a bride and groom suggest cheaper rooms or discount flights, that shows sensitivity, too.
Since wedding scope creep doesn't appear to be slowing down anytime soon, invited guests are being forced to be more discriminating about which ones they attend. I suspect this may have the blessed effect of making weddings smaller and more meaningful -- shared with people who really want to be there. By the way, did I mention that I'm going to Greece next summer?
Related