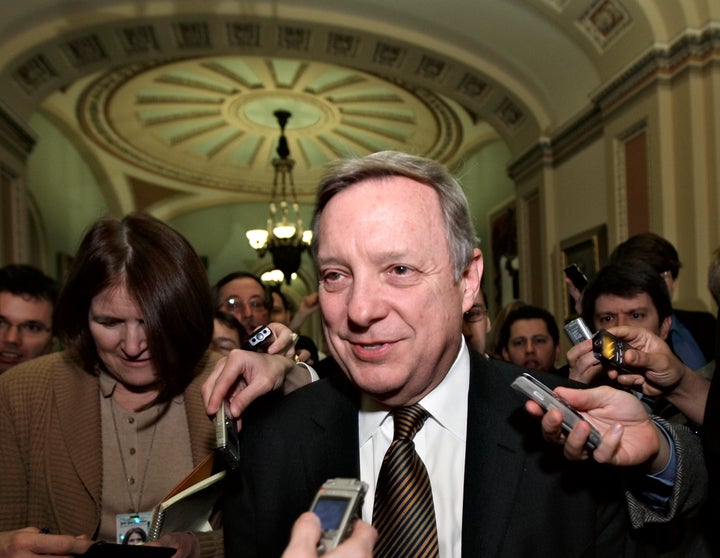 The Senate on Thursday rejected an effort to stave off home foreclosures by a vote of 51 to 45. It was an overwhelming defeat, with the bill's backers falling 15 votes short -- a quarter of the Democratic caucus -- of the 60 needed to cut off debate and move to a final vote.
The death of the bankruptcy reform measure -- which would have allowed a small number of homeowners who met strict conditions to renegotiate mortgages under bankruptcy protection -- is a major tactical win for the banking industry. But allowing the foreclosure crisis to continue unabated may end up being a failed strategy for the financial sector.
It wasn't easy for Majority Whip Dick Durbin (D-Ill.), who led the effort on behalf of homeowners, to wrangle the 45 votes.
Sen. Evan Bayh (D-Ind.), who had been on the fence for weeks, gave Durbin his support and nudged him on the way out of the chamber, alerting him of the anti-bank position he'd just taken.
Sen. Mark Warner of Virginia, a conservative Democrat, also cast a courageous vote in favor of the measure. He gave Durbin a hard slap on the arm on the way out.
Sen. Barbara Boxer (D-Calif.), a strong backer of the bill, spent a good deal of time trying to persuade his colleague Jim Webb (D-Va.).
As she got close to convincing him, she called in Durbin. "Hey Durbs," she could be heard saying, "help me with Jim."
Durbin and Webb spoke for several minutes and Webb cast an aye vote.
Sen. Claire McCaskill (D-Mo.), meanwhile, spent much of the vote checking the tally. Toward the end of the vote, she cast her lot with homeowners. Sen. Ted Kaufman, a Democrat from Delaware, a state nearly wholly-owned by the financial industry, voted his conscience, opposing the banks. He is not running for reelection. "I'm liberated from fundraising," said Kaufman afterwords.
His Delaware colleague, Democrat Tom Carper, voted with the banks.
The Chamber of Commerce has deemed the vote a crucial one that will be heavily counted in its annual scorecard, and those who voted yes will pay a financial price from the Chamber and the banking industry.
Other Democrats stuck with the banks against the homeowners. Sen. Robert Byrd (D-W.Va.) was wheeled into the chamber and pointed his finger in the air, signaling a yes vote, then dramatically swung it down, as if taunting the backers of the bill.
Sens. Jon Tester (Mont.), Mary Landrieu (La.) and Ben Nelson (Neb.) all voted with the banks, as they told the Huffington Post they would. Sen. Blanche Lincoln (D-Ark.) voted no, as did the new Democratic Sen. Arlen Specter of Pennsylvania.
Sen. Michael Bennett (D-Colo.), Sen. Tim Johnson (D-S.D.) and Max Baucus (D-Mont.) voted no as well.
Earlier this week, Durbin concluded that banks that "frankly own the place."
How much did the Senate go for?
The banking and real estate industry has funneled roughly $2,000,000 into Landrieu's campaign coffers over her 12-year career, according to data from the Center for Responsive Politics. The financial sector is Nelson's biggest backer; he's taken $1.4 million from banks and real estate interests and another $1.2 million from insurance firms. Tester has fielded roughly half a million in his two years in office. Lincoln has taken $1.3 million from banking and real estate interests.
Carper has raked in more than $1.5 million. Baucus, chair of the finance committee, has been on the receiving end of $3.5 million over his career. Specter has hauled in more than $4.5 million and Johnson has gotten some $2.5 million.
Across the United States, the measure is estimated to have been able to prevent 1.69 million foreclosures and preserve $300 billion in home equity.
Durbin is deeply unhappy with his Democratic colleagues that sided with the banks. "Frankly, I can't match what the bankers are doing in terms of lobbying," he said. Asked by the Huffington Post how bank influence could ever be reduced, he said, "When the voters speak, some elected officials listen. So I hope that, if we fail on mortgage foreclosure and we fail on credit card reform, I hope that people in this country will stand up and say to Congress, 'You've got the wrong friends.'"
After the vote, Durbin said he was surprised to lose so many Democrats. "I had hoped for a better vote. I mean, really, to lose 11 Democrats was disappointing, but, you know, I guess I've gained some ground since the issue last came up. Maybe if the mortgage foreclosures go up dramatically and I call it again next year I can pass it," Durbin told the Huffington Post. (In April 2008, a similar bill received 36 votes.)
Reminded of his comment earlier in the day that if the bill failed, he hoped the American people would respond, he didn't back down even though so many in his own party strayed. "I hope they get the message," he said of his wayward colleagues. "Maybe they have an answer to this problem, but I have seen it."
Carper, however, the no vote from Delaware, said the issue was finished in the Senate. "My guess is we're not going to see it again," he said.
Earlier this week, Durbin took to the Senate floor to tell his colleagues that the upcoming vote was a test.
"Who's going to win this debate? The mortgage bankers and the American Bankers Association or the consumers across this country?" he asked.
We now have the answer. "We led the way on this and we are clearly responsible for defeating this for the third time in the last year," David Kittle, chairman of the Mortgage Bankers Association, told our friends at the American News Project in this must-watch video:
Popular in the Community