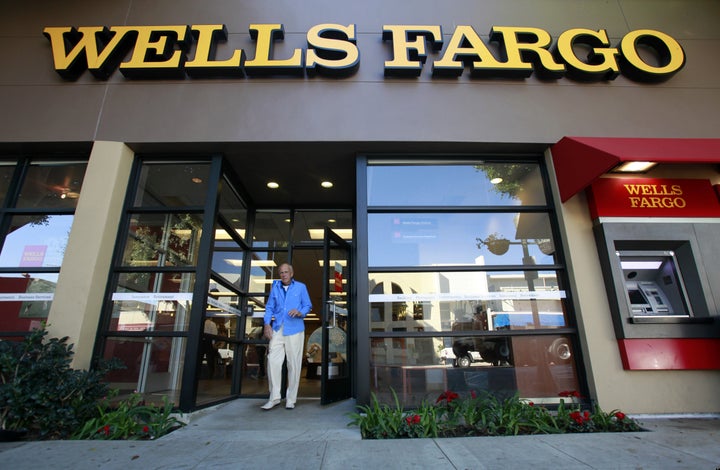 Three of the nation's largest banks said Friday that they expect to be sanctioned by the U.S. government for their foreclosure practices, securities filings show.
The disclosures come on the heels of reports federal regulators are nearing a multi-billion dollar deal to settle allegations that the biggest banks abused borrowers and illegally foreclosed on homes.
The months-long federal probe found significant and widespread deficiencies in how firms service home loans, which involves collecting payments, modifying delinquent loans, and foreclosing on borrowers upon default. A "small number" of foreclosures should not have occurred, a top bank regulator told a Senate committee last week after his agency surveyed less than 3,000 loan files.
The filings are the first acknowledgment by the targeted banks that they're likely to face significant penalties arising from the investigations.
Wells Fargo & Co., the fourth-largest bank by assets, said it is "likely" at least one government agency "will initiate some type of enforcement action against Wells Fargo, which may include civil money penalties." The firm added that its litigation expenses could reach $1.2 billion beyond what it's already set aside for lawsuits and investigations, according to its filing with the Securities and Exchange Commission. Wells Fargo handles $1.8 trillion in home loans, second-most in the U.S., according to Inside Mortgage Finance, a trade publication and data provider.
Taxpayer-owned Ally Financial Inc., the nation's fifth-largest handler of home mortgages, said in its annual report that it expects it "will become subject to fines, penalties, sanctions or other adverse actions."
SunTrust Banks Inc., the eighth-largest mortgage servicer, said it expects regulators to fine the firm for its alleged abuses, according to its filing. The nation's 15th-largest lender by assets also outlined a settlement agreement it expects to adhere to based on demands from regulators. SunTrust, along with other large firms, will likely have to acknowledge they improperly handled documents when trying to foreclose on homeowners; failed to devote sufficient resources when handling mortgages; and failed to develop systems to prevent such problems, the bank said in its filing.
"We expect that such a consent order will require us to implement substantial additional operational processes and reviews within a certain time frame," the firm said. "We also expect that such regulators may seek civil monetary penalties at a later time."
Separately, the Georgia-based lender said that it recently discovered that about 4,000 of its foreclosure cases, or 15 percent of active proceedings, contained various deficiencies, joining other large banks that found similar weaknesses after conducting such reviews last fall. Documents will have to be re-filed with various courts, the firm said, temporarily halting home repossessions. It added that it doesn't expect the findings to have a "material adverse" impact.
The three lenders are part of the federal probe into improper -- and at times illegal -- foreclosure practices that have roiled the housing market. About a dozen federal regulators, along with attorneys general in all 50 states, are conducting both civil and criminal probes into the banks' mortgage practices. The Huffington Post reported Thursday that federal regulators could demand as much as $30 billion in penalties from the 14 largest mortgage firms. State regulators, who at present are only examining the five largest servicers, are looking to exact even heftier fines from the targeted firms.
Bank of America and Citigroup, the largest and third-largest lenders by assets, respectively, disclosed in their annual reports that they, too, could face fines and other penalties associated with their handling of mortgage documents.
Citigroup said the federal and state probes "could result in fines, penalties, [and] other equitable remedies, such as principal reduction programs," according to its filing with the SEC. The company added that it could face "significant legal, negative reputational and other costs." Citigroup handles about $602 billion in home mortgages, Inside Mortgage Finance data show.
Bank of America, which handles $2.1 trillion in home mortgages, said the probes could "significantly adversely affect its reputation." It's the nation's biggest mortgage firm, according to Inside Mortgage Finance.
The investigations could result in "material fines, penalties, equitable remedies...or other enforcement actions, and result in significant legal costs in responding to governmental investigations and additional litigation," Bank of America said in its report. It added it may be subject to additional lawsuits from borrowers and other parties.
The bank, which temporarily suspended home repossessions last year after finding deficiencies in its foreclosure practices, said it expects to resume foreclosure proceedings in some states this quarter. However, it continues to re-file documents in those cases in which it found shortcomings, Bank of America said in its filing.
*************************
Popular in the Community