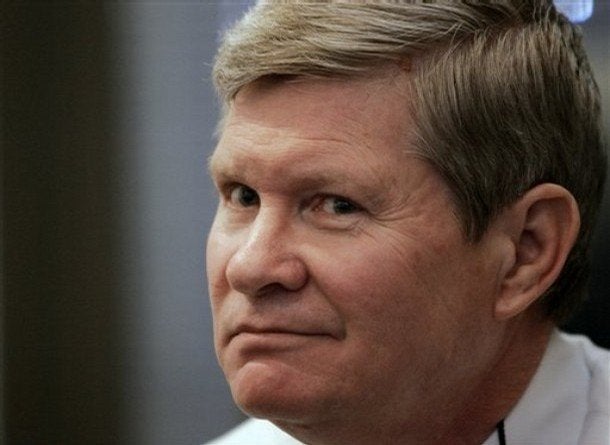 UPDATE -- The decision by Banking Committee Chairman Chris Dodd (D-Conn.) to decline to run for re-election raises the possibility that Sen. Tim Johnson (D-S.D.) will ascend to the position. That scenario, which frightens consumer advocates and delights the financial industry, was avoided in the late summer when Dodd declined to take over the health committee and stayed put at banking. We wrote the story below at the time.
Johnson is next in line to take the gavel, but there is pressure from progressives to lift up the third-ranking Democrat, Sen. Jack Reed of Rhode Island, who has a long track record of advocating on behalf of consumers. Reed, however, is not aggressively going after the position, at least not publicly, according to a statement from his office. "Senator Johnson is next in line to assume the chairmanship. He has been an active member of the Banking Committee and an outstanding advocate for the people of South Dakota and Senator Reed looks forward to continuing to work with him," said Chip Unruh, press secretary to Reed.
But he's also not ruling it out. Reading between the lines of the statement, note that it only includes stipulated facts and stops short of endorsing him for the chairmanship.
If Senator Tim Johnson ascends to the chairmanship of the Senate Banking Committee, the biggest winners will be Wall Street, pay-day lenders and credit card companies. The biggest losers: widows and orphans.
In late 2006, the South Dakotan spoke out against an effort by his fellow Democrats to cap the interest rates that members of the military pay for short-term loans. "This time it's military. Who's to say it isn't going to be widows and orphans or other sympathetic groups in the future?" he griped in an interview with the American Banker.
That's the man who's next in line to lead the Banking Committee if the current chair, Sen. Chris Dodd (D-Conn.), as expected, vacates the position to take the Health, Education, Labor and Pensions Committee chair left empty by the death of Ted Kennedy.
Meanwhile, Democrats are hoping to push through the most sweeping financial regulations in a generation, including the creation of a government panel that would regulate financial products with an eye toward consumer protection. All of that will have to go through the Banking Committee.
Consumer advocates and backers of a regulation overhaul are deeply concerned that handing the committee to Johnson would be a death sentence for reform.
"He's got a long track record of supporting small predatory loan companies, pay-day loan companies," said one longtime consumer advocate, who spoke on the condition of anonymity because he would have to work with Johnson as banking chair.
In 2003 and again in 2005, Johnson intervened with federal regulators on behalf of pay-day lenders, sending a letter to the Federal Deposit Insurance Corporation, urging it to go slow in writing and implementing tighter pay-day lending restrictions. He urged that regulators consider the perspective of the industry.
For years, according to letters he's written to trade groups, he's been complimentary of the "voluntary" steps they've taken to establish industry "best practices" - a thinly veiled effort to avoid regulation of interest rates that, on an annual basis, can top 1,000 percent.
In 2006, Johnson was the keynote speaker at the annual pay-day lender convention, thrown by the Community Financial Services Association of America.
Johnson's support for pay-day lenders is perhaps only trumped by his backing of the credit card industry.
This past May, arriving at an annual conference of the Online Lenders Alliance - a trade association for a shadowy Internet-based, short-term lending industry that operates largely outside of regulatory oversight - Johnson and Dodd were met by a HuffPost reporter.
"Are you here to congratulate the chairman on his consumer protection victory?" Johnson joked with the reporter, referring to Dodd's sweeping credit card reform that had passed that same day. The reason that was funny: Johnson was the only Democrat to vote against the bill and side with the credit card companies.
"It may exist, but I can't think of a single instance in my ten years when Tim Johnson has supported a consumer protection in the financial services arena. Actually, I can't think of a single instance where he hasn't opposed a consumer protection reform. Although I'm sure such an instance must exist," said another terrified consumer advocate.
Johnson cast a key vote with the banks earlier this year, rejecting an important effort by Senate Democrats to allow homeowners to renegotiate mortgages under the protection of bankruptcy. The "cramdown" measure fell 15 votes short of overcoming a Republican filibuster.
According to Center for Responsive Politics, Johnson took roughly $1.5 million from finance, real estate and insurance industry from 2003 to 2008. That's well less than Dodd -- but it represents a fifth of all his campaign cash.
Johnson's state is home to the "South Dakota loophole" that lets credit cards and other lenders evade state regulations. Eight of the 12 major pay-day lenders, according to a letter Johnson wrote to the FDIC, are based in South Dakota.
"Everyone is very nervous about it, because he is definitely very, very pro-industry. As irritating as Dodd can be, carrying their water for years, he's better than Johnson," said another advocate who wouldn't speak on the record for fear of alienating the soon-to-be chairman.
When Joe Biden became vice president and vacated the chair of the Senate Foreign Relations Committee, Dodd had a chance, as the next most senior Democrat, to take it. Democratic aides at the time said that Dodd was eager to get off the Banking, Housing and Urban Affairs Committee, which, thanks to the banking and housing crisis, had become a political albatross for him. But he decided to stay -- reportedly so that when the health committee ultimately became available he'd be able to take it. (A senator can chair only one committee.)
Dodd has yet to make his decision public, but assuming he takes the health post, it will be up to Senate Majority Leader Harry Reid (D-Nev.) whether to elevate Johnson. Although Johnson would be entitled to the post due to his seniority, Reid could still choose to route around him.
"The big question for Senator Reid is, does he want somebody chairing this committee who is hostile to the senate majority's consumer protection reform agenda?" said one consumer advocate.
Another supporter of reform suggested Democrats should behave more like Republicans when making the decision. "The leadership has control. The Republicans did it. Oxley wasn't in line. They exercised discipline," she said, referring to Rep. Mike Oxley (R-Ohio), who leap-frogged a more senior member to take the helm of the House Financial Services Committee when the GOP took control of Congress in 1995.
If Democrats decide to deny Johnson the chair, his declining health could be used as political cover. He is still recuperating from a brain hemorrhage he suffered in 2006, and still requires the use of a wheel chair, although aides say he has fully recovered his mental faculties.
Rhode Island Democrat Jack Reed is next in line behind Johnson. With a safer seat and hailing from a state less dominated by financial institutions, Reed would have more freedom to press for systemic reforms.
But if Johnson does take the helm at banking, there's still hope, some advocates say, that the position of power will change the way he behaves.
"When not in a leadership position, he's going to have to do what he does because of the state he's from," said an advocate. "If he gets there, he's really going to be in the spotlight and maybe he'll be more critical of the industry."
A labor lobbyist noted that outside of consumer and financial issues, Johnson has been a relatively progressive voice, especially considering the politics of the state. "On organized labor's agenda, he's been a stalwart. With a couple of exceptions where we've taken the side of consumers and reform groups on some of these issues, we've got a lot of faith in him," he said.
If Johnson's history is a guide, big Wall Street firms will have less to gain than smaller ones. "On regulatory reform, he is not just carrying the large bank agenda, because he's talked about some issues related to 'too-big-to-fail' and breaking up banks," said one advocate of reducing the size of major financial institutions.
Johnson's suspicion of big banks was reflected in his vote against the $700 billion financial industry bailout in the fall. After President Obama's election, he flipped and voted not to block the second half from being released.
And looking over his shoulder at the outgoing chairman, Johnson might decide that always siding with the banks isn't the best political strategy in that seat. "He saw what happened to Dodd," said one consumer advocate, referring to the Connecticut Democrat's dismal approval rating in his home state, and relatively poor re-election prospects in 2010.
UPDATE: Johnson spokeswoman Julianne Fisher writes in: "Senator Johnson has a long history of supporting strong consumer protections for homeowners, savers, investors, retirees, pensioners and most importantly, those underserved by financial institutions. He believes that a safe, strong and vibrant financial services sector requires that regulators have the right tools; consumers have information, choice and protection; and industry participants have certainty and a set of rules that allow them to compete both at home and abroad. Senator Johnson is more inclined than many to work with both sides of the aisle, consumer groups and industry to find common ground."
Related
Popular in the Community