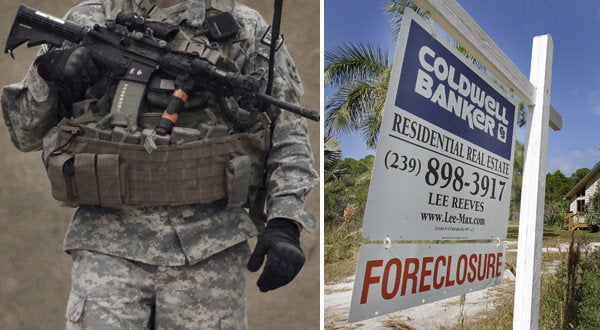 WASHINGTON -- Two of the nation's largest mortgage firms illegally foreclosed on the homes of "almost 50" active-duty military service members, according to a Thursday report by the Government Accountability Office.
The report does not identify the two mortgage companies. GAO investigators attributed the finding to federal bank regulators, who recently completed a three-month probe into allegations of improper foreclosures carried out by the nation's 14 largest home loan servicers.
The GAO report, which focused on problems in the mortgage industry and the lack of federal oversight, is the first official study to feature a partial tally of military families whose homes have been illegally seized. The 50 or so wrongful foreclosures were discovered during regulators' review of only about 2,800 loans that experienced foreclosure last year.
Millions of other foreclosures in recent years have not been reviewed by regulators. More than 2.8 million homes received a foreclosure filing in 2009, and nearly 2.9 million residences got one last year, according to RealtyTrac, a California-based data provider.
Federal bank supervisors "could not provide a reliable estimate of the number of foreclosures that should not have proceeded," they said in their April report on improper mortgage servicing. Two months earlier, the head of the Office of the Comptroller of the Currency, which oversees national banks like JPMorgan Chase and Bank of America, said that only a "small number" of home seizures should not have occurred. The large number of wrongful foreclosures identified by the GAO from such a small sample suggests that the problem could be more widespread.
As foreclosures have surged to record levels, banks and other mortgage firms have been caught ill-equipped to handle the ever-increasing workload, Treasury Department and Federal Reserve officials have repeatedly said. Due to years of under-investment by banks in their mortgage processing operations, regulators and experts have found that shortcuts were taken and procedures were not followed. Homeowners are bearing the brunt of these decisions.
Improper mortgage practices affecting military borrowers are "perhaps the most egregious cases," wrote five Democratic lawmakers in a joint letter Thursday to bank regulators.
"The idea of wrongfully forcing service members' families from their homes while their loved ones are risking their lives to protect our country is not only unconscionable, it's illegal," said Sen. Al Franken (D-Minn.), one of the co-signers, in an emailed statement.
Members of the armed forces on active duty are covered by the Servicemembers Civil Relief Act, a law designed to protect them from financial distress. The legislation restricts foreclosure of properties owned by active-duty members of the military. Violations are handled by the Justice Department's civil division.
The Justice Department has reportedly said it's investigating allegations of improper foreclosures on service members that were commenced by mortgage subsidiaries of Morgan Stanley and Deutsche Bank AG, two of the world's largest banks. Bank of America recently announced it would change the way it handles military borrowers.
A 50-state coalition of attorneys general and bank supervisors along with the Obama administration are also in talks with the nation's five largest mortgage firms -- Bank of America, JPMorgan Chase, Wells Fargo, Citigroup and Ally Financial -- to resolve allegations of wrongful foreclosures and improper mortgage practices. Fines could reach up to $30 billion, according to people familiar with the matter.
JPMorgan Chase disclosed in February that it had improperly foreclosed on the homes of 18 military families. Stephanie Mudick, an official at the nation's second-largest bank by assets, told a House panel that the lender had either rescinded the foreclosure sale or reached a settlement for 12 of those military borrowers, and was working through the rest.
The firm's mistakes were a "painful aberration," Jamie Dimon, JPMorgan's chairman and chief executive, said in a February statement. In April, the bank agreed to pay $56 million to settle claims of improper mortgage practices when dealing with military borrowers.
On Thursday, JPMorgan spokesman Tim Keefe said that the bank had found additional cases of military families whose homes were illegally seized. Although he did not specify the exact number, a separate JPMorgan official said the total was less than 30. Keefe said the bank had committed to providing new homes and full forgiveness of any mortgage debt owed to the lender for these borrowers.
By taking shortcuts in processing troubled borrowers' home loans, the nation's five largest mortgage firms have saved more than $20 billion since the housing crisis began in 2007, according to a confidential presentation prepared for state attorneys general by the nascent Bureau of Consumer Financial Protection inside the Treasury Department and obtained by The Huffington Post in March.
In February, Holly Petraeus, who leads the bureau's unit overseeing military borrowers, sent a letter to the chief executives of the nation's 25 largest banks urging them to follow the law when it comes to dealing with service members.
"I appreciate your assistance in ensuring that your bank does not overlook its obligations -– legal and otherwise -– to your military customers," wrote Petraeus, whose husband, David, leads U.S. forces in Afghanistan.
Popular in the Community